'Students and a couple of older ladies were dancing together'
558 total views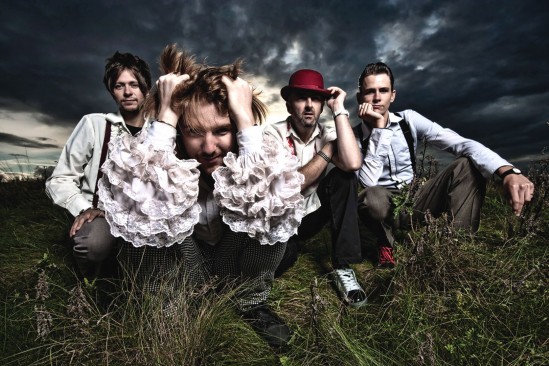 Japanese Fighting Fish came as something of a shock to me when their debut album, Just Before We Go Mad, found its way into the SCAN office a couple of weeks ago. "It's like an indie band ran away and joined the circus," I was told. My interest was certainly piqued, and after a couple (of hundred) listens it quickly became apparent that The Fish, as they like to be known, were actually pretty special. So on hearing that they were to start their small UK tour in Lancaster – which is actually the home of their drummer – I was down to the Yorkshire House like a shot.
Three great support acts were up first, and it was almost as if they had been chosen as some sort of musical metaphor for the eclecticism of the headliners. A young lass playing acoustic covers, a super bratty ska-punk group and a threesome that went some way to usurping Oasis' position as most Mancunian band in history – they didn't have much in common, but they were all very good and certainly got the crowd in the mood. Nevertheless, it was still a bit of a surprise when Japanese Fighting Fish took to the stage. It almost looked as if they had arrived by time machine after playing a gig in Victorian England, dressed as they were in a most dapper ensemble of elegant shirts, fancy trousers and impressive facial hair. Their unique appearance and vocalist Karlost's just-escaped-from-an-asylum demeanour grabbed the crowds' attention as soon as they stepped on the stage.
The band recently described their songs as "alternative rock meets theatre… like little three minute plays", and it's not hard to see what they mean. Their on-stage personas perfectly complement their dramatic song-writing style. Yet the sheer intensity of their album had made me wonder whether or not they could replicate these kinds of songs live.
Those fears were quickly allayed when they launched into one the album's many highlights, Boots. It's not the most complex thing on the record, but they pulled off their trademark switches between a slow dance grooves and distorted breakdowns with remarkable ease. They moved effortlessly into Blood and Sand, a much heavier beast, catching the audience off guard with the sudden stylistic shift. Karlost thrashed around the stage so much that it was a pleasant surprise that he was able to keep up such a good standard of guitar playing, contributing to an ace dual-guitar attack that competed with the bass and drums in a battle to see who could play their instruments the loudest. It left the audience with their bleeding ears and smiling faces.
Perhaps the best thing about their performance was that they managed to pull off the enviable trick of making songs that sound great on record sound better live. Some bands perform pitch-perfect replications of their recorded material, and even though that's a mighty impressive feat it often leaves live performances feeling a little bit drab and soulless. Japanese Fighting Fish managed to avoid that trap. Not that their performance was messy, far from it. The rhythm section was just as tight as it was on record; the bass and drums might as well have been played by Siamese twins for all their synchronicity. The guitars switched between wonderfully distorted and sparkly clean at the right moments. The vocals were as beautifully demented as they are on the album.
But the best live bands know when to let go a little bit – when to amp up the guitars just a little bit more, when to push a breakdown just a little bit further – something that was on show here. The chugging riff of Blood and Sand was pushed as far and as loud as it could go, the two guitarists thrashing around so much that they were in danger of shaking the Yorkshire House to its foundations. The chorus from the Sick of Waiting was more bombastic than ever. The insane, blood-curdling (in a good way) yelps on Baltic Whisperer were spine-tingling and actually pretty terrifying, elevating the song to another level. Japanese Fighting Fish haven't been around for too long but they already look and sound like seasoned performers, so they're clearly on the right track.
At the moment the only problem is that they're a bit of an unknown quantity. I had tried – really, really tried – to explain their unique sound to the friends I had brought along with me, but even after an hour of explanations they were still confused. Cuban/Salsa/Metal-fusion? I mean, what are you meant to do to music that veers rapidly (yet wonderfully) between twisted spoken-word poetry, Latino dance and thrash metal? The answer, of course, is to dance; although it would have to be some sort of salsa/moshing mash-up that hasn't actually been invented yet.
Nevertheless, by the end of the set the crowd seemed to have got used to the music on show and they were really starting to engage with the performance a bit more. It's not really the fault of the band that the crowd didn't react immediately, they just need to keep touring and get their songs out there.
Their music is weird and unique, but hardly inaccessible. And although it's slightly odd to say that a band like this has pop sensibilities, they certainly know how to write one hell of an infectious tune. Heck, by the time they had reached the end of their set, students and a couple of older ladies were dancing together. All things considered, a band that dresses in ye olde worlde attire that can unite generations through dance with a unique fusion of Latino and riffy-metal can only be a good thing. After a few more performances like this it's only a matter of time before their music starts to land on alternative radio and people start to engage more with their music. Of course, it's still early days. But as soon as people start taking note of their music, I'd say that it's only a matter of time before Japanese Fighting Fish become one of the top live bands in the country.