Sugarhouse is Lancaster's sugar daddy
768 total views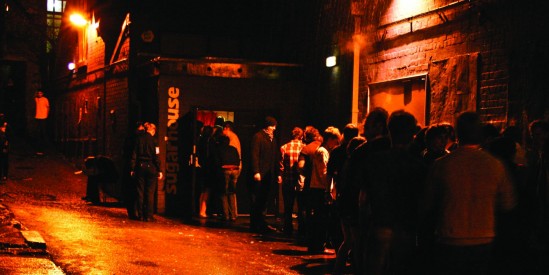 In these hard, recession ravaged financial times, Lancaster's many nightclubs are floundering and struggling to convince (over)paying punters to thrust and bust their nights away.
That's the excuse that Cuba gave when they were forced to close after large attendances failed to remain consistent after their ill-fated re-opening night. I briefly showed up that night, and I can say that Lancaster's buzzing nightlife shows no signs of thinning out because of the recession. Don't forget that the clubs in the city are largely filled with people who have £3,000 a year at their disposal, with pocket money from part time work on top of that. No, the main reason that Cuba was poorly attended and shut down (and I'm glad it did) is because it was totally unfit for its purpose: housing hundreds of drunken, horny students.
There are people like myself, who attend clubs out of an unexplainable sense of necessity. Some people know they have had a good night out when they wake up blind in one eye and wondering why their bathroom has been painted green. I know I have had a good night out when I've smoked 20 cigarettes and sold at least five at a pound each. Cuba was so small and unnavigable, and taking in such excessive amounts of people, that it was a struggle for me to actually get outside and smoke.
Odour and company issues aside, The Sugarhouse, Elements and The Lounge are my favoured nests, because it's just wide enough for me to head outside at my leisure without having to formulate some kind of strategic plan. Even if you're not smoking that night, each of them offer nice, secluded and open areas for people to take a breather from Tinie Tempah (and little else) and have an audible conversation. Cuba was the Room 101 of the club scene. All of the sweat, cramp, tinnitus and epilepsy of nightclubs thrust upon your paralysed, drunken self and no option to stroll away from it for a while.
It's not just aesthetic attractiveness that has made "Comin' Sugar?" synonymous with a Friday or Saturday night at Lancaster University. The reason I chose Lancaster University is because it is campus based. I don't have to share my vicinity with non-student sorts. What with The Sugarhouse being the student nightclub (and promoted as such), you run less of a risk of running in to someone who intends to incite some violence.
This may sound hysterical, but I have personally encountered homophobes at the Lounge's gay/bi night, who were thankfully thrown out before they caused damage. I once shared an evening in Wetherspoons with a pair of female friends, who were approached by a gentleman who tried to impress them by reeling off a list of his convictions for violence and theft. The Freshers' Week campus and pack is adorned with Sugarhouse's name, and familiarity comes from the first experience. Sugarhouse was the first club many freshers went to, and force of habit plays a large part in its popularity.
Sugarhouse's student-only policy and line-up of big, beefy bouncers who don't take silliness, offers the security and assurance that no one is going to come in and slip some Rohypnol into your rum and coke. Elements and The Lounge, for all their charm and accessible smoking facilities, don't have enough bouncers on the floor to offer the attentiveness a safe night requires.
And if we must use the economy as a catch all reason for the making or breaking of every little tinpot venture that sprouts from beneath the soil, then value for money (apart from entry fees which I absolutely abhor) is what clinches the victory for Sugarhouse and Elements. 94p nights, 1p entry night. No one would turn down the chance to get battered for that price. Drinks are relatively reasonably priced, and relativity is important when you consider the extortion that other spots offer.
And on top of all that, you get a free bus back at the end of it. As I said, they're far easier to leave.