LUSU finally agrees to fight for gender neutral toilets
673 total views
Union Council took place on Thursday, Week Five, witha full agenda including motions for the introduction of gender-neutral toilets and the removal of EWD (Equality, Welfare and Diversity) sub-committees in favour of more time campaigning and interaction with students.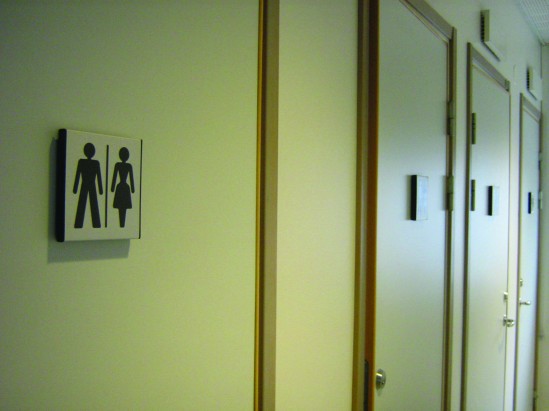 The motion put forward by LUSU Vice President  (Equality, Welfare and Diversity) Pete Macmillan, if passed, would see LUSU promise to argue for the incorporation of gender neutral toilet facilities in all new buildings planned on campus. A slight variation of the proposal had been brought to Union Council in the last academic year. After a heated and thorough debate it was voted down at that time by many of the same officers present at Thursday's meeting.
LUSU President Robbie Pickles suggested an amendment to the motion before it could be voted on in its entirety. He reasoned that "I think that the main reason it got voted down was because of confusion, nobody really quite understood it" and he wanted to achieve clarity.
The amendment put forward by Pickles was intended to clarify that passing the motion would ensure "where feasible for LUSU, including the JCRs, to promote the inclusion of gender neutral toilets in all building work at Lancaster University" was passed after a brief discussion. Pickles wanted to ensure that "it's not just JCRs doing it, we'll have a look at doing it across the whole campus", with several builds looking very likely "including a new LUSU building which I would quite like to see gender neutral toilets in".
Equality Welfare and Diversity  (EWD) Council Officer Kevin Wong questioned whether that proposal included any possible refurbishments of the Sugarhouse, which it was confirmed was correct.
The main topic of discussion in the brief questioning of the proposal concerned price. Pickles had stated that gender neutral toilets would not cost any more than gender specific toilets, a point which was queried by Christy Parkes. This led to clarification from Pickles and Equality Officer Aaron Spence, using the gender neutral facilities in Pendle as an example, stating that the cost could be minimised as much as possible with the right planning. When it went to a vote, the motion was passed.
Also brought as a motion to replace the sub-committees, was passed at Council, following a similar motion at EWD Council earlier in the term. Now that it has been approved by both council, the committees have been officially abolished.
The apparent aim  is to encourage student EWD representatives to become more involved in campaigns and increase the time spent engaging with students. Macmillan suggested that this will prevent representatives from simply talking about campaigning and instead actually interact with students. Macmillan also suggested that encouraging EWD representatives to more closely engage with students will also help develop interpersonal skills, which will be transferable into the workplace after graduation.
Jess Newton, Lonsdale Vice President argued that the removal of consistent meetings may bring into question how much EWD officer are putting into their role, but Macmillan counteracted this in saying that if representatives are not adequately contributing to their role, they will "be held accountable". Robbie Pickles, LUSU President suggested that the removal of meetings would prevent students using them as "a smoke screen" and will have to interact more with students.
Instead, EWD representatives across the colleges have been encouraged to maintain contact through a Facebook page, where they can voice views and make suggestions. Matt Saint, the Vice President (EWD) elect suggested that the use of a Facebook page, set up so EWD officer can communicate ideas, "will not solve everything" and encouraged the representatives to also contact each other "in different ways". However the Welfare Campaigns Officer, Danny McGuire disagreed in saying "the Facebook group means we can communicate because it's quick and effective". Following much discussion, the motion was passed.
The meeting also saw the submission of a new Activities bylaw by Marc Handley which, if passed, would finalise the process of merging the roles of Vice President (Sports) and the responsibility for societies. Societies had previously been incorporated into the remit of Vice President (Finance, Events, Democracy and Societies). The process of merging those roles had been in Week Nine of Michaelmas term at a meeting of Union Council, where Pickles said that "the new position will be a fantastic way to ensure that both sports clubs and societies get a high standard of representation".
A few superficial amendments were proposed, discussed and voted on before, as a whole, the bylaw was passed by Union Council. The bylaw was put to a vote and passed symbolically finalising a merging of roles which was initially discussed during the 2008 review of Full Time Officers, then known as Sabbatical Officers. At that time the idea was very quickly dropped following a lack of enthusiasm from clubs and societies.
Another bylaw which was brought to Union Council was the change in name of the student television society LUTube.tv, to LA1:TV. Station Controller, Will McDonagh stated that the reason LA1:TV wanted to change their name was simply to "re-brand". This bylaw passed and the change in name of the society is effective immediately.