Salmon with orange and fennel
591 total views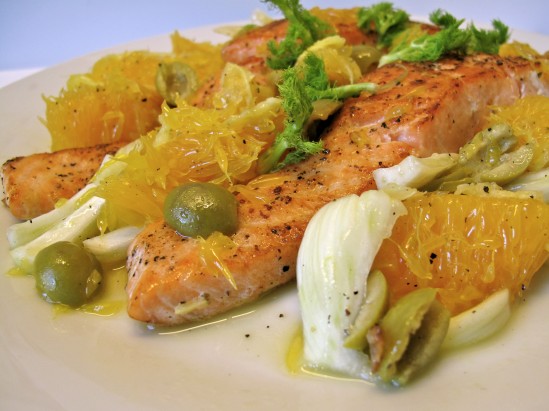 Ingredients
Two skinless salmon fillets
One half navel orange, peeled and segmented, plus 1 tablespoon of orange juice
One fennel bulb, stalks removed and sliced, fronds reserved for garnishing
Two tablespoons pitted green olives, halved
One tablespoon lemon juice
One tablespoon olive oil
Salt and pepper
Method
Combine orange, fennel, olives, orange juice, lemon juice and one teaspoon of olive oil in a bowl. Season with salt and pepper and toss the ingredients together.
Season both sides of salmon fillets with salt and pepper. In a large non-stick skillet, heat the remainder olive oil over medium heat. Add salmon fillets, flat side down, cooked until the bottom is browned. Turn salmon and cook until opaque throughout.
Serve salmon with orange and fennel topping. Garnish with fennel fronds.
Tips
Choose unsmoked skinless salmon fillets sold in a pack of two.
Cook salmon over medium heat for about three minutes each side. Do not overcook. When cooking, make sure salmon fillets are about two inches apart.