Lancaster's future leaders promote sustainability for all
1,216 total views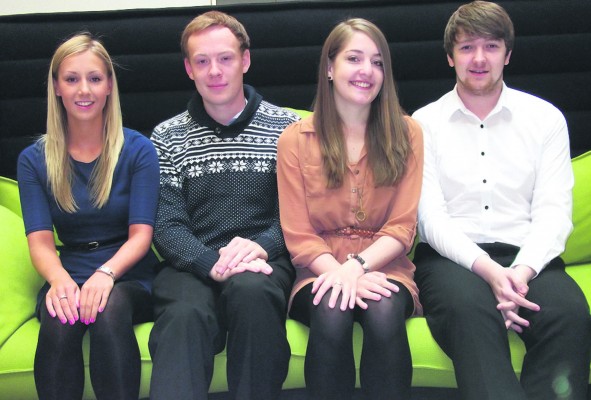 Four Lancaster University students have reached the final of npower's 'Future Leaders Challenge', promoting their mission to champion sustainability and environmentally friendly living.
Andy Ellison (MA Environmental Management), Peter Halliwell (3rd year Environmental Science), Sophie Smith (3rd year Sociology) and Charlotte Wilkins (3rd year Environmental Science and Maths) are the creators of Snowballing Lancaster, a campaign which impressed one of the country's leading energy companies in their national competition, and sent the group straight into the final as one of the top nine teams from across England and Scotland.
In order to reach the final stage of the contest, the team submitted a three minute video explaining their plans for the Snowballing Lancaster campaign and how they hope to inspire the Lancaster University community to embrace a greener lifestyle – the key aim of the contest.
The prize for the winning team is a week-long trip to the Arctic, where the group will be able to go dog-sledding, experience first-hand the importance of sustainability and learn how environmental changes, such as global warming, have directly affected the people of Antarctica.
During the second week of Michaelmas term, the four members of the team attended an intense team building weekend in Dartmoor, which, according to group leader Peter Halliwell, was extremely motivational.
"The team building weekend has really inspired us to get stuck into our projects so that we can engage as many people as possible within our community" he said.
In regards to the name, the team felt that Snowballing Lancaster really summed up an important element of the move towards a greener future. Team member Sophie Smith told SCAN that "if every member of the University community makes small changes to their daily routine, these actions can snowball into movement that can have a really positive impact on the environment."
During week seven the team will host a number of inspiring events that will aim to prove to students that "green-living" is easy and rewarding.
Events kick off on Monday 21st November with the launch of some exciting competitions and a sign-up stand with free pizza in Alex Square, followed  by activities which include a vegetarian meal day, a talk by Mike Berners-Lee, author of "How Bad Are Bananas?" and a recycling funfair where numerous prizes will be up for grabs.
Team Member Charlotte Wilkins commented: "The campaign is hard work, but we are extremely excited about our project and the activities we've organised for week seven are fun and engaging – so come and get involved!"
Peter Halliwell went on to say that the team aims "to highlight small changes people can make to their lifestyles which, when made by many, have a positive impact on the environment."
To get involved and lend your support to Snowballing Lancaster's campaign visit: www.snowballinglancaster.co.uk