Staff on strike joined by students
658 total views
Around 30 members of the University and Colleges Union (UCU) at the University banded together in a picket on Wednesday, Week Eight. The picket was organised in conjunction with the day of action held nationwide against the proposed changes to public sector pensions.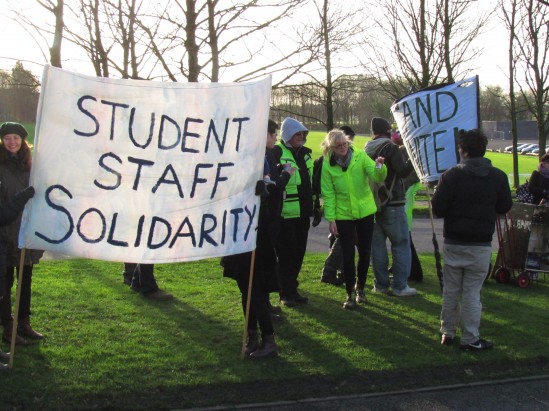 The UCU members gathered at Bigforth Drive, near the Sports Centre, holding protest banners and placards and canvassing passing motorists en route to the main campus.
"The first reason why we are on strike is that the negotiations have failed," said James Grove, a representative from UCU Lancaster University branch. "The management has failed to take on board any of our fairly reasonable concerns of what is basically our livelihood […]. We feel there is no real option but to go on strike. It is sad that [our actions] do affect students and we don't like that but that's the only real power we've got left.
"The whole purpose of today['s national strike] action is to disrupt the entire public sector. We hope to raise awareness among the students of [our cause]. We don't want to just annoy them, it is the last resort. It has to come after literally years of negotiations which has come to nothing."
Grove, however, acknowledged that the Lancaster's UCU strike action may not have significant impact on students at Lancaster. He explained that approximately 60 per cent of Lancaster staff are UCU members and some of them may be on strike by simply not turning up at work.
"The national strike happens to be on a Wednesday. For the most of the public sector that is a good day to have a strike, and in some ways for the university, because […] we got the Wednesday afternoon free. So in effect it is less disruptive than it could be," he added.
Related content: Lancaster marches over public sector pensions
A group of around 10 Lancaster students organised a student walkout in solidarity of the staff strike action. The students gathered in front of the University House with their banners and placards greeting other students who arrived on campus by bus.
Chris Witter, one of the students from the group told SCAN: "It's important to support the lecturers because attacks on them is an attack on us, on our education […]. We're all being attacked by the same people and we want them to be on our side as well as for us to be on their side, and some of us one day want to carry on to do such things as postgraduate studies, PhDs and become lecturers. For some of us, it's our future as well."
The staff and students later headed to Lancaster city center to join other protesters in the march planned for the nationwide day of action. The strike was organised by various trade union groups in Lancaster – including Unison, UCU, National Union of Teachers, Public and Commercial Service Union, Trades Union Congress – and was supported by local anti-spending cuts group.
"I think it's been a really great day," said Witter. "It's a shame the Students' Union didn't get involved to help out. Nonetheless, I think it's been successful and it's great to see so many people."
A significant number of Lancaster staff are members of the Universities Superannuation Scheme, which is a private occupational scheme provided by most higher education institutions, and generally unaffected by the proposed changes introduced by the government. However, over the years, the university employers have tried to introduce reforms in the scheme. These reforms have mostly been resisted by higher education trade unions.