Make your fingers fabulous!
401 total views
Girls. When it comes to nail colour and all things manicure, are you…
A simple French Manicure girl?
A nude tones kind of a lady?
A 'my nails match my outfit' chic?
None of the above?
Autumn is now very much upon us; the nights are drawing in, and deadlines are beginning to rear their ugly heads once more. I think we all need a little lift, so why can't we get this from our nails? Simply put, bold is beautiful and life is too short to blend in all the time. You can wear the most colourless, unimaginative outfit, but if you have 'strike-a-pose' nails you will not only stand out from the crowd, but you will also be expressing a little part of your unique personality at the same time.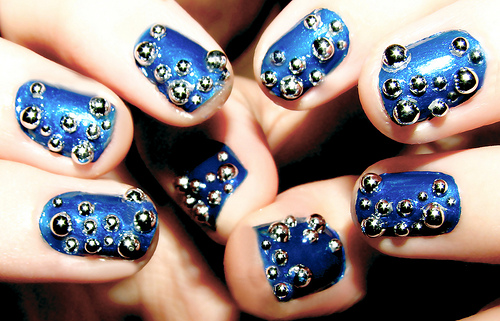 Check out my top ten nail tricks for fabulous fingers:
1.      Barry M Instant Nail Effects-Crackle Style. If you don't own at least one bottle of this magic potion, I hope you soon will. Simply paint over fully dry nail polish to produce a unique cracked effect on each nail. Go wild with black crackle over neon yellow varnish for an instant leopard look, or combine baby blue crackle over a darker blue paint for an ultimately layered look.
2.      Accent Nails. Never heard of them? I hadn't either, until my best friend told me it is a celeb trend at the moment…then my ears pricked up! An accent nail essentially consists of (usually) your ring fingernail painted a different colour to your other nails. It feels strange at first, but you do get used to it. Give it a go…you might just like it.
3.      Stencils. Nail stencils always make for a bit of nail fun. Tip stencils are cheap to buy, and the finished look is to die for. Swap your white manicured tips for a brash red or black and to all you nail chewers-you don't have to have long nails to pull this look off either!
4.      Nail stickers. These may not be to everybody's taste, but done correctly can give you a salon quality finished look. Don't go overboard with nail stickers less is definitely more. Choose the same finger of both hands and stick to this one nail for sticker effects.
5.      Falsies. You can get cheap and gorgeous false nails everywhere this season, already embellished with intricate nail art and tip colour. Perfect for that posh Christmas party or romantic dinner date.
6.      Glittery nail varnish. Worn by itself or over a colour, glittery varnish is guaranteed to add fairy sparkle to everything you do, whether you're scribbling down lecture notes or making a cuppa. Dazzle and sparkle doesn't have to wait until Christmas!
7.      Nail art pens. If you fancy treating yourself to a nail art accessory with a more indulgent price tag, invest in a nail art pen. It does exactly what it says on the tin. If you want black stripes over a neon pink colour, grab this little beauty and decorate with precision and detail!
8.      Bold and Beautiful. Let's be honest girls, shy shades should be kept for summer when Mr. Sunshine is around to brighten up our day for us. Without wanting to sound like Gok Wan, this Autumn is all about bold and brash. Swap baby for electric pink, and subtle gold for a metallic madness. I dare you.
9.      Neon clashes. Us girls spend too much time worrying about colour and pattern clashes. If we want to wear something, we should just wear it. So, if your neon yellow nails don't match your oversized stripy cardigan, don't panic! Clashes are the done thing this season.
10.   Rainbow Nails. For those adventurous types, why not pick out five of your favourite nail shades and paint each respective nail a different colour. If you don't like it, head straight for the nail varnish remover. And if you love it, you never know, you may become a self-made trend setter.
All these rules apply to toes too and remember, fancy fingers are just a nail brush flick away.