The sky's the limit for Lancaster's Trampoliners
474 total views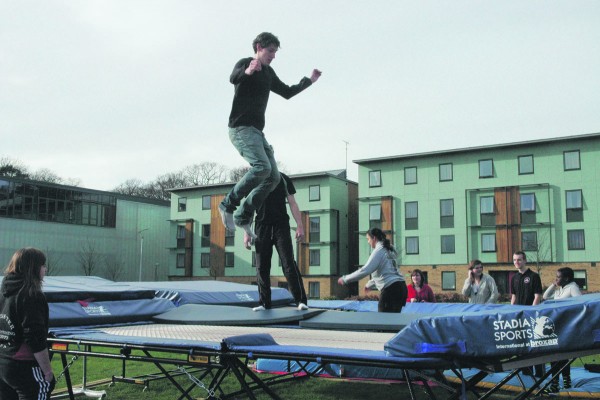 On Saturday, May 5th 2012, the Lancaster University Trampolining Society will once again be hoping to bounce their way to victory over their York competitors. Never beaten throughout the history of the Roses tournament, the Tramps are preparing to put every effort in to upholding their unblemished record.
Last year, despite two injuries within the squad, the team ploughed on in true Lancastrian spirit and still emerged victorious. This year, despite the natural trepidation felt by almost anyone facing a historic contest, the team is excited about the prospect and keen to see how their Yorkshire counterparts have progressed over the last year.
Speaking on behalf on his team-mates, the Society's Publicity Officer, Paul Todd, said, "I am sure I speak for the whole Exec when I say we are all very excited for the upcoming competition."
This year, the majority of competitors will be entering in the Novice and Intermediate levels, though two team-members will be performing at the Elite levels. There are also hopes for a synchronised competition, should there be enough time left following the completion of the main events.
Preparations for Roses are ongoing in the intervening years between competitions; over this last year the Trampoliners have been hard at work in their regular training sessions, as well as testing out their mettle against other universities including the University of Central Lancashire, Manchester and Liverpool. They have also competed in the Irish Student Trampolining Open (ISTO) as well as, for the first time ever, Campus Festival 2012, which they found "both enjoyable and interesting."
Regarding the team's chances in this year's Roses, Todd said, "We will always go in there and give it our best shot. Whatever the outcome, we will still have fun and enjoy our sport."
The competitors for Roses will be as follows; Paul Todd (Novice); Kat Halliday, Emma Dootson, Naomi Obawole, Lizzi Spence, Fiona Salisbury (Intermediate); Gemma Sargent, Emma Forrest (Intervanced); Joe Pauline (Elite).