Glorious comeback seals Women's Darts win
642 total views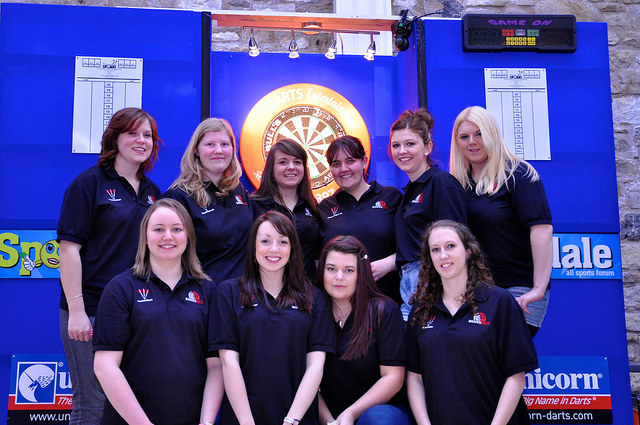 Lancaster – 5
York – 4 
Lancaster secured a further four points on the Friday of Roses weekend after a persistent and determined performance from the W0men's Darts team.
Lancaster's Alice Lamb set the standard in the first match, as she took on York's Luiza Georgieva. Lamb won two legs in quick succession, scoring an impressive 140 and putting Lancaster quickly ahead.
York's Frances Bennett fought back in the second match against Rachel Hadley, winning the first leg. Although Hadley equalised in the second leg, Bennett held on to clinch the win and put York back in the game with a 1-1 tie.
The third match saw Lancaster's Hayley Booth up against York's Sam Walters. Despite Lancaster taking the first leg to go back in front, Walters won the remaining two legs, giving York the advantage and taking it to Lancaster 1, York 2.
Lancaster came back strong, however, with Victoria Barrett securing both of the first two legs against York's Charlotte Winter. This saw Lancaster back in the race, and brought it back to a tie.
With both teams level and the tension building, the fifth match saw the battle of the Captains, with Lancaster's Aimee Hopper taking on York's Amanda Barnes. In a close first leg with both Captains needing double one to finish, Barnes clinched the win. Hopper then came back to equalise after an impressive double 12 finish in just one attempt. Despite this determined effort, a close third leg saw victory for Barnes, taking York ahead at Lancaster 2, York 3.
York extended their lead further in the sixth match, after Izzy Campbell won both of the first two legs against Lancaster's Laura Fox, taking it to Lancaster 2, York 4.
The seventh match was York's first chance of securing victory, and Lancaster's Joanna Birch needed to win to keep Lancaster in the game. Birch coped well under the pressure and won both of the first two legs against York's Charlotte Judge. This kept Lancaster in the game, and put the score at Lancaster 3, York 4.
Lancaster closed down on York further in the eighth match, where Zara McCulloch took on York's Anna-Therese McGivern. After great support from the crowd, McCulloch won both of the first two legs, continuing Lancaster's incredible comeback and bringing the score to 4-4.
With one deciding match left in play between Lancaster's Georgina Mitchell and York's Laura Dodds, referee, Simon Rimmington told the crowd that, 'we haven't been at this score since 2008.'
Despite York throwing first, Mitchell won the first leg, leaving Lancaster within touching distance of victory. However, Dodds did not make it an easy win for Lancaster, as she equalised in the second leg, bringing everything down to the final leg of the final match.
After a tense final leg, Mitchell secured the victory for Lancaster, ending the score at Lancaster 5, York 4. She told SCAN: 'I'm just really glad I didn't lose it for everyone!'
Lancaster Captain, Aimee Hopper, commented: 'to come back from 4-2 is absolutely outstanding. Our Roses team is amazing – the best team won.'