Lancaster end victorious in close netball encounter
605 total views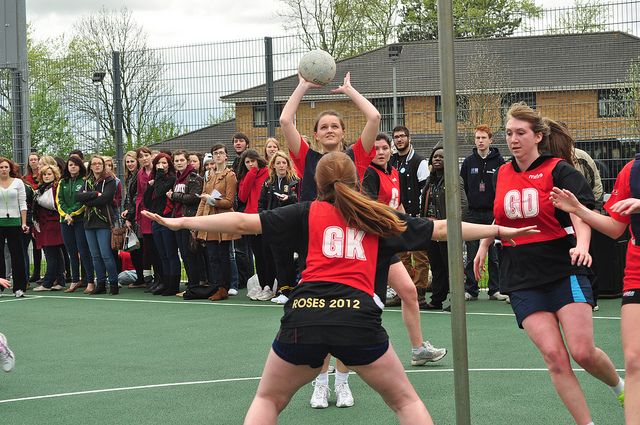 In a promising start to Lancaster's netball hopes, the home side College Select team won 21-18 in an intense and hard fought battle. As Captain Jennifer Stelfox stated: "York played really well, it was a very tough game" and it certainly was.
Although Lancaster led throughout the match, putting up an aggressive defence – which coupled with accurate shooting and good use of space resulted in a convincing win – some particularly well timed interceptions from York provided an exciting and hard-fought match.
Certainly, throughout the first quarter Lancaster dominated, creating space and shaking off their markers to generate multiple opportunities to score. This, coupled with less than tight defence from York, allowed Lancaster to take an early lead of 8-5.
The break and second quarter marked the start of what proved to be a slightly unlucky quarter for the home side in terms of both goals and player injuries. Early on, goal keeper Amy Shipley had to be replaced by Louise Lawrey due to a dislocated shoulder and renewed vigour from York's goal keeper and defence resulted in a spate of unsuccessful shots by Lancaster. Nonetheless, the white roses defence in York's shooting circle kept the visiting side at bay and Lancaster continued to dominate.
As the game moved in to its third quarter the home side appeared to have regained all of their earlier sprit and aggression which was rewarded by two goals in quick succession and mounting frustration in York's players, some of which was surely generated by the lively crowd who were certainly keen for a home victory. Special mention should go to goal shooter Lisa McQuade for some brilliantly held balls and well executed shots from the edge of the circle which arguably lead to her being named York's Player of the Match.
The game certainly reached its peak in terms of pace, excitement and intensity in the last quarter with increasingly violent play leading to a number of penalties on behalf of both teams and resulting in a memorable burst of annoyance from one York player, however, the away side's new-found aggression was soon rewarded by a quick succession of three goals in less than the same number of minutes.
Nonetheless undaunted, the white roses stepped up their game moving to intercept the set pieces that York had used to such good effect and some lovely defence by Lancaster's Louise Lawery (who was chosen by her own team as Player of the Match) and Alex Dillaway in the circle prevented York from scoring again. This, coupled with some accurate shots from Sophie Millington and Lisa McQuade, lead to a convincing win of 21:18 to the home side.
York captain Charlotte Winter said that she was "pleased with how the girls played, it was a really challenging game and Lancaster played well" and Lancaster captain Jenifer Stelfox echoed these words adding that "their centre was brilliant, it was really tough but the girls and the crowd were amazing". Certainly this bodes well for a strong performance for the Lancaster netball girls throughout the rest of Roses.