Archery hits a gold with 9 points for Roses
546 total views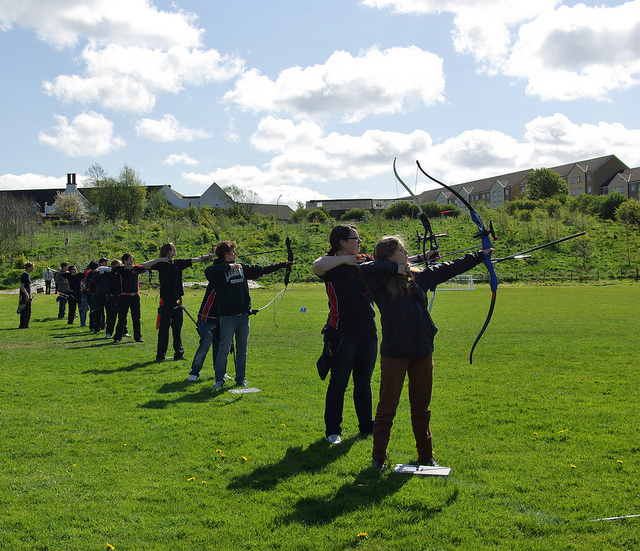 The shooting began with skin-sweltering sunlight and with Lancaster's Kevin Toutain taking an early lead in senior males with an astonishing 81 points at the longest distance of 90 metres.
Lancaster's Sally Morris, despite being unchallenged by a York Senior Female, still gets an extremely respectable 73 points at 70 metres. After the second round of a dozen arrows, Lancaster males still lead with a large margin and an impressive score from Matt McCormack, whilst Novice Females storm ahead as Marlen von Reith and Laura Bestwick take the lead, yet York novice Theo Townend breaks out as the lead in novice males.
A change of weather from sunny to cloudy brings on a change of distances, and the males changed to shoot at 70 metres, senior females and novice males at 60 metres and the novice females at 50 metres, theoretically bringing more points to all that were shooting.
At the end of the first dozen arrows, Toutain maintained his overall lead with 313 points, and Morris and McCormack remained hot on his tail. The biggest change of the dozen came from Bestwick, opening up a large gap between her and other novices and strengthening Lancaster's lead, whilst Townend strengthened York's lead in novice males. At the half way point, Lancaster were in the running to pick up a lot of Roses points.
Shooting began again at 3 o'clock and Lancaster were off to another excellent start with the top five scores all belonging to Lancaster archers after the first dozen. At this time, the distances were changed once more to 50 metres for all categories apart from female novices, who were shooting at 40 metres. The target faces were also changed to a smaller size, so despite the closer shooting distance, precision is still at a difficult level. At the end of the round, Kevin Toutain, Sally Morris, Matt McCormack, Mat Smith and Christopher Woodhead were the leading seniors, with the first placement from York being 6th with Luke Fox.
For the final round, all bosses and targets were moved to a distance of 30 metres and instead of shooting 6 arrows at a time, each end consisted of 3 arrows, making it a longer slog building up to the final scores, whilst the temperature became very cold. Thank goodness for the gazebo.
The day ended around half past six, and the scores were finally announced after the 2nd laptop lost charge and the 3rd was unpacked. Lancaster's Senior Team of Toutain, McCormack, Morris and Smith crushed the York Senior team, with Toutain being top male senior and Morris taking top female. The Female Novice team of Lancaster also beat York, winning yet another Roses point as Marlen Von Reith and Laura Bestwick continued with their scores. Overall, Lancaster dropped one point in Male Novice, a tough category, meaning Lancaster's Archery Team gained the university a whopping 9 points, contributing massively to a great tournament and proving the success of the club.