Game, set and four points York
601 total views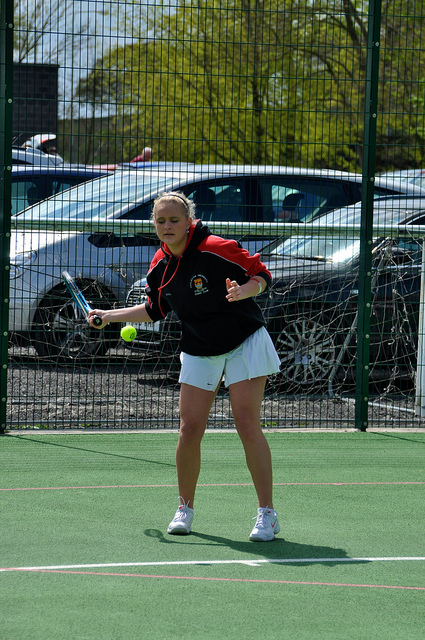 Lancaster 4-5 York
Lancaster's female tennis players were left ruing illness and the weather leading up to the Roses as they went down 5-4 to York in the tennis.
Going into the final singles match, the teams were level at 4-4 leaving Lancaster's Irene Louca to battle it out with Kathi Thanner. It was a tight match, played in cool conditions, with both players looking weary having been involved in a close doubles match earlier in the day.
Lancaster captain, Krista Ozolina partnered Louca in their doubles match against Thanner and Jessi Harrison. York raced into a one set lead, taking the first 6-1 but Lancaster fought back to take the second 6-2 and it was decided in a close third set tie break, which Lancaster eventually took 14-12.
The other doubles matches were won by York. In the first set on court 2, Lancaster's Gillian Cant and Sofija Dolgova and York's Charlotte Baldwin and Natasha Johnson could only be separated by a tie break in the first set. York won it 7-1, taking the set 7-6 and eventually beating Lancaster 7-6, 6-2.
In the final doubles match, which was delayed by concern over the events at the women's rugby, York were victorious. Sophie Cocker and Elsa Saarela battled back from being a set down to take the second 6-4 and force the match into a tie break, but York ended up being 10-5 winners.
In her singles match, Cocker was a 6-3, 6-2 victor over York's captain Naomi White. Cocker praised her opponent and emphasised how much she'd enjoyed the match. Her doubles partner Saarela, a late replacement for an ill player, was comprehensively beaten 1-6, 0-6 by her York counterpart in her singles match. She, however, remained positive afterwards stating, "the game didn't go to plan, but I'm happy to be here and helping the team."
There was an emphatic victory 6-1, 6-1 for Gillian Cant over Natasha Johnson, with Johnson being gracious in defeat by saying Cant was a very worthy winner. Meanwhile, Krista Ozolina was ecstatic after her 6-2, 6-2 victory over Jessi Harrison, saying that "It was awesome!"
Victory for York's Baldwin, who had proved to be a tricky opponent all day for Lancaster, against Dolgova 6-3, 6-1 meant that the deciding match would be between Thanner and Louca.
In a tight and tense match, it was Thanner and York who were triumphant. Sofija Dolgova tried her best, but with two breaks of serve occurring at crucial moments in the match, it ultimately proved too much as she went down 3-6, 4-6 to her opponent.
With the team's chances of practice falling foul to the deluge of April rain, Lancaster captain Ozolina was left feeling frustrated at the University's lack of indoor courts. It was a disappointing defeat for the Red Rose, but one they can take a lot of heart from, as they demonstrated a lot of fighting spirit and skill across the courts.