Men's Football wins Roses for Lancaster
593 total views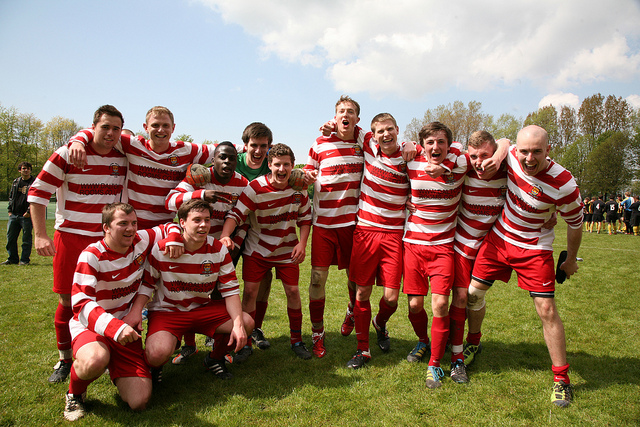 Lancaster University have won Roses 2012 after reaching the magic points number of 146.6. The 3-1 victory in the Men's 1sts Football game saw the Red Rose obtain the four points that they needed in order to claim victory against York.
The first half was very much routine for Lancaster as they looked strong in possession and managed to take the lead 1-0.
However, York were not prepared to go down without a fight and managed to equalise just into the second half. Nonetheless, Lancaster remained to look dominant in the second half but no goals were scored until seven minutes left in the game. Lancaster's number 10, Sissling, kicked it between the posts from eight yards to give the home side the lead. However, this was not enough for Lancaster as Hull put it between the posts again for the Red Rose meaning that the final score was 3-1.
This was victory in a spectacular fashion considering that Lancaster lost to York last year by a mere 1-0.
The Men's Football 1sts Captain Dan Hull, commented: "It was excellent, much better than last year. The team played really well and took it more seriously."
VP Activities, Marc Handley, was over the moon with the victory, "Oh my God, absolutely incredible! To win it with Football was just amazing so thank you to both football teams. But more importantly thank you to everyone involved in Roses 2012, from players, to supporters, to the student media…just THANK YOU!!! WE DID IT!!!"
This victory sees Lancaster close in on the overall victory score in the Roses tournament from 24-22 to York to 24-23 and also means that the Carter-James trophy comes back to the Red Rose following York's victory last year.
The overall winning margin has yet to be finalised with games such as Men's Basketball and Men's Lacrosse still to play this afternoon.
The closing ceremony which sees the trophy presented to Lancaster shall be held at 4.30pm in Barker House Farm.