York debate their way to four points
482 total views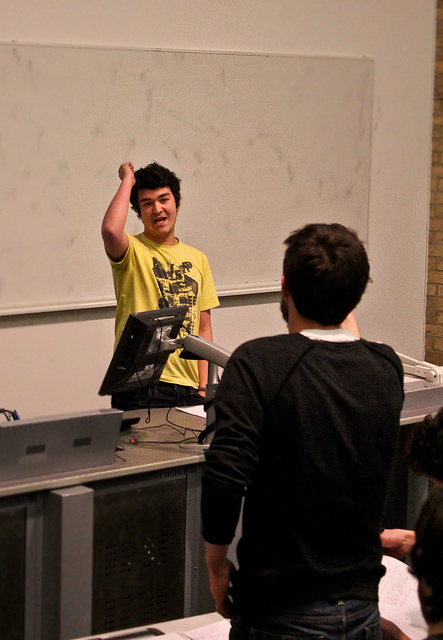 It was a tense day both on and off the fields during Roses weekend, as Lancaster and York's debating societies took to the podiums in a verbal battle for four points.
There were three rounds during the debate, two semi-finals and a final. The semi-finals also acted as determiners as to which members would compete in the final contest. Despite such a large amount of points being up for grabs, the ambiance throughout the day was an amicable one, with plenty of good-humoured banter amongst the teams.
The first motion to be debated on was: 'This house would remove minimum wage and significantly restrict the power of trade unions during periods of high unemployment and economic crisis.' The four teams of two had 15 minutes to prepare, and five minutes per person to present their argument. The York team going through to the final at this point were the 'Opening Opposition', Edward Shwitzer and Dimitri Dimitriadis, and the 'Closing Government', Jake Armes and Matthew Oldham, from Lancaster.
In the second semi-final, the motion was: 'This house believes that the duties of states to their citizens should be limited to the protection from: aggression, theft, breach of contract and fraud.'
Lancaster's strong 'Closing Opposition', consisting of Howard Byers and Charlotte Dickinson, and York's passionate 'Closing Government' Andrew Rose and Matteo De Martino, were selected to take part in the final.
The final round of debate was on a topic extremely appropriate for the weekend's events. It was a first person scenario in which the speaker would take the position of a '28 year old man from the House of Lancaster' who had 'just claimed the throne of England on the field of battle, potentially bringing an end to the 30 year old conflict between the houses of York and Lancaster' and whose marriage to 'the House of York's strongest claimant' to their throne, Elizabeth, could potentially unite the two houses and prevent further conflict. However, they 'found her incredibly disagreeable and unattractive. This house would marry her.' Lancaster's Byers and Dickinson took the 'Opening Opposition' and Armes and Oldham the 'Closing Government', with York's De Martino and Rose as 'Opening Government' and Dimitriadis and Schwitzer as 'Closing Opposition.'
Lancaster's Byers showcased excellent historical knowledge with his partner, Dickinson, presenting a highly analytical argument. York's 'Opening Government' also provided an enjoyable discussion as to why a unification of the two houses would be important, with Lancaster's 'Closing Government' also arguing their point with vigour. But it was York's 'Closing Opposition' who were the real entertainers, with their emphatic speeches raising laughter from the audience.
All of the teams debated well throughout the day, showcasing their broad knowledge and eloquence, but it was York's 'Opening Government' that sealed the deal for them at the end of the debate.
Lancaster's Society President, Armes, who was selected as the best speaker in the day's events, told SCAN: "We missed the win but we've got probably the best set of speakers Lancaster's had for a couple of years and hopefully next year we'll take those four points."
York's Society President, Rose, also commended Lancaster for their efforts, "Lancaster put up a really good fight, and we really weren't sure who won until [the judge] came in and announced the results" he said, "so we're obviously really pleased to have won, but it's great to have such great opposition as well."