Lancaster 3rd's frustrated by York
365 total views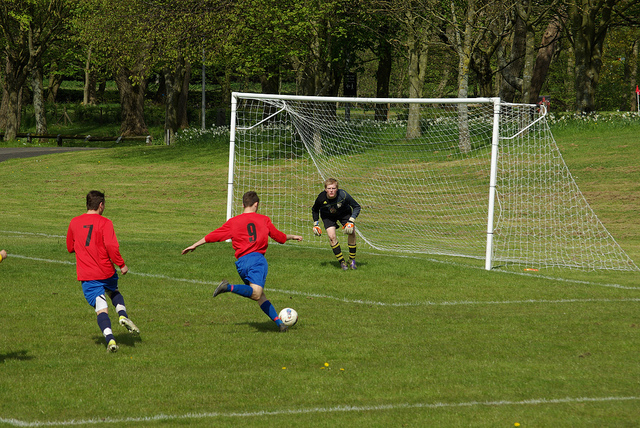 Lancaster 1-1 York
A make-shift Lancaster Men's Football 3rd's could not make their domination count as they were held to a 1-1 draw after a outstanding performance from York's goalkeeper Johnny Sim.
Lancaster had the better of the early play and could have been in front as early as the first minute but Jamie Lovett's shot was saved by Sim. However, against the run of play, York took the lead after a long throw was neatly headed in by an incoming Sam Ashbury.
Despite going behind, Lancaster continued to  dictate the game and would have equalised midway through the first half but Connor Atherton's header was kept out after a fine reaction save from the York keeper.
However, just after the half hour mark, Lancaster was awarded a penalty after a clash of legs between the York defender and the Lancaster striker. From the resulting spot-kick, Sim continued to deny Lancaster as he saved low to his right from Lovett  to keep York in the lead.
With half time approaching, Lancaster broke Sim's resistance when captain Dale Vardy nodded in Lovett's fine free kick.
The second half started in similar fashion to the way the first half ended. Johnny Sim continued his excellent performance by denying Atherton's swerving shot and Jordan Hughes's rebound.
York continued to be thwarted in the centre of midfield after a fine display from Vardy and failed to exert any pressure on the Lancaster goal throughout the second half, with their best efforts restricted to long shots. York's frustration showed with three players being booked and struggled  to string two passes together in the Lancaster half.
Sim capped off his match-saving display by denying Atherton again and Hughes could have taken Lancaster into the lead but his rebound blazed over the bar. Lancaster continued to pluck away in the final ten minutes but could not find a way through a spirited York defence.
After the match, Vardy told SCAN: "I felt we were hard done by. We dominated the game but overall I am very happy with all the team considering we only met this week."
York captain, Matt Bainbridge commented: "It was a very tough battle. Our keeper made a few world-class saves".