Lancaster 2nds walk to comfortable Roses victory
436 total views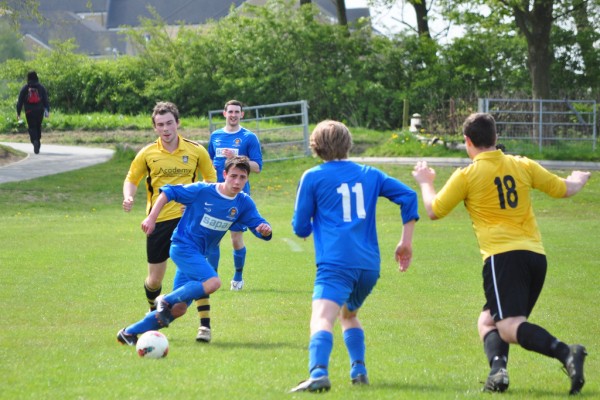 Lancaster 5-1 York
Anticipation surrounded both sets of players for the Men's Football 2nds showdown.
York began the game more strongly and had a consistent balance in midfield. After various attempts to dissect the Lancaster back line, York appeared to be shifting into top gear with damage to the score-line seeming imminent.
However, Lancaster were undoubtedly awakened by York's pressure and effectively broke with a string of accurate passes that finally set up Calum Douglas who sent his effort into a goalmouth scramble.
This switch in balance helped Lancaster regain their stride and acted as a starting point for them to impose themselves upon the game. The first goal arrived 25 minutes in when a high aerial ball was taken down by striker Simon Castle, expertly delivering the ball in the goal's bottom left corner.
York attempted to regain their earlier grasp with constant attacking wing-play. Lancaster were more than equal to this and remained firm, breaking down countless York manoeuvres and turning them to their advantage.
York were undoubtedly on the back foot and appeared grateful for a stoppage in play when Lancaster centre back Nick Ackroyd received a bad challenge and needed brief medical attention. The game restarted with the same Lancaster pressure, however it soon became clear that Ackroyd would be unable to shake the injury and was replaced by James Maf at 38 minutes.
Still lacking organisation at the back, the York defence continued to struggle with the Lancaster runs, reacting hastily to an in-swinging cross and conceding a corner just on the eve of half time. Lancaster midfielder Aaron Bleaksley whipped in the corner with pace which was met with a header by left back Max Sahm who sent the ball into the roof of the net. The half-time score saw the score line 2-0 to the home side.
As the referee blew to begin the second half, the match immediately returned to its previous pace. York had been given the much needed motivational half-time team talk as they emerged noticeably more positive and vocal, with captain Stu Dunk urging his players on from defence.
York's efforts almost came to a successful avail 10 minutes in when a defensive mix up by Lancaster left James Gutteridge with a chance, however the York frontman failed to capitalise.
This opportunity for York seemed to spur them back into action as right back Luke Gardiner made a powerful run down the wing, beating a string of players and putting a hard, low cross across the goal mouth, only to be well gathered by Lancaster's keeper Matt Phillips.
A well-crafted move was soon constructed by Lancaster with midfield duo Will McVeigh and Ben Kind linking up well before Kind played a pin point through-ball to winger Douglas who, with only the keeper to beat, executed a well-timed lob that went sailing into the open York goal.
Now 3-0, the game appeared again to fall back into the control of Lancaster. Lancaster went back on the attack, dominating the midfield before further link-up play between Castle and Douglas again resulted in a one-on-one situation with York's keeper Luke Bradley. Douglas kept his cool and with the advantage of a slight bounce on the ball, executed an almost carbon copy of his previous lob just minutes before.
Now 4-0 up, Lancaster were coasting yet maintained a professional discipline about their game and signalled further intent by bringing on attacking substitute Andy Wood to fill in at right wing for the remainder of the game.
The battle of the midfield was most was being won by the red rose, however York play-maker Gio Paledis in central midfield continued to attempt searching through-balls up to his team's lone striker Elliott Rous-Ross. None of these materialised with the striker having a very poor game as a result of the compact and disciplined Lancaster back four.
Just as the game appeared to be losing any existing momentum that it had left, in the closing stages a long ball was played by Lancaster down right flank to winger Wood, who was able to beat his man on the touchline before squaring a neat ball back to advancing full-back Henrik Thorsen in acres of space. With a clear view at goal, Thorsen kept his shot down well to send a fifth goal past Luke Bradley in the York net and infer more misery upon the visitors.
With Lancaster assured that they had won and only three minutes on the clock, perhaps slight complacency was to blame when a stray York ball from midfield over the top caused minor defensive confusion for Lancaster and resulted in front man James Gutteridge slotting home a late consolation goal for York.
The Lancaster lads appeared angered that their clean sheet was gone, however they saw out the remaining additional minutes well and celebrated triumphantly as the referee called an end to a great game of football, ending 5-1 in Lancaster's favour and adding more all-important points to Roses leader board.