Flags at the ready
395 total views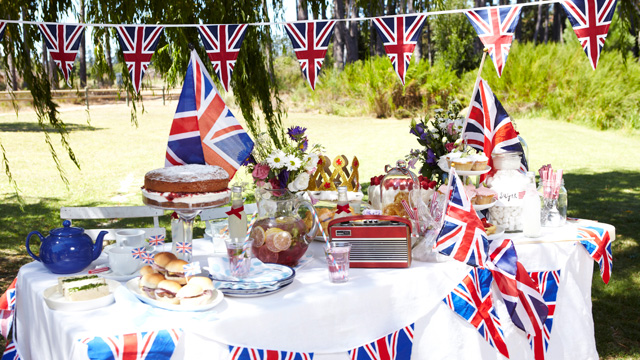 A jubilee is defined as 'a joyful celebration' and I am here to persuade you to embrace it as exactly that. For starters, this glorious occasion has supplied us lovely British folk with an extended weekend, so welcome these four glorious days with open arms! Taking place from the 2nd-5th June, it's probable that many unfortunate students will still be weighed down under a mountain of revision, more likely singing "God save my social life" than the usual patriotic anthem. However, as breaks are the key to success, the Diamond Jubilee provides the perfect excuse for a well deserved celebration. But what is the key to a successful Jubilee celebration?
The people. Having a good group of people to celebrate with is the back bone to any party, so it goes without saying that inviting your nearest and dearest is a definite. But, as it's a big occasion, why not expand past your usual group. Invite friends of friends, neighbours you've got on friendly terms with, anyone you'd like to get to know a bit more. As the founder of the street-party, the Jubilee is a time to embrace the people around you and a great excuse to get to know new people.
The location. Part of the beauty of the Jubilee is there doesn't have to be a specific venue. A street party is the obvious option, though it's worth checking with the local authority before you lug your dining table and chairs into the bus route. But with the weather as it is, the possibilities are endless: you could take the festivities down to your local park, go to one of the many beer gardens for some casual drinks or head to Morecambe beach. If it decides to shower, your living room or kitchen can be the perfect answer. With everyone jumping on the British bandwagon, it's never been easier to throw together a British-based bash: whether it's a picnic, BBQ, tea party, or themed night out, all the local shops are packed to the rafters with union jack themed accessories. So wherever you end up, you can easily be prepared with flags, bunting and paper plates, all sporting blue, white and red.
The food. As mentioned, everyone's involved at the moment, so head to Sainsbury's for their BBQ food offers, or shop online at Asda to benefit from their savings. As it's an easy theme, almost anything can be transformed to represent the nation; ice some fairy cakes in the flag's colours, mix some raspberries, strawberries and blueberries together for a patriotic fruit salad, cut biscuits into the shape of crowns- the more imaginative the better! It's worth noting that the LUSU shops are having a Best of British month, featuring products and offers from local suppliers, so it's never been easier to support your country, and have fun doing it.
Ultimately, wherever you end up, the Jubilee is a great occasion to just have fun with friends. Get together, get colourful and get jubilant!