Cricket 1sts season ends in disappointment
497 total views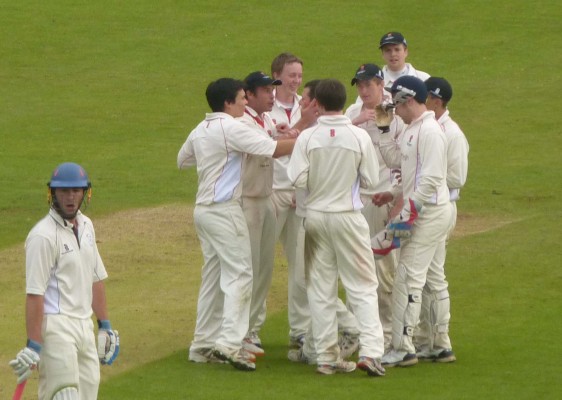 Having finished top of their BUCS league and already beaten their opponents in a tight Roses contest, Lancaster 1sts were looking to finish the season unbeaten and take the Northern Conference Cup.
Lancaster won the toss and decided to bat, with the versatile Marley Ali opening with Tom Isherwood. The two openers made a steady start against the York opening bowlers, and Ali was given an early reprieve as he was dropped behind the stumps off the bowling of Joel Hughes. Ali took full advantage of his life, as he hit the first boundary of Lancaster's innings into the nettles for 6.
Ali continued to punish York and his half century was greeted empathically by the Lancaster crowd, as he and Isherwood continued to build a platform. But the introduction of the York spinners created the breakthrough. Isherwood was caught off the bowling of Fraser Crawford, who picked up 3-30 off his allotted 10 overs, and Alex McDonald took the key wicket of Ali, who was bowled for 71.
Crawford and McDonald (2-38) put the squeeze on the Lancaster middle order as James Lester (2), Sam Walsh (9) and Jonny Millward (4) were out in fairly quick succession, with only Peter Barnes remaining firm. Walsh was aggrieved by his LBW decision and Millward, having survived an LBW shout the previous delivery, hit his next one straight to the York captain off Crawford.
A seventh wicket partnership of 38 between Barnes and Joe Wozniczka-Wells allowed Lancaster to rebuild and look like they could post a score of over 200. Once this partnership was broken, another flurry of wickets followed as the Lancaster lower order looked to score big and quick runs. Barnes's wicket was the big one for York as he was out for 50, leaving Matt Weller and Adam Heayns to ensure that Lancaster saw out the 50 overs, leaving York to chase 232 for victory.
After an hour's delay due to the weather, both sides agreed that York would have the full 50 overs, rather than a shortened over game. Sam Illingworth, who had a runner due to an injury picked up whilst bowling the final over, and Alex McDonald opened the innings for York and set the tempo for their chase with early boundaries.
York were consistently above the required run rate throughout their innings and Lancaster, unable to maintain control, needed wickets. Illingworth was an early breakthrough as he skied one off Weller which was taken behind the stumps by Joe Purvis. Ali picked up the wicket of McDonald as he was caught after going for one big shot too many, having already hit Ali for 6 and 4 in the over. Tom Brandeth was very well caught by Barnes off Wozniczka-Wells for 5, to leave York 61-3.
Fraser Crawford was deemed the key wicket by Lancaster, as he brought up his half century off 40 balls. His innings of 71, including 10 fours and 3 sixes, was ended when he was given out LBW off the bowling of Carl Purvis, leaving York 139-6.
However, a seventh wicket partnership of 63 between Rob Dickinson (42) and Tom Williams, who was unbeaten on 41, took the game away from Lancaster. When Dickinson was caught off the bowling of Weller to leave York 202-7, it gave Lancaster a chance, but Williams and Nick Townson put on 28 for the eighth wicket before, with only 2 required for victory, Townson was caught off Ali for 7.
But the damage was already done and it was left to Williams to hit the winning boundary, condemning Lancaster to a 2 wicket defeat and leaving the gathered York contingent deligthed. Whilst it was a disappointing end to the season for Lancaster, the club can be very proud of its achievements, especially given the tough weather conditions of the early summer.