Bowland comeback stuns Pendle in Cup Final
516 total views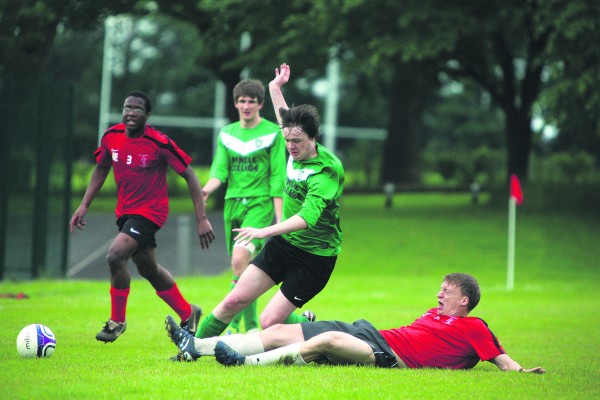 Bowland 2 – 1 Pendle
Bowland staged a late fightback to claim a priceless victory against Pendle in the Cup Final. Unfortunately the match, billed as "a game of the season," never quite lived up to the hype as Bowland's victory arose from a tight and very scrappy affair.
A cagey opening ten minutes saw a tense midfield battle as Pendle captain James Sandford and his opposite number, Bowland's Guy Pearson, tried to orchestrate the play for their colleges. The first real chance came when Pendle's Chris Timm made a darting run on the left; his cross being met by forward Niall Peaker but being comfortably saved by Bowland keeper Mike Stainsby.
A drab first half of speculative long balls and set pieces culminated in a dubious headed goal from Pendle's Sandford. A raking ball in, met by what seemed to be a Bowland header into their own net, was claimed by the Pendle captain who was clearly delighted with drawing first blood.
Bowland immediately tried to respond with winger Joe Ebockayuk and midfielder Ignacio De La Puerta linking up nicely, but sustained pressure was coolly dealt with by Pendle's seemingly impenetrable partnership of Tom Leahey and Phil Dunning at the back. A well disciplined first half was marred by a fracas between Pendle's Sean Mooney and Bowland's Sandford, seeing both players receive a yellow card. Mooney could perhaps have counted himself lucky not to be sent off, but the referee was clearly keen to keep a full compliment of players on the pitch.
The second half saw a remarkable turnaround in fortunes for Bowland, as they continued their dominance of possession and pressure. A pivotal moment in the game saw Pendle's Peaker substituted through injury. Peaker was arguably Pendle's most threatening player in front of goal and this was a huge blow for the pre-match favourites. A deserved poacher's goal from Bowland's Ronan Szelesi levelled the game, as Pendle struggled to respond with Peaker having been taken off.
Bowland seemed to gain confidence from their opportunistic equaliser as they pushed on for a winning goal. Pendle looked lacklustre and uncharacteristically sluggish as good Bowland moves slowly unhinged them. With the game heading towards extra time, substitute Suey Das scored a brilliant diving header to give Bowland the lead. With the game coming to an end, the lead, albeit it by a single goal, looked unassailable for Pendle as they eventually slumped to defeat. The final score finished 2-1 to Bowland in what seemed a justifiable victory.
Bowland JCR President Dan Huisman was clearly delighted with his team's victory, as he summed up his team's performance: "What a fantastic win. We have been working hard all season and I personally know how much effort they have all put in for this. Well done to the lads and unlucky for Pendle – it could so easily have been a different score on another day."
Bowland grabbed a deserved win from their dogged performance; a victory that Pendle could not dispute on the day, despite their best efforts.
Correction: the version of this article found in Week 29's printed edition of SCAN incorrectly listed Bowland Captain Guy Pearson as Jordan Sandford. This has been corrected for the online version; apologies to Guy.