Live at LICA: Curate the Campus – Review
449 total views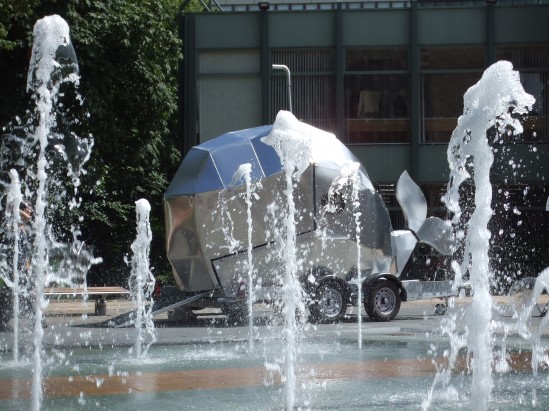 Curate the Campus this  year was designed to fit with students preparing for impending exams by asking artists what silence, memory and reflection meant to them. During the fortnight of 29th April to 10th May, the programme intended to offset the pressure of revision with  a different form of quiet time.
Events offered audiences  sensory experience. Chris Watson, famed for capturing the symphony of  the natural world for Sir David Attenborough, each morning from 3am  recorded the sounds of woodlands on campus to create a Dawn Chorus Concert.  His recordings were replayed in the cage-like structure of the LICA  building with the dawn still visible through the skylight. Each bird  call culminated to form a sound sculpture, showing that art does not  have to be fixed or material to produce sensation. To compliment this  was 'Stilled', a slow motion dance installation by company Fevered  Sleep at the Nuffield Theatre. Inspired by the scientific process of  X-ray crystallography, the performers explored the creative dynamics  of process and product through the lens of pinhole cameras. The gloom  provided freedom of movement for the audience and a dark room was set  up in one of the dressing rooms so that photographs were developed live  and stuck onto the walls during the performance. In such a fast-paced  image laden world, 'Stilled' opened viewer's eyes to the beauty  of static, patient spectatorship and encouraged new ways of seeing.
Compositions also worked  to disrupt conventional artist-audience relationships of space and models  of art ownership. In Lancaster city centre and across the university  campus, photographer William Titley's pop-up exhibition 'Lahore  to Chandigarh' appeared in live process with a mastery of space akin  to photographic guerrilla warfare. The two hundred images on display  represented Pakistani and Indian cities Titley captured during his visits.  His keen interest in the interactive process of curation led to the  suggestions of local people and students helping him towards the final  installation. Similarly, artist Andy Smith's exhibition 'Exquisite  Corpse' in the Peter Scott Gallery asked for public curation and allowed  audiences to enter into an exciting game of artistic consequences. Looking  around the gallery now, abounding with ideas written on the walls, it  is clear that many are delighted in being a part of Andy Smith's art-in-process.
Interestingly, students  themselves were involved in the production of events. Perhaps you have  seen the video recently posted on the facebook group 'Overheard at  Lancaster' where students are dancing randomly in Alexandra Square  with I-Pods? This was in fact a 'Dance Walk' in association with Ludus  Dance; a silent moving disco that covered three miles around campus.  You may have also witnessed an equally curious occurrence involving  strange animals roaming the university in October 2012? These were masked  LU theatre students participating in an open workshop 'Wildlife'.  The anthropomorphic creatures were photographed by Lancaster University's  own history undergraduate Matthew Fleming for LEAP, a Lancaster based  emerging artist support organisation. They were exhibited during Curate  the Campus in the Making Time Garden at the Peter Scott Gallery and  attracted many visitors. It is not often that one gets the opportunity  to see a fox getting off the X1 bus and standing outside Greggs. And  who would have thought that badgers read SCAN?
Theano Psara, MA Contemporary  Arts Practice student, worked with artists involved to produce a blog  for the Live at Lica website. I asked her if she thought artistic projects  in unusual spaces change the nature of art spectatorship and she said;  "In a traditional gallery space a person is aware that there will  be art, which may well be intellectually challenging, and so they will  mentally prepare for this. Outside the gallery, and especially in chance  encounters such as 'Lahore and Chandigarh' by William Titley, a  person has little or no preconceptions. Therefore, their response is  far more spontaneous and genuine."
Overall, the success  of this year's Curate the Campus translates into the art world's  larger movement towards interactive art. Who would you be in the audience  of such a sociable artistic event? Would you be a participatory member  or simply a bystander? Will the relational aesthetics of today convert  contemporary art haters and avoiders, or simply push them further away  from the gallery doors? There is one thing that is certain; as a spectator  we do not always have to travel to see art because it is continually  being constructed in our own spaces. Contemporary art is no longer confined  to a static canvas but is repeatedly being exhibited as a dynamic event.  Surely the fact that art is now moving beyond the frame is a good thing?  That's what I think anyway. I feel privileged that relational art  has been taking place on our own doorstep.