Style highlights of the Golden Globes
648 total views
It's 2014 and Christmas is over.  There I said it. The excitement for the season of goodwill which has been building since November has finally subsided and you're left with the seasonal cold, rainy weather and an endless list of deadlines. Fear not, January isn't all doom and gloom, you've always got awards season to look forward to. From the Golden Globes to the Oscars (and the National Television Awards if you're desperate) spring 2014 truly is the season to snuggle up under the covers and envy the stars as they party through the New Year.
The Golden Globes is an awards ceremony with a difference. For actors and actresses, the Hollywood Foreign Press Association appear to be the mystic meg of film, with their predictions automatically becoming box office hits. However, for the wide variety of stars invited to this prestigious shindig, another judge is almost as intimidating. According to some, being papped on the red carpet is akin to a fireworks display, or at least a very traumatic Laser Quest experience. As you hop out of your limo you are photographed from every angle, with pictures appearing on blogs and in magazines quicker than you can say 'let me just adjust…'. Even the 'serious media' who would normally frown at such things as style guides make sure their coverage of the stars and, more importantly, their outfit choices are analysed to the extreme. Unfortunately, 2014 for the darlings of Hollywood was no exception. The 71st Golden Globe Awards, on January 12th saw the Beverly Hilton Hotel overrun with designer suits and custom-made evening dresses which both amazed and confused viewers.
Now, I'm not here to critique every outfit which made its way down  the red carpet. I'm a big believer in people wearing what they want, regardless of whether it's explicable or not. However, I am here to draw attention to the best outfits and the stars who I think had the guts to look great.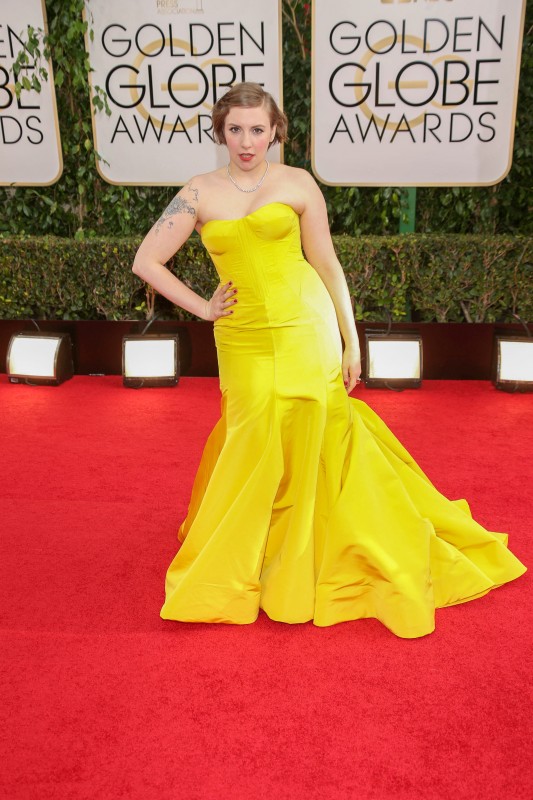 Lena Dunham, the writer and star of HBO's 'Girls' rocked a canary yellow fishtail creation by Zac Posen with attitude. There's been a lot of hate surrounding Lena's styling choices and even over the cut and fit of the dress. However, I've got to admit it's nice to see someone looking happy and not primped to within an inch of her life walking the catwalk. This 'so what' attitude and the great colour of Mr Posen's creation against Lena's alabaster skin gave the star a unique look, without the try-hard label.
When it comes to awards ceremonies, Hollywood seem to underestimate the 'classic ballgown' look in favour of a more adventurous approach to fashion. I'm not a fan of Taylor Swift, although I have to admit she looked stunning at the Golden Globes. Her Carolina Herrera dress could have swamped her delicate frame, however the sweetheart neckline and bow detailing kept the star looking glamorous and, accessorized with simple jewellery and bold lipstick Taylor epitomised timeless Hollywood style.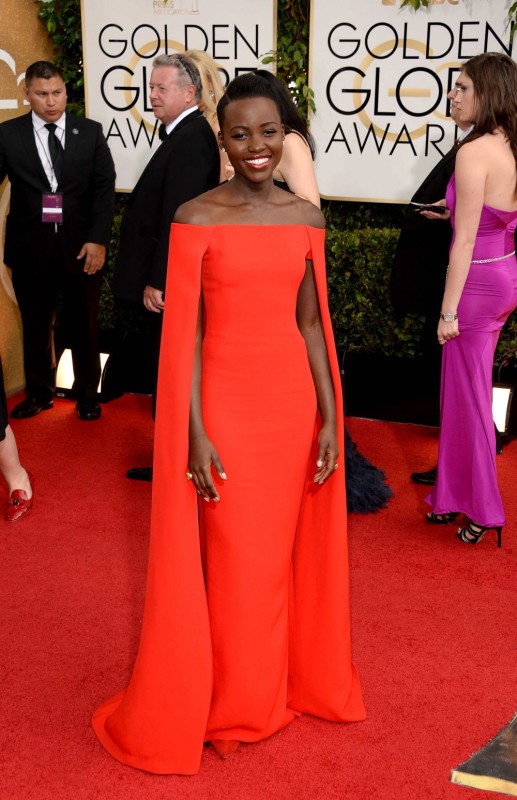 My favourite dress of the night was Ralph Lauren's scarlet creation for newcomer Lupita Nyong'o. The actress, who stars in the newly released '12 Years a Slave', chose a tricky design which included a cape after ignoring requests from Gucci and Prada who were both desperate to dress the star. The look was clean and unique, boosting Lupita's status as a stylish celeb and definitely helping her gain a list of loyal followers at a whole host of fashion houses. For me, this dress wasn't the most beautiful of the evening, it was simply the best design; a shape which would leave so many women looking like an extra  at the Hogwart's Yule Ball (with added wand obviously).
The boys at this Golden Globes also didn't disappoint with a whole host of stars choosing the classic tux design. Special mention goes to Matthew McConaughey who decided to Heff-up for the evening in a green velvet blazer and waistcoat from Dolce & Gabbana . It was a risky choice, which left him looking more Prince Charles than David Gandy. As usual, Michal Fassbender wowed in a classic tux with pocket square and Idris Elba looked suited and booted in a navy three-piece from Gucci, however for me the star of the show was Mr Martin Scorsese. As well as being an all-round good egg, the 71 year old legend of film and cinema looked dapper in a double breasted Giorgio Armani, showing the younger generation of actors why they should emulate true Italian-American style.