How to rock Fake Fur
755 total views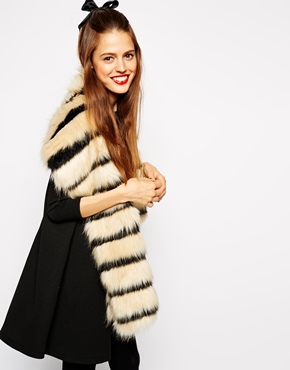 Fur: never an easy fabric to pull off. Every winter, fur coats take over the high street in their hundreds. From faux leopard print to pastels and bright, with a little guidance it couldn't be easier to add a spot of fur every now and then.
Fur stoles have taken this season by storm, all starting when cult Shrimps label took over street style blogs about a year ago with their marshmallow-fluff furs in ice-cream parlour colours. Given that we are students and don't have the funds to fork out for a £595 pastel dream coat, it's a huge relief that the high street has now made it possible for us to get in on the fab fur trend. A common issue most people have with wearing faux fur is that they feel more old-lady with a perm than fashionista with fur, but with the introduction of pastel shades and new pieces that shouldn't be an issue! A stole is one of the easiest ways to add a fur element into your wardrobe, from a classic black to an out there multi-coloured patchwork dream. You can find a wide range of fur stoles at ASOS this winter, my personal favourites being this ASOS Faux Fur Stripe Mono Collar (£30.00)
Another really easy to incorporate fur into your look is with a clutch bag. Another item that has hit the high street by storm, you can pick a faux fur clutch up from anywhere at the moment. Topshop have a beautifully simplistic black clutch in store at the moment, just enough to add an interesting element to your going out ensemble. You can pick it for £32.00 with many other colours available online.