Overview of London Fashion Week
615 total views
Though September welcomes the first day of autumn, the month's biggest event, Fashion Week, is all about SS16. In fact, London Fashion Week took place just last weekend and compared to its counterparts, New York, Milan and Paris, it is often seen as the quirky, cool younger sister. Achieving this reputation because of its long history of experimental and exciting designs, the city's fashion scene inspires a laidback, anything goes kind of week, delivering a number of intriguing new trends for the New Year.
One of the highlights from the week was Vivienne Westwood's show, which epitomized the London fashion vibe. In fact, the clothes were almost of secondary importance on Westwood's runway, where models took their stride in a march against austerity, fracking and politicians in general. Not to be forgotten though, Westwood's sharp tailoring and flowing floral dresses were, as always, on point and served to amplify the collection's message.
A fond farewell to the seventies is in order next spring when we must prepare to welcome the eighties. Its influence was subtle back in the February AW15 shows but has now undoubtedly arrived in full force for SS16. Think statement sleeves, a quick fire way to channel the era, leopard print and leather in a multitude of shades. Christopher Kane and Topshop Unique were two of the champions of this trend with their clashing colour schemes and loud prints but whilst Kane's collection is undeniably incredible, the draw of Topshop Unique is that it is always immediately wearable.
Kane explained ahead of his SS16 that last season his th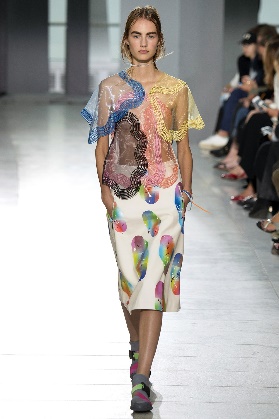 e Kane woman "discovered sex…now she's crazy in love" and this was a shift that was tangible throughout his collection. In fact, there was sense of recklessness in the spray painted tailoring and dresses with messy, hand-stitched motifs that oozed that whirlwind romance feel.
Topshop Unique on the other hand, was heavy on print, channeling a British eccentricity into the eighties. With skimpy little belts drawn over mannish blazers, it was all about the little details and the juxtaposition of tea dresses worn with bomber jackets and colourful chunky knits with white frilly blouses. Overall, the collection was highly wearable and incredibly high street accessible, something that always gets ticks in my book.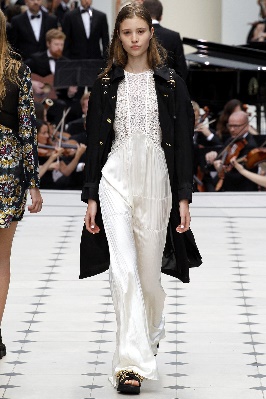 One of the strongest collections of the week was undoubtedly Christopher Bailey's Burberry. Though the colour palette was much simpler than other designers, predominantly black, cream and blush, the relaxed aesthetic of the collection was a huge hit. Paired with rucksacks and chunky flatforms, the recurring floaty lace slips the models wore appeared effortlessly cool. But of course it wouldn't be a Burberry show without a classic mac, and this was just as beautifully redesigned with details such as braiding, insignias and gold piping.
The cool, effortless aesthetic that Burberry evoked was something that prevailed throughout London Fashion Week suggesting that come next season the focus will be on an unsophisticated, almost accidental elegance.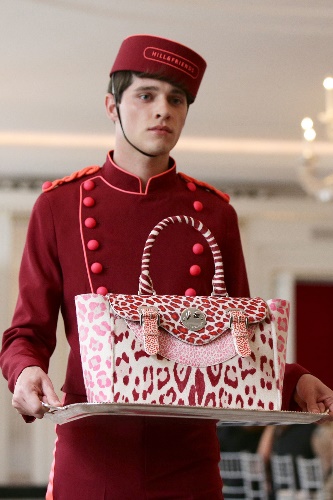 The one label that everyone is talking about coming out of London Fashion Week is 'Hill and Friends'. The debut of the season by former Mulberry creative director Emma Hill. Only an intimate group of editors were invited to see the collection of bags that were all about being happy. With smiley face motifs working as a clasp and, in order to open the bag, a wink of the lock is required, the Hill's solo collection is set to be as big a hit as her work at Mulberry. And, if we're following JW Anderson's suit, we will all be wearing two bags rather than one next season, which is all the more reason to buy a new own right?
Though many people, especially in remote Lancaster, fail to see the importance of London Fashion Week in their own life, the trickle down effect of fashion is significant and worth paying attention to since, come next summer, the high street and even your wardrobe will be an echo of these trends.