Surprise Style Challenge – Brought to you by LA1:TV
617 total views
In collaboration with LA1:TV, SCAN is giving you behind the scenes info from LA1's newest show, Lancaster Life. The show will feature a fashion segment on, as you can probably guess, all things fashion! Brought to you by Imogen Greig and Christine Hawkins, the girls have each undertaken a fashion challenge. You can watch the first episode out now on the LA1:TV website and read all about how the girls got on below!
For any real fashionista, being faced with the challenge to put together a stylish yet wearable outfit is an exciting prospect we encounter almost every morning. However, for my task there is a catch: one item is to be a 'surprise'. This surprise comes in the form of an item of clothing I would not usually think of to wear, be it a random find from a charity shop or from Amazon for example. The point is, I am challenged to make this piece fit in with two outfits, day and night, and actually look good.
For this week's episode I made my first order from everything5pounds.com. This online fashion site sells a complete spectrum of women's clothing, from handbags to dresses. And yes, every single item is £5! Slightly wary of course, I ended up going with a simple white tee with a cut-out design. I knew this would be an easy option for the day time look; simply paired with a denim jacket and jeans and you have an outfit. However, I would need to think about how to pull it off as something I would even moderately enjoy wearing in the evening.
The top was different to what I expected. Appearing more carefully crafted online, the top was a heavy cotton material with bigger holes than I had imagined. Even so, when combined with a black cami beneath and my faux fur collar, the day time look came together and I was impressed with the outcome.
When putting my night time look together, I had a revelation when I remembered my trusty Zara leather jacket. Throwing this on over the top of the tee along with a statement necklace jazzed it up immensely. I chose a black bodycon skirt and ditched the jeans, and all that was left was my heeled boots and a red lip for the finishing touches: I was done!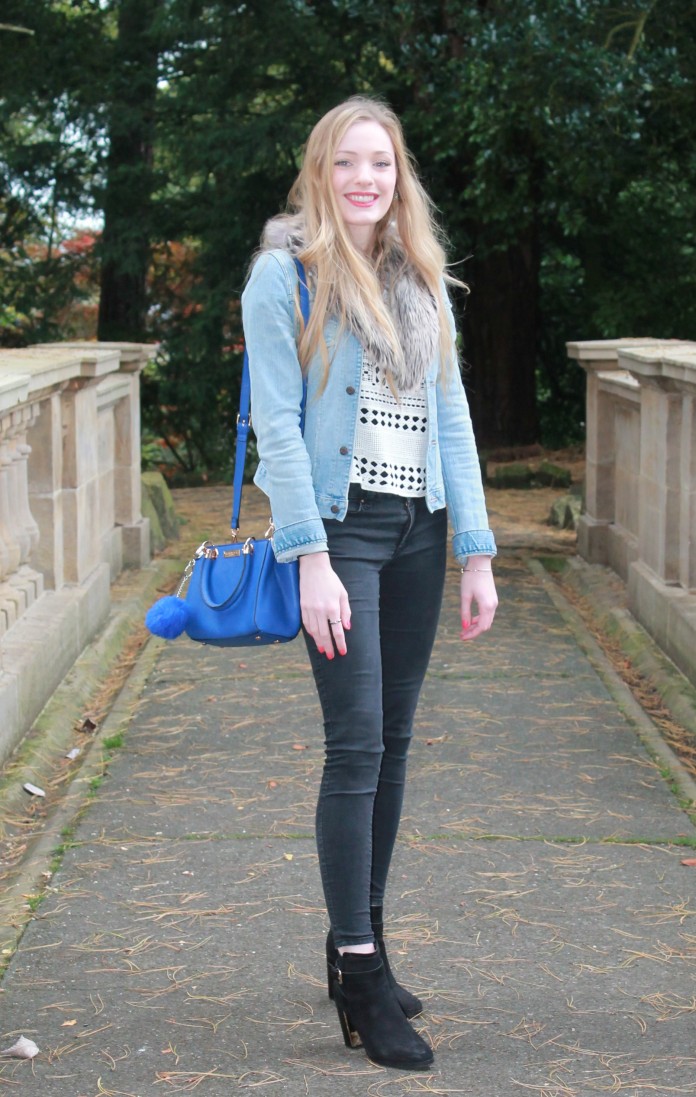 A whie t-shirt might not have been the riskiest of items, but at the end of the day a surprise item is a surprise item. Keep an eye out to see what I get up to next time and how I'll style my way out of that challenge!