Ri-Ri Rules the Runway
732 total views
Despite the fact we, sadly, didn't see Rihanna performing at this year's Grammys, she's been doing a lot of work, work, work lately. Her eighth, long-awaited, new album "ANTI" is now on Tidal, she has also been named the new creative director for Puma and her Fenty x Puma collection rocked the New York Fashion Week on Friday, February 12. How can you be so cool, Ri?
After months, actually years, of waiting and delay, Rihanna has finally dropped her new album "ANTI." Working on the record for three years, Rihanna has offered the album for free download as a gift to her navy, her affectionate nickname for her fans, as it took so long. She tweeted a special code to her 55 million Twitter followers, providing them with access to the record for free on Tidal for a limited time only. The promotional code has now ended, but the record is available on iTunes with three new additional tracks including a cover of Tame Impala's "New Person, Same Old Mistakes," a song co-written with Dido called "Never Ending" and my favourite, "Work," featuring her ex-boyfriend (and my future husband), Drake.
When Rihanna's not dropping albums, she's designing clothes for Puma. Just have a moment and think of Puma. What did Puma do for the past five or ten years…? I feel like I haven't heard from them in ages and their products are far behind Nike or Adidas (as it can be noticed in our everyday campus life), but since the addition of Rihanna to their team, boom! Sales have grown at a double-digit percentage rate in all their product categories. She teamed up with the German sportswear brand in 2014 as a creative director and designed shoes and also sportswear-inspired fashion pieces that were to die for. When she released the "Creeper" sneakers, inspired from London and New York's '80s punk bands,' in September last year, the collection sold out in three hours. For you creeper lovers, there might be hope to get your hands on a pair as more releases are set to come through November 2016.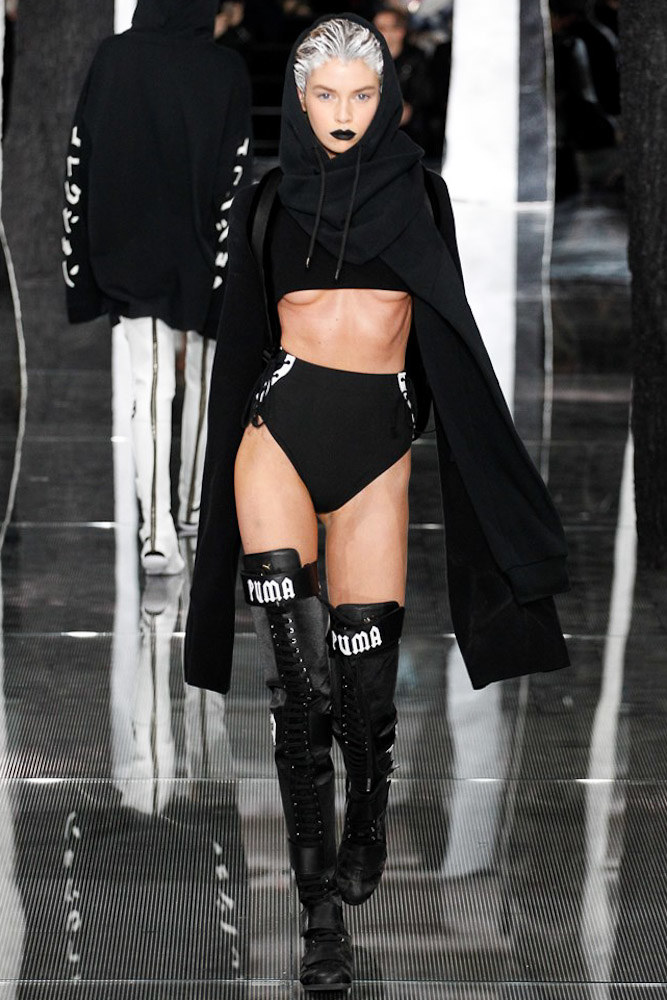 Although creepers might be gone for now, there's so much more coming. Rihanna has just debuted her full FENTY PUMA Fall/Winter 2016 collection. Inspired from Japanese street culture, the pieces are a mixture of cultural influences and gothic tones, with oversize proportions, shapes and volumes. If you remember Rihanna for River Island, this collaboration is ten times better than that. If you're a fan of monochrome, knee-high boots, exaggerated and transparent tops and fuzzy, oversize hoodies that is. It's very Rihanna, it has a touch of elegance but it's mainly rebellious and sporty. Her strong ideas of fashion and her vision of style are well exhibited in this collection. "I just wanted things to reflect me, what was on my mind, how I feel and what I want to wear right now," she said. There's a long way from classic Puma to Fenty Puma, but the outcome is amazing and will definitely be a success. It's very different from everything Puma has ever done. As for the show, it had it all, and by that I mean Anna Wintour and Naomi Campbell on the front row, and Gigi Hadid and her younger sibling Bella on the runway. Overall, much wow and much Ri-Ri.