Is the Fashion Industry Ageist?
1,122 total views
It is a time of change in the beauty and fashion industry. Gone are the days of heroin-chic style when Kate Moss reigned supreme, when to be a model there was a list of strict requirements around size and shape. And while Moss is still queen – and always will be in my eyes – the rulebook is being thrown out.
One category this is more apparent than ever, is that of age. While ninety-four year old Iris Apfel has always been a fashion icon, so much so she even received an exhibition inspired by her style at The Costume Institute at the Metropolitan Museum of Art in New York, she was unique and the fashion brands, the dictators of style, were non responsive. In recent years, however, they've started to take action.
Last July, beauty giant L'Oreal revealed Dame Helen Mirren as the new face of the brand, stating the sixty-nine year old "demonstrates a strength and energy that comes from within, showing women across the world that looking and feeling beautiful doesn't have an age limit." She's not the only mature woman fronting such campaigns as fellow actress Charlotte Rampling, also sixty-nine, is the frequent muse of Francois Nars, and as such was the face of NARS Audacious Lipstick Collection in August 2014.
Marc Jacobs followed suit, naming Jessica Lange as the face of Marc Jacobs Beauty that same year at the age of sixty-four, and as recently as January of this year it was announced Bette Midler was on the line up of models for the Marc Jacobs latest collection. If you were still not convinced, eighty year old writer Joan Didion was the face of high-end French brand Céline's Spring / Summer 2015 collection, and what's more in than Céline?
While the above examples seem to illustrate the fashion industry has finally realised women over the age of fifty don't suddenly stop caring about their appearance, as if alongside menopause they naturally accept defeat and start shopping for frumpy cardigans and skirts that don't reveal the knee, I was still dubious on how far this increased willingness to embrace models with wrinkles, liver spots and histories really stretches.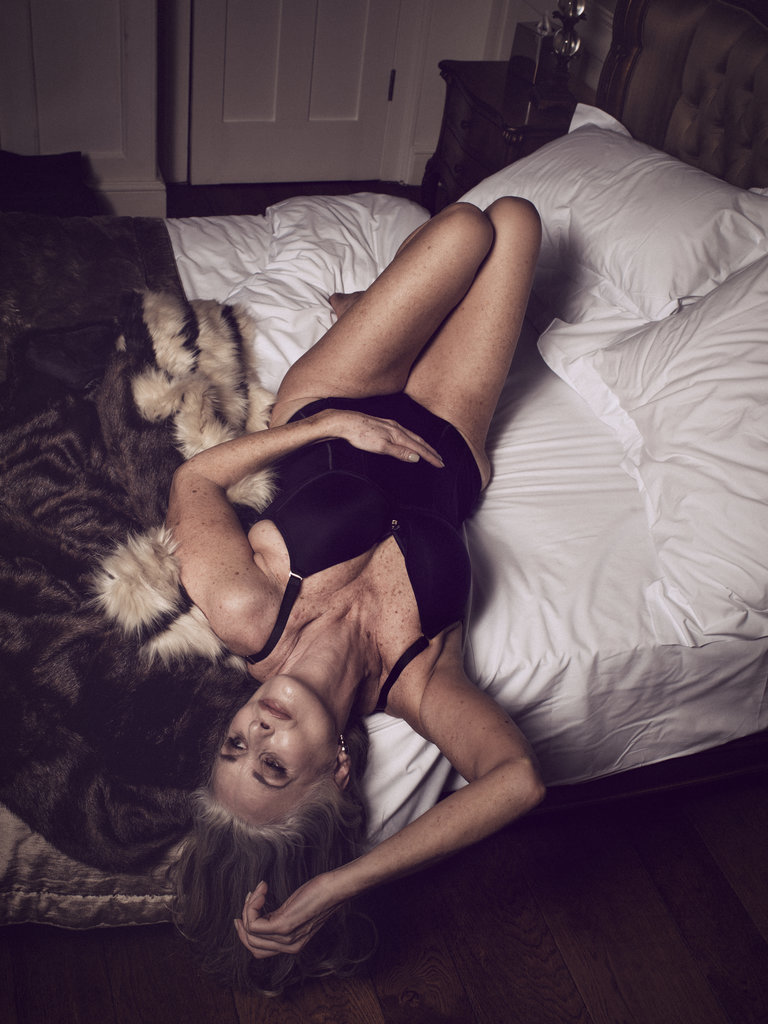 That was until I saw photos of fifty-six year old Nicola Griffin, the silver haired model. who looks like a true, beautiful elfin queen, fighting ageism in an uncompromising industry. Starting her career just four years ago, after her daughters left home for university, Griffin is embracing this new venture, and she's breaking boundaries along the way. In February of this year, she put Kim Kardashian to shame and broke the Internet; this time for what some would argue was something more worthy, when she appeared in the annual Sports Illustrated swimsuit edition. The images went viral, for not only was a plus size model featured, Griffin was also the oldest model to ever appear on the pages of the men's magazine. Emerging from the water in a gold bikini, hands pushing her hair back from her face and the sun peeking out in the background, I'll say it – she looks hot! She looks strong, she looks confident and she looks happy.
This campaign couldn't be topped, but it was only the tip of the iceberg for Griffin. Her latest shoot for SLiNK magazine, the only print magazine worldwide dedicated to plus-size fashion, see's Nicola model an array of lingerie, from delicate lace negligees to silk, embroidered bras. And the photographs are truly stunning. Oozing class and a sense of nostalgia for an era gone by, the images are also incredibly sexy.
Speaking after the shoot, Griffin commented, "Women in their fifties and sixties are so used to being ignored and pushed aside in the fashion industry, but things are changing now. The industry is no longer just about the slim eighteen year olds anymore, and that's been wonderful. I feel very honoured to be a part of this changing tide in the industry."
And the industry really is changing. An eighty five year old man from Fujian Province, China featured on GQ's 2016 Best Dressed List! Not even a celebrity, he was just a dapper gent. So is the fashion industry ageist? I don't think so. For that is the empowering message Nicola Griffin carries and ensures to teach us, "This is how a beautiful woman should, can and does look."