Drag Race Rundown
1,578 total views
Spoilers ahead!
First up we have Baga Chipz with her questionable entrance look. This attempt at Alexis Carrington was just that – an attempt.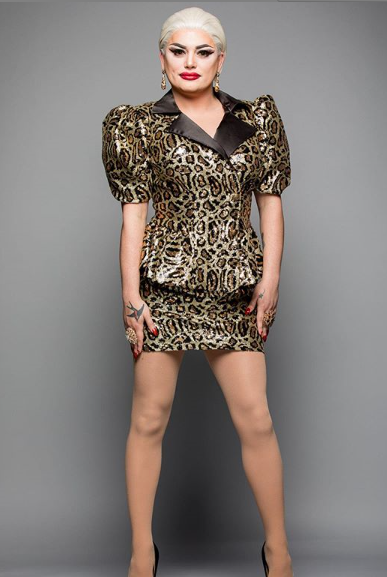 Now our Northern Irish Queen, Blu Hydrangea, with her cascade of blue hydrangeas. She's a well-loved Instagram queen but, for once, this isn't a negative. Having had a stalk of her, I found out that not only is she an amazing and creative makeup artist but also a sickening performer.
This next queen, Divina De Campo, is one that avid TV viewers should familiar with. She's been on our TV screens for many years on shows such as The Voice and All Together Now. This look is very much Divina: big, red hair with a campy and well put-together aesthetic. All in all, a very much perfect an entrance look to show off DDC as a brand.
On to Crystal, (was formerly known as Crystal Beth, a much better name IMHO, however, this is the BBC dArLinG and the only kind of Tina they want on their airwaves is Ms Turner herself).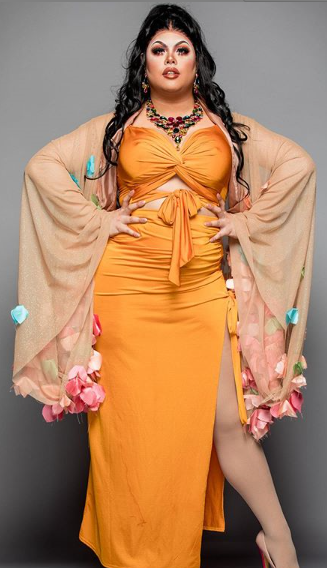 This Canadian queen had, potentially, what is one of the best entry lines of 11 years of Drag Race: "Maybe she's born with it, maybe it's body dysmorphia".
This look is clearly Abraham Levy inspired, with a uni-boob flare and a smidgen less transphobia.
Next up is Sum Ting Wong who has one of the best names out of the bunch. Walking in with something that you can probably buy off of ASOS and a cape piece of fabric with hot glued flowers was boring, but she sure as hell made up for it in the main challenge.
Cheryl Hole, another strong competitor for the best name of the season, with a (p)leathery fringe moment. I can imagine that whilst performing this looks absolutely fabulous but as an entry look, not so much.
Bless Gothy Kendoll. So, she's going for the chav glam aesthetic I guess? A shiny, see-through tracksuit is very on-brand for her, but personally I think it's just meh. I feel like she's trying to replicate American insta-drag. Okay sis…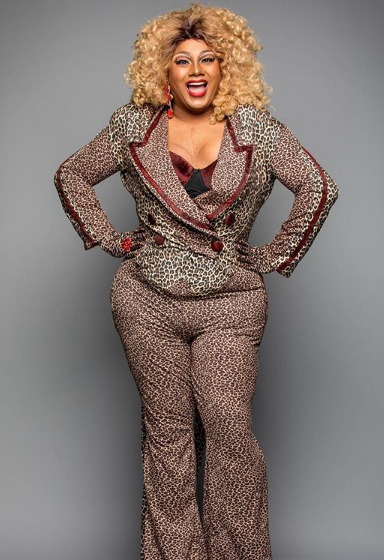 Vinegar Strokes is very much an old school drag queen which I adore – or even prefer even. However, she probably could have done with having this tailored as it the trousers sit rather awkwardly on around her padding and undergarments.
Scaredy Cat is a fat mood. She has a very clear Kawaii aesthetic mixed with those Instagram drag/Trixie Mattel cheeks. I adore her and the different aspect of the LGBTQ+ community that she represents. Even when in a heterosexual relationship, bi/pan/queer people are still as queer as they are whilst single or in a same-gender relationship, rather than just Ru's idea that only gay men should be doing drag.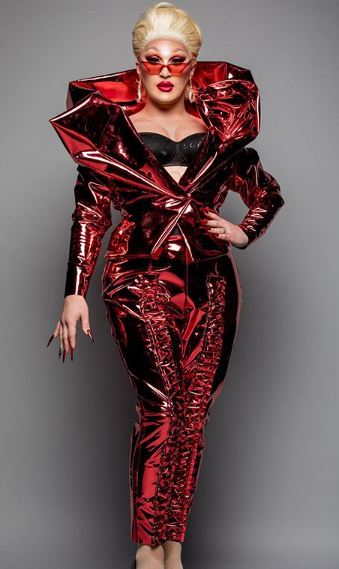 Our last entrant was The Vivienne with a rather Americanised look which is a serve and a half. I am personally not a fan of her but this article is about the Queen's' looks, not their personalities.
The Queens' had to serve two looks; their hometown and Queen Elizabeth II inspired.
Hometown looks: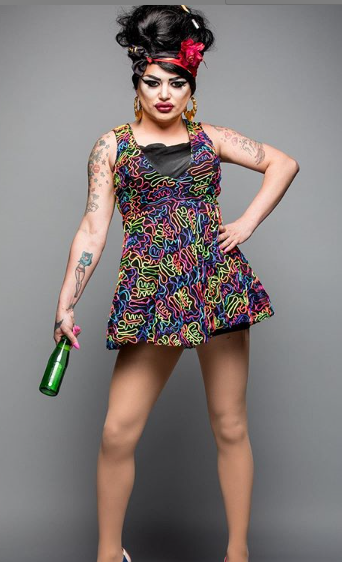 Baga's Camden look was my favourite out of the lot. I'm a North London girl myself and I've spent loads of time in and around Camden over the years, but also because Amy holds a special place in my heart; I was at the last gig that she appeared at (three days before her death) and as a fellow Jewish person I feel a particular kinship to her as many of her earlier songs are, amongst other things, about her struggles with her identity. Baga's homage is the perfect way to show the world how us Brits pay respect to our adored celebrities.
Blu's Belfast look was a loving representation of her city and family history. It would've been nice if she'd worn some boobs as even from the front, her body just looks one dimensional.
Divina's Wallace & Gromit look was simply sublime. That's all I am going to say – now Gromit, I'm off to go and find me some Wensleydale.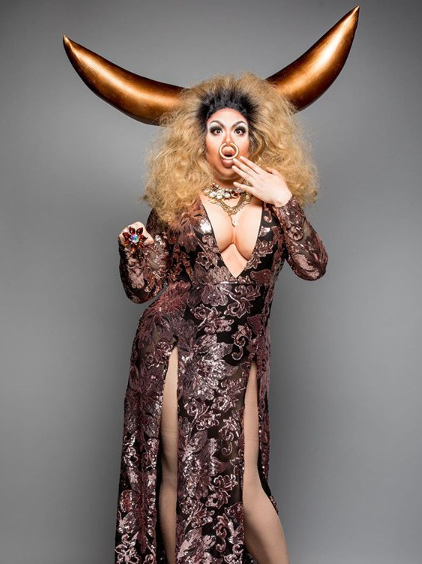 Crystal's Viktor and Rolf inspired dress, pearl necklace wig and Pearly Queen blazer is a perfect representation of East London. Her attention to detail is something that can really set a competitor apart from the pack.
Sum's Birmingham Bullring look was amazing, perfectly camp yet edited.
I know many a girl that looks like this. Cheryl's Essex inspired look is frankly spot on. Don't let her get too claustrophobic (Darren).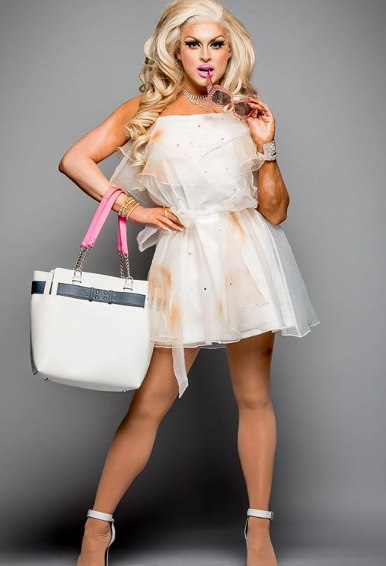 I think there's only one thing needs to be said about Gothy's Leicester inspired Tiger: grr. I just feel sorry for her. On the other hand, I can clearly see the Mugler reference but it's Thierry, not Tony (the tiger). Overall, the look wasn't grrrrrreat.
Vinegar Strokes, bless, the concept was there but the execution was poor. Alan's comparison to the EastEnders opening credits was spot on.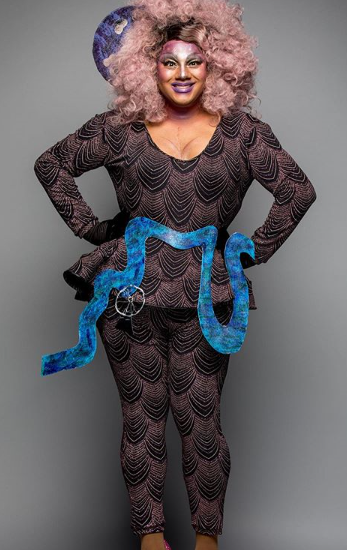 Scaredy's Wiltshire look was interesting, I particularly like the whimsical nature of the look.
The Vivienne's Liverpool look is a touching tribute to the iconic Pete Burns. If you don't know who Pete was, go away, do some research this into him and Dead and Alive then come back and thank me.
Royal Replicas:
Baga's 1970's Queen is more Queen Mother thank Queen Elizabeth II, but maybe she got a bit confused by the assignment.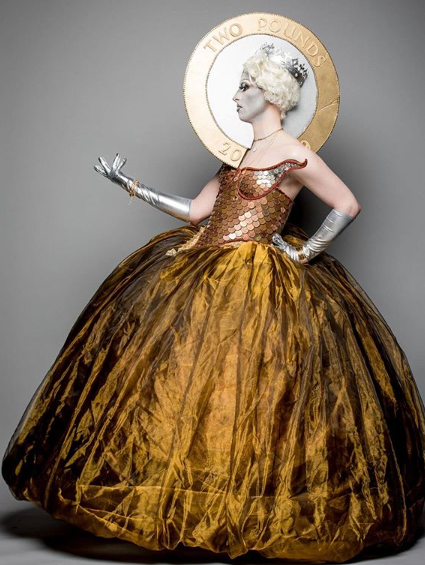 Blu's Queen look, for me, was one of the best. From the detail in the bodice to that silhouette and of course how can we forget the main focal point of the look, the massive coin? Dick King-Smith is quaking (he's doing just fine sweetie – I mean he'd a bit dead, but other than that he's good).
Divina's bedroom Queen might be borderline treason, but its fabulous nevertheless.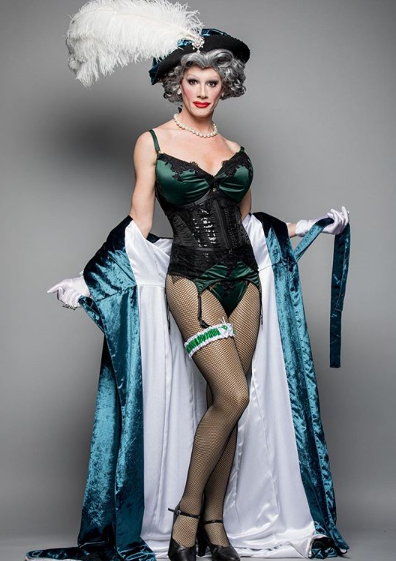 Given the cut of the trousers, I find Crystal's look to be more beefy than Beefeater.
Again, Sum Ting killed it. This. Is. Camp! To me, she should've won the challenge hands down.
Cheryl's look is more Princess Beatrice than Queen Elizabeth and I'm going to leave it at that (mainly because I don't want to look at the picture anymore).
Gothy, baby, what is you doing? In what world would Queen Elizabeth ever wear that silhouette. I mean, stoned tights?
Seriously? Ru definitely made the right decision this week.
Vinegar just looks cheap. If you're going to use a different silhouette to the one that the Queen usually wears with this instantly recognisable colour, please lower the hemline by an inch or two so that we can't see the platforms. And for the love of God colour of the gloves and handbag right!
Scaredy Cat's interpretation of the Queen's baby photo just works!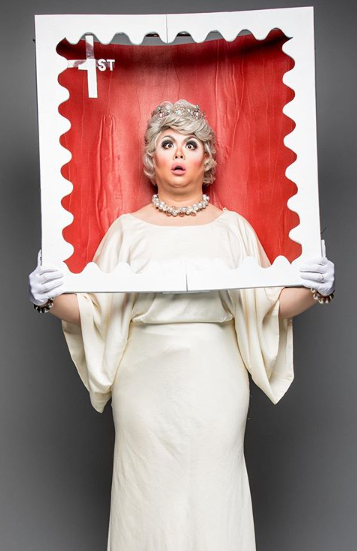 I enjoyed The Vivenne's Queen off duty look. Do I think she deserved the win? No, not really.
As I said earlier, I think Sum Ting Wong should've won, but I am not (yet) a producer or judge on Drag Race so we'll leave that to Ru, World of Wonder and BBCThree.
Be sure to watch RuPaul's Drag Race UK on BBC iPlayer from 8 p.m. on Thursday nights!
Be sure to watch RuPaul's Drag Race UK on BBC iPlayer from 8 p.m. on Thursday nights!