Halsey, Manic: review
1,447 total views
Our Associate Editor Liv talks about the new Halsey album.
Since the beginning of her career, Halsey has openly embraced her bisexuality and has publically discussed her relationships and experiences with women. She calls her collaboration 'Strangers' a love song to the LGBTQ+ community, which uses female pronouns and features Lauren Jauregui, who also identifies as bisexual. With her third studio album being released at the beginning of the year, it seemed only fitting to review Manic for LGBTQ+ history month.
I can't lie, going into the album I had doubts. In recent years, Halsey has catapulted into the spotlight from being a relatively unknown indie-pop artist whose metaphorical lyrics made her debut offering Badlands so enamouring. It's not uncommon for artists who experience this to lose their ability to relate to their audience in favour of chart positions and streams. With Manic, this couldn't be further from the case.
'3am', an early 2000s pop-rock style track fades into a voicemail from fellow singer John Mayer. He says, 'Your best song is a song a song that's currently on the radio, how many people can say that?' Referring to 'Without Me,' the lead single which hit number one in the U.S., the break-up song secured Halsey's place in mainstream pop and served as a taste of what to expect in the rest of the album.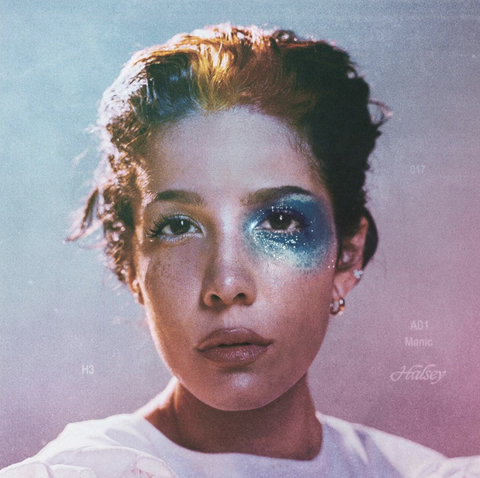 It is the multitude of genres in which she delivers her poetic lyrics which makes Manic so memorable. The angst-driven 'I HATE EVERYBODY' sits in stark contrast to the country-inspired 'You should be sad.' Elsewhere, 'Clementine' is a stripped-back, minimalistic ballad, in which she sings, 'my face is full of spider-webs, all tender, yellow, blue and still with one eye open, well, all I see is you.' No matter the tone of the song, Halsey's unique lyricism shines through in each track, extremely rare for a pop artist in today's musical climate.
Alongside '3am,' my favourites on the album stand as 'Graveyard' and 'Finally // beautiful stranger.' The former stands as the second single from Manic, an electropop track that addresses the toxicity of a previous relationship, while the latter Halsey wrote as a wedding song.
One of the distinctive features of the album is the three interludes, all of which are duets. The three interludes are named after the collaborators: Dominic Fike, Alanis Morissette and SUGA from K-pop band BTS. Halsey revealed that 'Dominic's Interlude' stands for brotherly affection, while 'SUGA's Interlude' recounts the experience of falling in and out of love with music and stardom.
However, the most memorable of the three is Halsey's collaboration with Morissette. Stating that she collaborated with Morissette as she helped her to feel comfortable with her sexuality as a young adult, the lyrics suggesting a need to abandon labels and not feeling the difference between her relationships with women and men. In 2018, Halsey came under fire for a live performance of 'Without Me' for choosing to dance with a woman, with critics stating it was 'inappropriate' and 'not family-friendly.' Needless to say, she replied to the criticism by saying she was 'very proud to have pissed off' homophobic viewers.
The album concludes with the deeply personal song '929.' Taking its name from her birthday, the song stands as a confessional in which she admits all of her fears and flaws. It stands as a perfect ending for an album which makes you think you've landed head-first into someone else's diary. A work such as Manic which seamlessly blends genres and captures the rawness and honesty of human emotion can only be remembered favourably. It has both proven and retained Halsey's unique artistic outlook in spite of stardom.