All Hail the Savoury Pancake!
637 total views
So, I know what you're all thinking, where's the maple syrup and banana? Well not today sister, today we're makin' them savoury! For too long pancakes have been stereotyped as a sweet treat but that's simply not true. It's time to break the rules and have pancakes with courgette, pesto, cheese or even curry!
Savoury Pancakes with Spiced Aubergine, Courgette and Pesto
(serves 2, makes 6)
Ingredients:
100g plain flour (or gluten-free flour)
2 eggs
300ml milk
1 aubergine
1 courgette
50g plum tomatoes
3 tbsp pesto
½ tbsp turmeric
½ tbsp paprika
½ tbsp mixed herbs
2 tbsp garlic mayo
Method:
Add milk and eggs to a measuring jug; give this a quick whisk then sift in the flour and whisk again for a smooth batter.
Now grab a frying pan and set to a medium heat.
Add a small nob of butter to the pan; once melted pour in some of your batter.
Cook each pancake for approximately 1 minute on each side or until golden brown.
Once cooked place on a plate for later.
Now in the same frying pan, add the chopped aubergine, plum tomatoes, courgette, turmeric, paprika, mixed herbs and a splash of oil.
Cook the veggies for approximately 7-10 minutes until soft on the inside but a little crispy on the outside.
Now add the pesto and mix until all the veggies are coated then take off the heat.
Put a little bit of your pesto-veggie goodness in each pancake, roll and put in a bowl then throw the rest on top.
Finish with a little garlic mayo.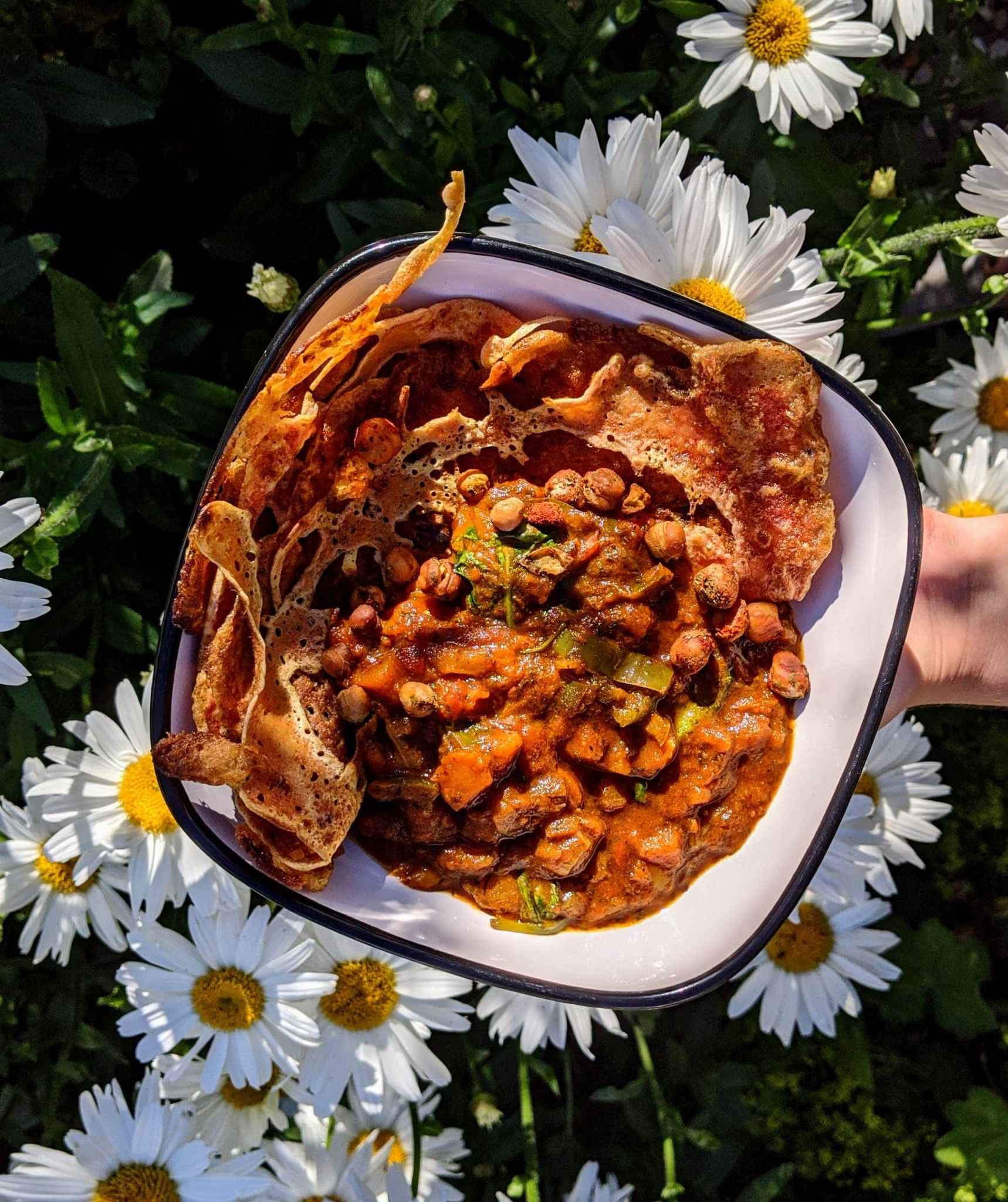 Roti Jala with Squash, Pepper and Spinach Curry
(serves 2, makes 8)
Ingredients:
100g plain flour (or gluten-free flour)
1 egg beaten
100ml milk mixed with 100ml water
1tsp turmeric
1tsp salt
100g plum tomatoes
1 can tomato soup
1 can chopped tomatoes
50ml water
½ red onion, diced
50g pepper
200g butternut squash
100g baby spinach
½ tbsp turmeric
½ tbsp paprika
½ tbsp cumin
Method:
To begin the curry, chop up the squash and pepper and add to a frying pan with a splash of oil.
Cook until soft then add the chopped plum tomatoes, diced onion, turmeric, paprika and cumin and continue to cook for 3-5 minutes.
Once the tomatoes and onion have softened, turn down to a low heat and add the tomato soup, chopped tomatoes and 50ml water and leave to reduce.
Next, in a large bowl mix the flour, salt and turmeric together and make a well.
Pour the beaten eggs and a generous splash of the milk-water mix into the well and whisk until smooth.
Now gradually whisk in the rest of the milk-water mix until you have a smooth, thin batter.
To cook, add a tbsp oil to a saucepan and create a net of the batter in the pan.
These pancakes cook quickly so flip after 30 seconds on each side then remove from the heat.
Once all the pancakes are cooked, check on the curry. It should be nicely reduced.
Now add the baby spinach to the pan and continue to cook for another 4-8 minutes.
Once the spinach has blanched, you're ready to serve.