Getting the 'Nick' of Squash
493 total views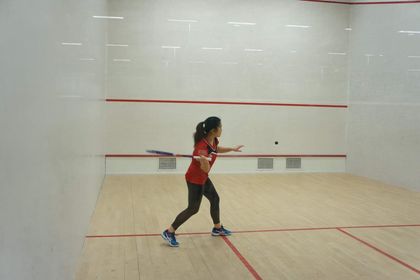 The university squash club at Lancaster has been a vital part of my university life over the past few years. So, it was a great relief that, despite the challenges, we have been able to continue to play – albeit with strange restrictions. Squash has always been an underrated game, in my opinion; it's the forgotten racquet sport which rarely makes it to the Olympics or other large sporting events, but this is no reflection on the demanding, entertaining and rewarding game that it is.
Playing a so-called 'minor' sport at a university will always come with difficulties (namely funding and support). However, I am pleased to say that this year the club has reached its highest number of participants across all three standard levels – beginner, development, and first team. I consider it a great privilege to be able to play for an exceptionally inclusive and motivated team, who has done so much to get more people involved in this fantastic game.
The game itself, for those who don't know, is played in a court with four walls. The rules of the game are not especially complicated and certainly not worth going into now, but the main necessary abilities that the game demands are speed, strength, and coordination.
However, the most important part of the game is how enjoyable it is. In a time where we are all feeling under a lot of pressure, and when this abnormal situation is distressing and disorientating, the squash court is a place to relax; it's is a place to relieve some stress, and it's is a place to improve your overall improve your mental, and physical, wellbeing.
The only downside to this upsurge of interest is being able to find the resources to adequately coach this number of people. Speaking to the club's president, Jennifer Wat, she said, "the last thing we want to do right now is turn people away." Yet, among the repeated back and forth conversations with the university and the student's union about the creation of bubbles and other rules, the major disappointment was that funding seems to be currently out of the question for the first time. Luckily, however, the club has luckily managed to secure funding, once again, from Sultans as well as forming partnerships with Live Suite Media, Karakal and TCL Cumbria.
In recent months, court time has been somewhat hard to come by. In line with the government's Covid-19 rules, we aren't allowed to play with people outside our household – except for when we are in bubbles at training. Jen said, "It means that team bubbles who play with each other once (in the case of development squads) or twice (BUCs squads) a week, cannot do so again during the week in their own time. Given that locals are no longer allowed into the Sports Centre now, we're hoping that we can find a way to secure more court time to accommodate all the interest we've received."
I, however, am very thankful that I have been able to play at all and frankly am surprised that even within Tier 3 rules we are able to play twice a week. After the long break that lockdown brought, it is a great relief to be playing again and as the club continues to be innovative (ensuring that everyone is able to be involved), I hope to see that squash continues to gather the interest that it clearly deserves.