The Ultimate Guide to Lancaster's Cafes
717 total views
The clocks have gone back, it's getting dark by 5pm, and Haunting of Bly Manor is out on Netflix. I'm not sure you need any more indicators to realise it's the beginning of Autumn and its spooky festivities! Most of us see Autumn as an excuse to cosy up in bed, haul on multiple blankets, and effectively hibernate until Christmas (which is honestly a mood at this point in the academic year). However, for those days when you need to stretch your legs, cram in a study session, or simply when you've run out of clean mugs due to letting them pile next to your cocoon of a bed, I have you covered. I have been travelling around Lancaster and getting to know its various, and often unique, coffee shops. Of course, the ratings are subjective, but it's my way or the highway I'm afraid. I'm joking, this is merely a guide that will hopefully pave the way for you to find your own favourite space. We have even equipped you with a handy map. For those of you who don't know what that is in this modern age, it's a tool to help you find coffee shops. Oh, and just before I start, I would like to dedicate this article to my bank account, who suffered great losses to make this dream a reality. I don't know how I could ever pay you back (literally).
Whale Tail
Value for money: 5
Food/Drink: 4
Capacity: 5
Aesthetic: 3
Whale Tail was first on my list, and it really did set a high standard. This cafe is completely vegan, making it unique in its own special way. For those of you who aren't vegan or vegetarian, I still highly recommend it. Neither am I, and I still found that the white-chocolate and raspberry blondie was to die for. What is more, given their wholesome aesthetic, they don't charge for alternative milks! I went with four of my housemates, and the bill, which included hot drinks as well as teacakes, came to less than £25; and anyone who's a student knows how much we value a bargain! Located off the main streets, it really is a hidden treasure. It was definitely one of the best for capacity, with plenty of spaces whilst even catering for social distance. Hopefully, with all of you now rushing to try it out, I can soon retract that fact.
Holm
Value for money: 3
Food/Drink: 4
Capacity: 2
Aesthetic: 5
Holm is the new kid on the scene. Located on King Street, I can imagine the morning views are something to witness. Its capacity is not the greatest, however, this more than adds to the minimalist and rustic feature of the Norwegian cafe. Plus, it does takeaway, which is perfect for second and third-years who wish to grab a quick coffee-to-go whilst taking on Usain Bolt for his world record, sprinting after the 1A. As though it couldn't get any better, its excellence lies in its bakery food, with a percentage of the money you spend going to Mind charity! After all, tis' the season of giving.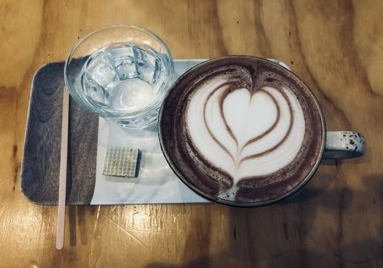 Journey Social
Value for money: 3
Food/Drink: 4.5
Capacity: 2.5
Aesthetic: 3
Everyone has heard of Journey Social. Yes, it has a relatively small venue, but will that stop us students forming a queue as long as our to-do list outside the front door? No, it won't. In fact, it's a great way to procrastinate from doing said to-do list. Its quaintness definitely makes it a venue for smaller groups, but what it lacks for in space it makes up for in appetite. The food and drink are pretty much faultless. It is one of the pricier options, but rightly so as this is offset by the sheer quality.
Music Rooms
Value for money: 3
Food/Drink: 3
Capacity: 3
Aesthetic: 3.5
The Music Rooms was somewhere I've always wanted to try, however, its hiddenness meant I never found myself venturing upon it. Lucky for you guys, there's a map. This cafe did not disappoint. As is the usual standard with independent coffee shops in Lancaster, it uses Atkinson's products, which you can never go wrong with. Whilst its capacity inside is not the greatest, its outdoor space is something to revel at, with the majority of the indoor seating overlooking it via a balcony view. This place is definitely somewhere to consider if looking for a tranquil space that can also feed your coffee addiction.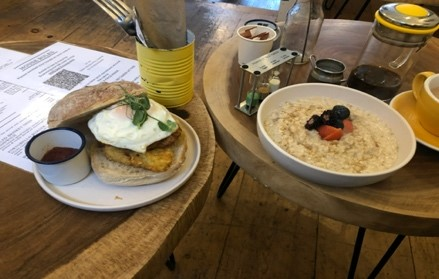 Brew
Value for money: 4.5
Food/Drink: 5
Capacity: 3.5
Aesthetic: 5
As I said, the point of this article is to hopefully pave the way for you to find your very own coffee spot in Lancaster. Hopefully, my bias doesn't present itself too much, as Brew is undoubtedly mine. Its neutrality and vibrancy is sustained throughout the cafe, from its grain sack-cushions to its plant canopy overhead! Luckily, the new menu came out just as I was writing this article, and I still have no idea how it managed to supplant the old one, but it did. I would definitely recommend the breakfast sandwich. Their tea also comes with a mini-timer set, which is something to go in for itself. Oh, did I mention, it's also dog-friendly!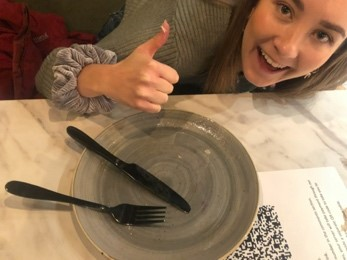 Deli
Value for money: 5
Food/Drink: 3.5
Capacity: 5
Aesthetic: 3
I put my one venture onto campus a week to good use and tried something closer to home for you freshers. Its huge seating booths definitely make it a suitable spot for you and your flatmates to eat at, especially when you have a sink full of dishes in which one more will send it toppling (yes, I was a fresher once too). Their chocolate and banana pancakes are just what one needs on a rainy day in Lancaster, which is pretty much always. If it isn't already obvious by the demolished plate and Ellie's face, they're pretty good too!
The Hall
Value for money: 3
Food/Drink: 3
Capacity: 5
Aesthetic: 4.5
The Hall is the home of Atkinson's coffee in Lancaster, and its distillery and wood-finished vibe gives it a completely different aesthetic to the others. Its long, central tables add a communal and warm-felt touch, and there is always a busy-body and lively atmosphere about the place. I would definitely recommend it if you're in need of a classic coffee and sweet treat in a chilled and laid-back environment. Maybe the chilled aspect is overstated as it too is dog-friendly, and I have known myself to get overly excited upon their entering.