Beetroot Bakes: Sometimes it's the Unexpected that Comes Out on Top!
530 total views
How many of you can honestly say you've baked with beetroot? Even contemplated it? Well, I can tell you right now, you've been missing a trick! Beetroot is so rich and earthy but fruity at the same time, ya'know? Aha of course you don't, because you haven't delved into this crazy beetroot baking world. But I promise these recipes are the perfect place to start; such a gorgeous blend of chocolate, almond and beetroot to make a scrumptious loaf, and then we have an equally delicious white chocolate and beetroot flapjack cookie recipe. Both recipes are easily made vegan or gluten-free so you've got no excuses; let's start baking the unexpected!
Chocolate, Almond and Beetroot Loaf
(serves 8)
Ingredients:
50g chopped almonds
50g cacao nibs
100g butter (or dairy-free)
3 eggs (or flax egg)
225g sugar
20g cocoa powder
150g self-raising flour (or gluten-free self-raising flour)
2 tbsp cinnamon
200g diced, cooked beetroot
Method:
Preheat the oven at 180˚C and line a loaf tin with baking parchment.
In a mixing bowl, add the eggs and sugar then whisk until combined.
Now add the flour, cocoa powder, cinnamon, chopped almonds, cacao nibs and diced beetroot; mix until combined.
Then put the butter in a microwavable bowl for 20 seconds so the butter melts then add to the mixture.
Stir until everything is fully combined and pour into the loaf tin.
Sprinkle some chopped almonds on top then put in the oven for 40-50 minutes.
Once cooked, leave to cool then slice and enjoy.
White Chocolate and Beetroot Flapjack Cookies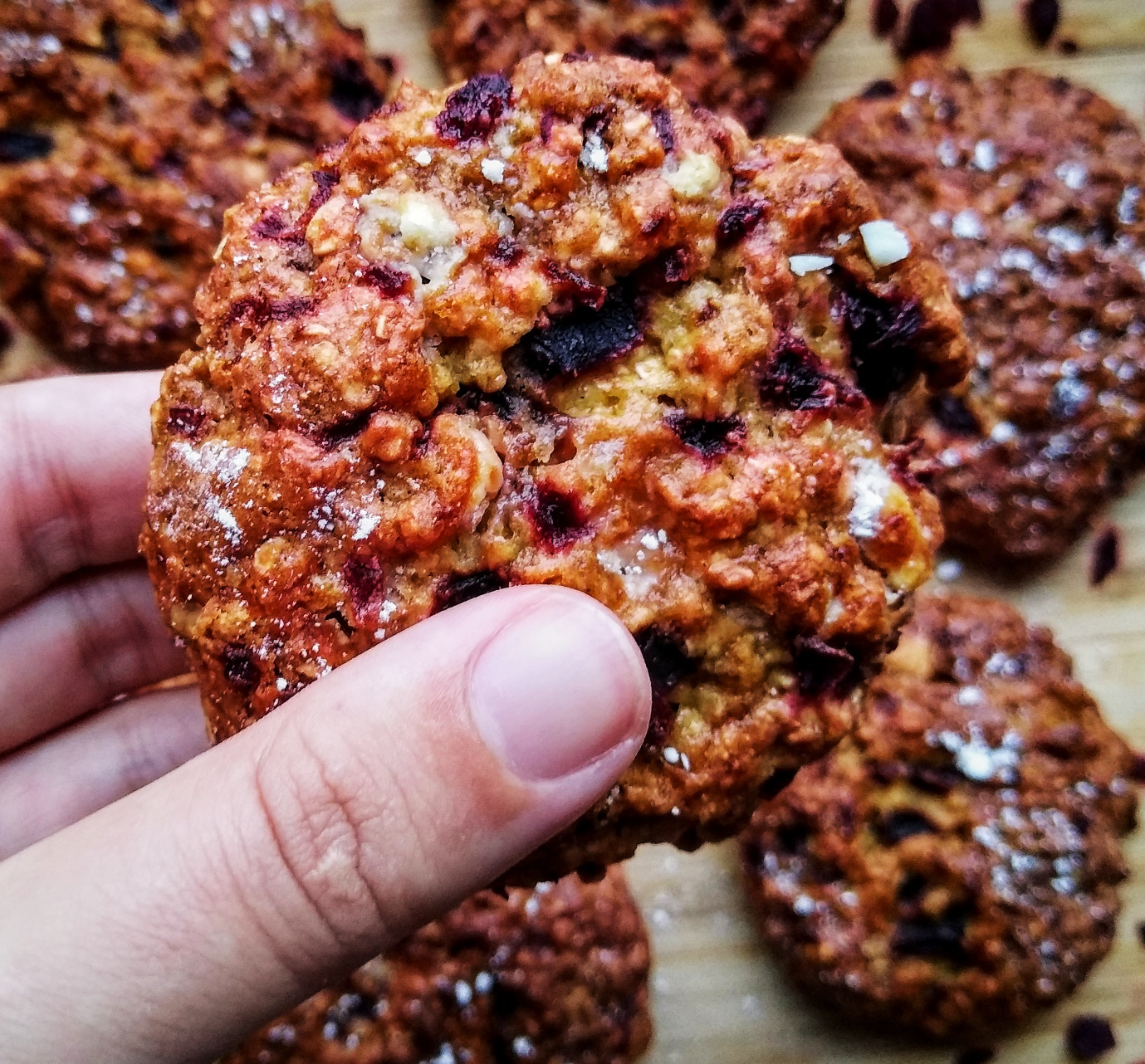 (makes 8)
Ingredients:
100g plain flour (or gluten-free plain flour)
100g rolled oats (or gluten-free oats)
50g granulated sugar
1 tsp baking powder
1 egg (or flax egg)
2 tbsp golden syrup
40g (dairy-free if required) white chocolate, chopped
100g roasted, diced beetroot
Method:
Preheat the oven to 180°C and line a baking tray with baking parchment.
Mix together the flour, baking powder, oats, egg, sugar and golden syrup in a bowl until combined.
Now add the chopped white chocolate and diced beetroot and bring together with your hands – it can be a little messy but when has that ever stopped anyone.
Using a tablespoon make balls of the mixture then transfer to your baking tray.
Press each cookie with a fork in a cross shape then place in the oven for 20 minutes.
Once cooked, leave to cool and enjoy!