Antoine Dupont: Are we Watching Rugby's G.O.A.T?
1,438 total views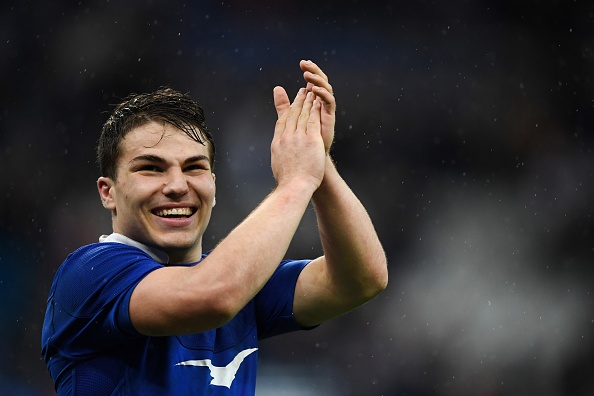 G.O.A.T (Greatest of all Time) is a term often used in the sporting world nowadays. In sports such as football, tennis, or rugby, the omnipresent debate of who is the sport's greatest of all time is typically dominated by two schools of thought. Take Messi and Ronaldo, or Federer and Nadal as examples; on the one hand, you have unprecedented talent, flair and attractiveness, and on the other, you have unrivalled work rate, determination and physical superiority.
Rugby is currently being treated to the former. Antoine Dupont, the 5'8" French scrum-half, is not necessarily what the average person would associate with rugby greatness, but with how things are going, we could be watching the all-time master of one of sport's most diverse crafts.
Before comparing Dupont to other past and present greats of the game, let's have a look at why he is making such an impression. Dupont has the most well-rounded skill set in rugby's history, a theory that I can prove by looking at just the two internationals he has played for France this year (at the time of writing).
In terms of the non-negotiables for scrum-halves, his passing is excellent at all ranges. With the most successful offloads in the Six Nations so far, his offload game is frequent and consistent, he just seems to always choose the right time to put a forward over the gain line (think Cretin's try against Italy) and go out back to his fly-half (think Ollivon's try against Ireland), and it wouldn't take you long to find a clip of him throwing that typical scrum-half skip pass just short of the try line to give a wide man an easy try.
His box kicking is similarly world-class, for example, no scrum-half has kicked more successful meters than Dupont in the tournament thus far, and it is not uncharacteristic for him to drop into the backfield and assert French territorial dominance with a punt. One of the more modern requirements of the scrum-half, as revolutionised by the likes of Wales' Gareth Davies, is to shoot up out of the defensive line and either make an interception, block a passing line, or catch a receiver on the backfoot.
Dupont nailed Italian fullback Trulla and if you focus on him during France's defensive sets, you'll see him making tackles all over the pitch (only three backs have made more tackles than him in the tournament so far) and cutting off passes. He also does the modern basics well, such as his ever-present support lines and game management (for example the end of the first half against Ireland).
Aside from the core skills for a scrum-half, Dupont still excels. In a period where rugby is defined by the defence, no other player can unlock a well-set defence as efficiently and consistently as Dupont through his link-up play and creative kicks – evidenced by the perfectly placed chip off his weak foot for Fickou's try against Italy. I, like every rugby fan in the world, was left in awe of his offload to set up Vincent's try against Italy; anyone who has played rugby knows how outrageous that was. Perhaps even more outrageous was his game-winning jackal in the final minute against Ireland – a perfectly executed skill considered a rarity for flankers, let alone scrum-halves.
That's his vast and varied skillset briefly covered, but to be seen as the best player in the world, you inevitably have to be better than the rest. It speaks volumes that Aaron Smith, winner of theWorld Rugby's scrum-half of the Decade' award, said that Dupont is helping him to improve his game, but if you were to ask most rugby fans who would be their second choice for best player in the world, they'd likely say his fellow scrum-half, Faf de Klerk. De Klerk is a similar player; he is just 5'7" and is an aggressive defender with an equally uncanny ability to always be at the right place at the right time. What sets Faf apart is his constant winding up of opposition, a trait historically synonymous with scrum-halves. Unlike Dupont, Faf box-kicks has much more frequently given the forward-focused approach to South Africa's game, and he does it with startling consistency.
Faf is undoubtedly world-class, but Dupont is just that level above. At 24 and playing in an extremely inexperienced team with just one player with over 50 caps, he lacks the experience both personally and around him that 29-year-old De Klerk has. Faf is extremely effective at the areas of his game that Sale and South Africa require, whereas Dupont has teams built around him and has a skill set far beyond the requirements of a nine. Highlight reels will show you, Dupont, seamlessly slotting in at 13 during counterattack transitions and his kicking game out of hand is on par with top-class fly-halves.
Elsewhere, South African fans would also argue cases for 26-year-old Handré Pollard, or 2019 player of the year Pieter-Steph du Toit, both unarguably world-class players. Pollard is no doubt enhanced by the three top class scrum-halves South Africa boast, but both of them, despite the former being in an influential position, lack Dupont's unrivalled ability to single-handedly take control of a match, as does every player in the world. People may also throw Beauden Barrett into the mix; his talent is undebatable, but his inconsistency with aspects such as placekicking holds him back.
To call a player the G.O.A.T is a bold statement to make, and Dupont certainly isn't, after all, he is only 24. If he can continue his form until his mid-30s, there's no doubt in my mind that he could be unsurpassable. In my introduction, I mentioned two types of G.O.A.Ts; Dupont is the only player who, in the professional era, fits that first bracket like Messi or Federer.
Most rugby fans will tell you three names when asked who the G.O.A.T is: Jonah Lomu, Jonny Wilkinson and Dan Carter. Three revolutionaries of rugby who were either physically superior or perhaps made up for a slight lack in natural flair with unprecedented work rate and an excellent sense of attrition. Carter, who has fitted into both categories at points in his career has just retired, thus, rather inevitably, social media has hailed him as the G.O.A.T – and I'd have to agree. Nonetheless, Dupont has a unique all-round ability, but, like the other three, needs to repeat his excellence and perform in big games on the global stage. The aforementioned three have defining moments that are forever associated with the mention of their names, and, if Dupont can reach those heights, there will be no question of him being one of, if not the rugby G.O.A.T.