Let's Put the Vegans to the Test
964 total views
We're back with veganism again; just can't seem to get away can ya but I mean maybe that's a sign. This time around we're taking a closer look at some vegan recipes, more specifically those created by Calum AKA Blitzy from @madebyblitz. We've got breakfast, lunch, and dinner recipes for all you students that are thinking of making the switch to plant-based but don't know where to start. All these recipes are protein-packed and take less than 20 minutes to make. So, without further ado, let's go cook some delicious vegan grub!
Chocolate Pancakes
Tested By Maddy Jeffrey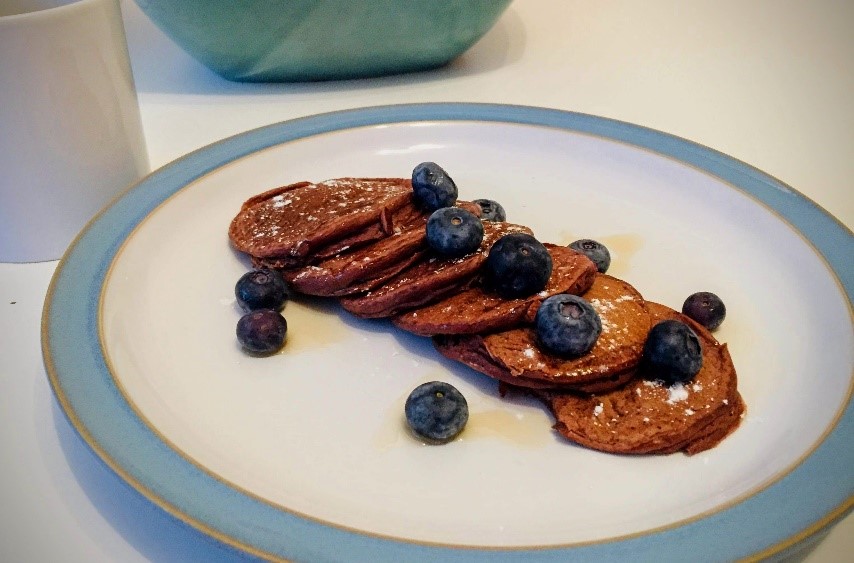 In my three years of being vegan, I have tried and failed at many a pancake recipe; some have been too runny, others too gloopy, but Made By Blitz' chocolate pancakes were Sunday morning breakfast heaven! Having whipped them up in just over twenty minutes, they were the perfect treat after a long week in lockdown and even better … no animals were harmed in the making!
Ingredients wise, the flax seeds, cacao powder, cacao nibs and protein powder may be difficult to find, especially when considering we shouldn't really be leaving our respective villages or towns! Whilst I admit to substituting the cacao powder for cocoa powder, I, fortunately, had protein powder lying around from a fitness kick a few months ago. With these ingredients typically sold at health shops rather than your local corner shop, there may be some difficulties.
Regarding the actual cooking, it was painless! The preparation was quick and easy. The actual frying part, which usually incites low-key rage after a few defunct pancake messes, worked perfectly. The pancakes were solid in structure but moist in the middle. Seconds could not be resisted! Whether vegan or omnivore, I would highly recommend.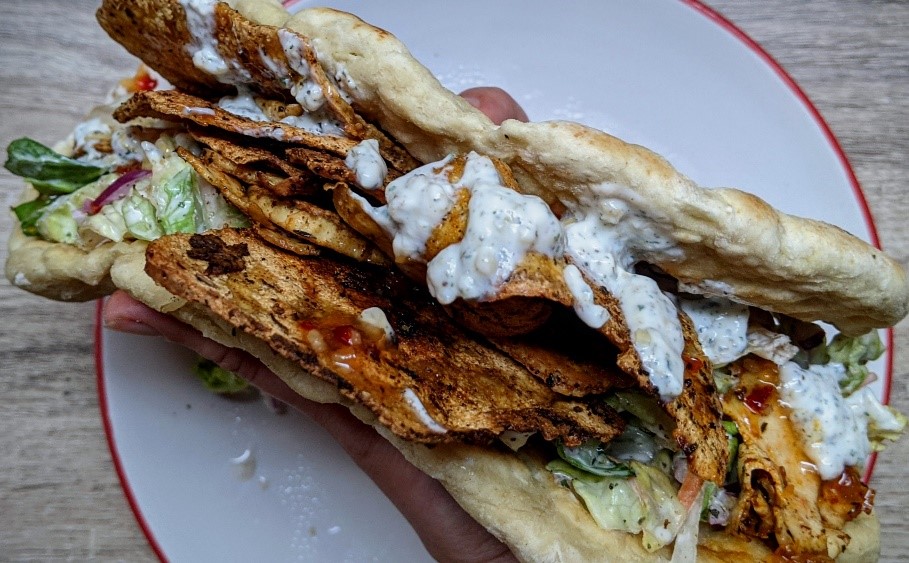 Vegan Kebab
Tested By Tabitha Lambie
Normally I'd go for a healthier recipe but I was craving kebab and this didn't disappoint. Taste on point, smelt like a real kebab, and only took 20 minutes to make. So here's the deets:
For this recipe, you need a block of tofu, dairy-free yogurt, onion, garlic, spices, salad, vegan mayo, and a dash of lemon juice. The recipe also called for agave syrup but Tesco was sold out so I had to make do without. I also made my own flatbread because I mean if I'm making kebab I want fresh bread not an old pita ya' know. To make the flatbread, you just add 4tbsp flour, ½ tsp bicarb, and 3 tbsp yogurt in a bowl to make a dough then stretch it out and whack it in a hot frying pan with a splash of oil. Cook on each side for a couple of minutes and voila, flatbread heaven! Now onto that classic kebab salad, I mixed chopped onion with some crunchy salad, a dollop of vegan mayo, a splash of lemon juice, and some black pepper. Mix it all together and bam, salad made. Next, the garlic yogurt sauce – super easy – another dollop of yogurt and some chopped garlic with a sprinkle of mixed herbs.
Now onto the kebab "meat"; thinly slice your tofu then rub in some paprika, black pepper and if you can find them @wicked BBQ spices (their spice mixes are insane, can be found in Tesco). Then throw into a hot pan with some oil and fry to how you like it. I really enjoyed a few crispy shards and softer "meat" but it's totally up to you.
Assembly time; flatbread, salad, kebab "meat" then garlic yogurt sauce. Absolutely delish and really easy to make. This is definitely my new favourite fakeway, far cheaper than a Papa Johns that's for sure.
Chickpea Korma
Tested By Jess Alam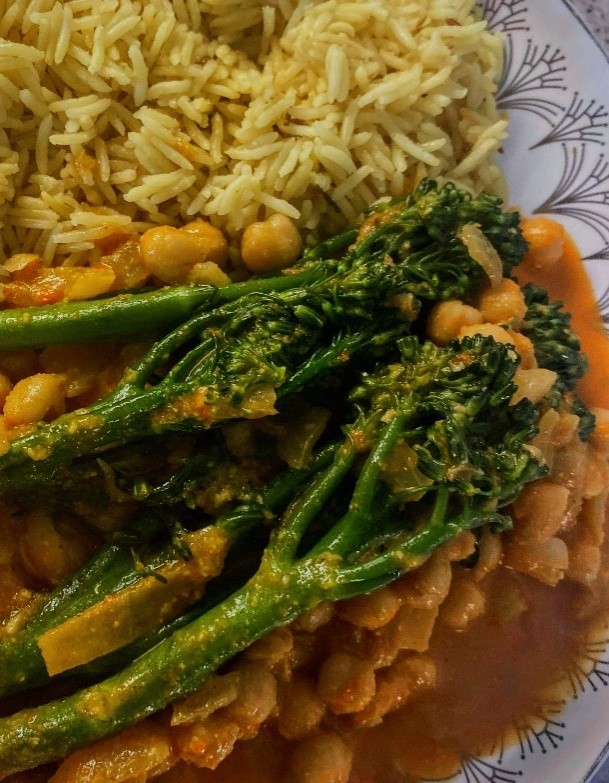 My family regularly cook their own curries, and I grew up eating a lot of spice, so this was the perfect recipe for me to try. Although I had most of the ingredients already, I did need to head to Sainsbury's to grab ground almonds, tender storm stems (posh broccoli) and desiccated coconut. I did find myself panicking about where I'd find the coconut, however, eventually through pure luck, I realised this is in the baking section. This came to around £5, a little expensive.
Cooking and following the recipe was easy- chopping onions and crushing garlic is hardly tough labour. The recipe did however miss out the tomato paste, so I guessed to put in around a tablespoon and hoped for the best. I also got to use my new fancy blender so that was fun. All in all, it took me about 15 minutes. Once the coconut milk mixture was in, I even had time to clean my blender and chopping board to minimise mess.
Now for the bit you all care about – taste. The curry was amazing, very creamy, and flavourful, although a little heavy on the coconut for my liking. The rice was mediocre, but this could easily be replaced. Altogether, the meal was filling and left me wanting more. It was super easy to make, and I have so much left of everything I needed to buy. This will definitely be added to my go-to cupboard cleaning out recipes!
Vegan Bolognese
Tested By Beth Train-Brown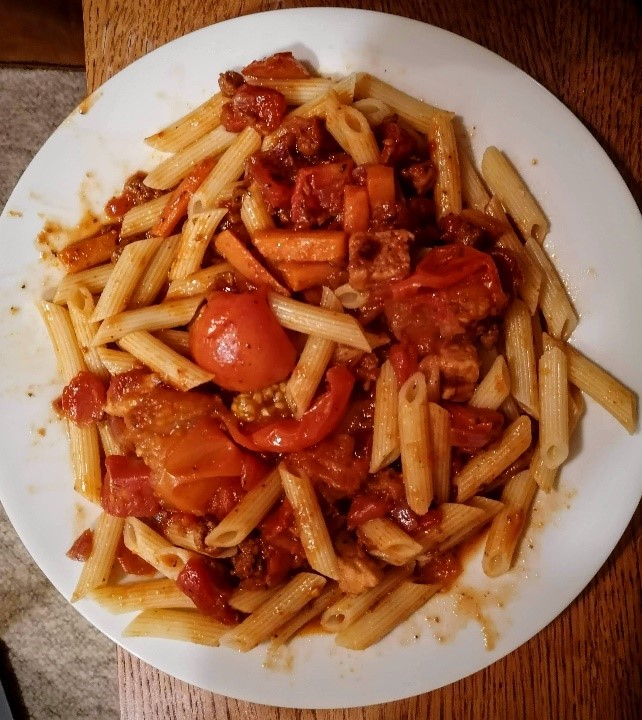 I'll start this honestly – I own next to nothing that can be used to cook proper meals. Looking for a meal through Made by Blitz was the same as looking for a recipe in any cookbook, governed by 'do I have this thing I've never heard of?' No. I don't. I didn't know there was more than one kind of lentil and I didn't know nutritional yeast was a thing.
However, I finally found a vegan Spaghetti Bolognese recipe that looked promising. I've used Quorn mince before so I was excited to find out how to spice that up more than my usual tomato sauce plus spice packet combo. The recipe recommends using balsamic vinegar, soy sauce, garlic, thyme, rosemary, and sage. I own two out of those six things and could luckily steal soy sauce from my housemate.
Overall, the cooking itself was simple and it made for a quick meal. The meal itself? Fantastic. I have to admit. I'm not a big believer in effort spent on cooking (hello frozen ready-cooked meals) but this was actually a surprise. The recipe was easy, the food tasted great – it's a meal I'd recommend.