Hate the Laundry, Love the Memes: Circuit Laundry Hate Account
740 total views
What started as an inside joke between friends on Twitter, has now grown to be one of Lancaster's most successful meme pages and the 'fastest-growing laundry service hate account'
Ran by two Lancaster University students, (who wish to be known only as Charlie and Charlie), the @CircuitHate Twitter account has gained a following of nearly 2.5k students across the country. After posting a tweet outlining his hate for Circuit Laundry on Lancaster campus, Charlie 1 responded to this by creating the account we are familiar with today, thinking it would just be a funny reply between friends.
"I didn't mean for it to go anywhere," Charlie 1 told SCAN. And yet, after a several-hundred follower surge in their first month in June last year, they set themselves a challenge to hit 1,000 followers by Christmas.
Instead, @CircuitHate met December 2021 with over 2,000.
"We were so excited to overtake the official Circuit Laundry account," Charlie 2 told SCAN and now, @CircuitHate has beat the official brand account's follower score by tenfold.
This growing online platform not only creates much-welcomed campus-based satirical content but it highlights how the shortcomings of the university and treatment of students have become a part of the culture. Using an online community, Charlie 2 told SCAN, it allows "us to make jokes at the expense of the uni. There's nothing we can actually do about it, so it's just a way of dealing with it."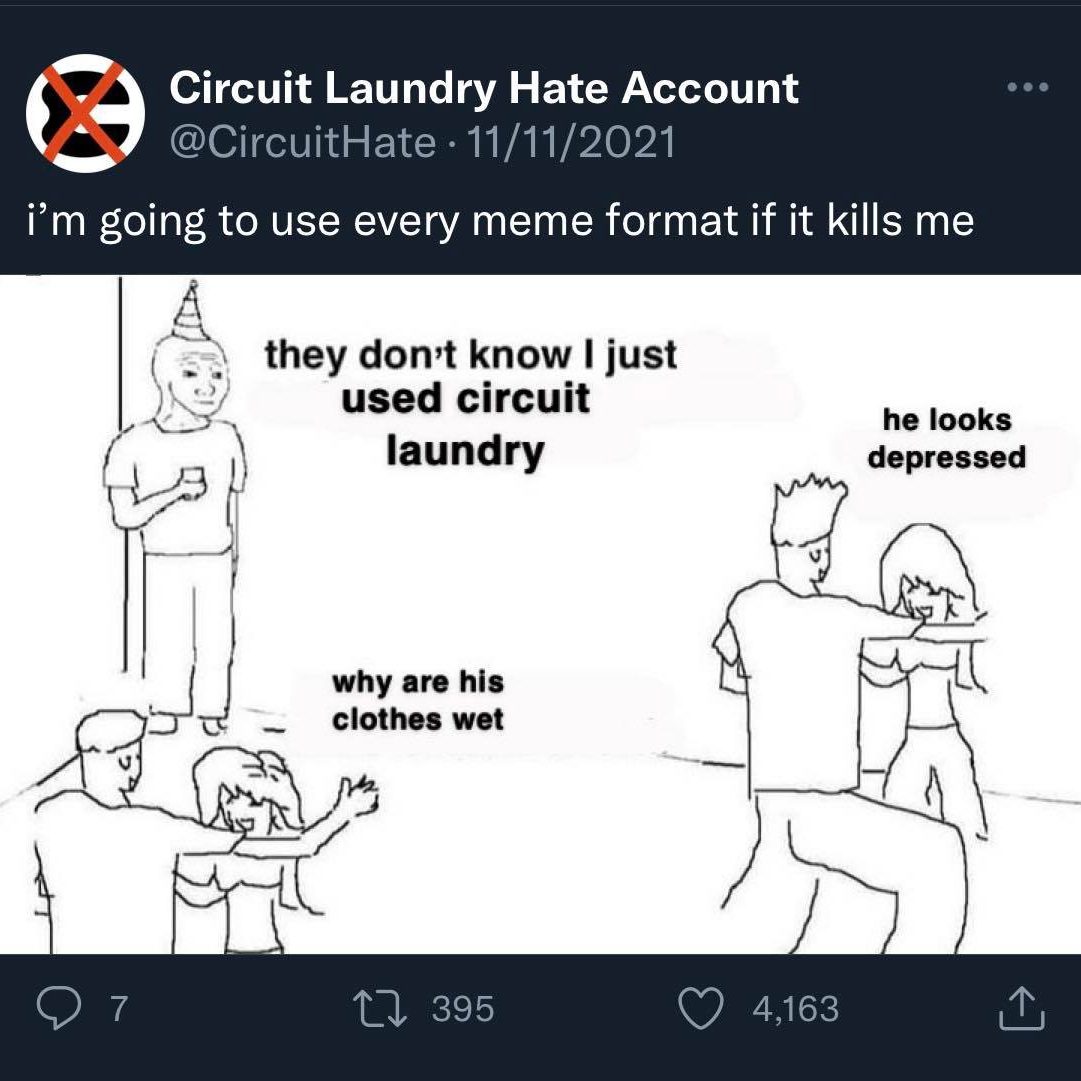 With the entire account being an unpredicted passion project, the creators shared one particularly unexpected moment with us:
"Fran [of customer support] , who runs Circuit replied to one tweet a while ago saying something along the lines of, 'We all hate washing, there's no point taking it out on authors.'"
Since then, an infamous theory has developed between the Charlies and the hate account fans that, after a board meeting at 'Circuit HQ' staff have been told to stop interacting on Official Circuit socials with CircuitHate.
But on the other hand of this journey is the Circuit Laundry Love Account.
The Circuit Love account was created in November in response to the hate account and in the same month posted: "Hey @CircuitHate if you can get 500 likes on a tweet in the next 24 hours I'll delete this account"
Sticking to their word, the account was deleted after @CircuitHate met 500 likes in less than 24 hours.
"There is a whole expanding Circuit Laundry Hate Account cinematic universe."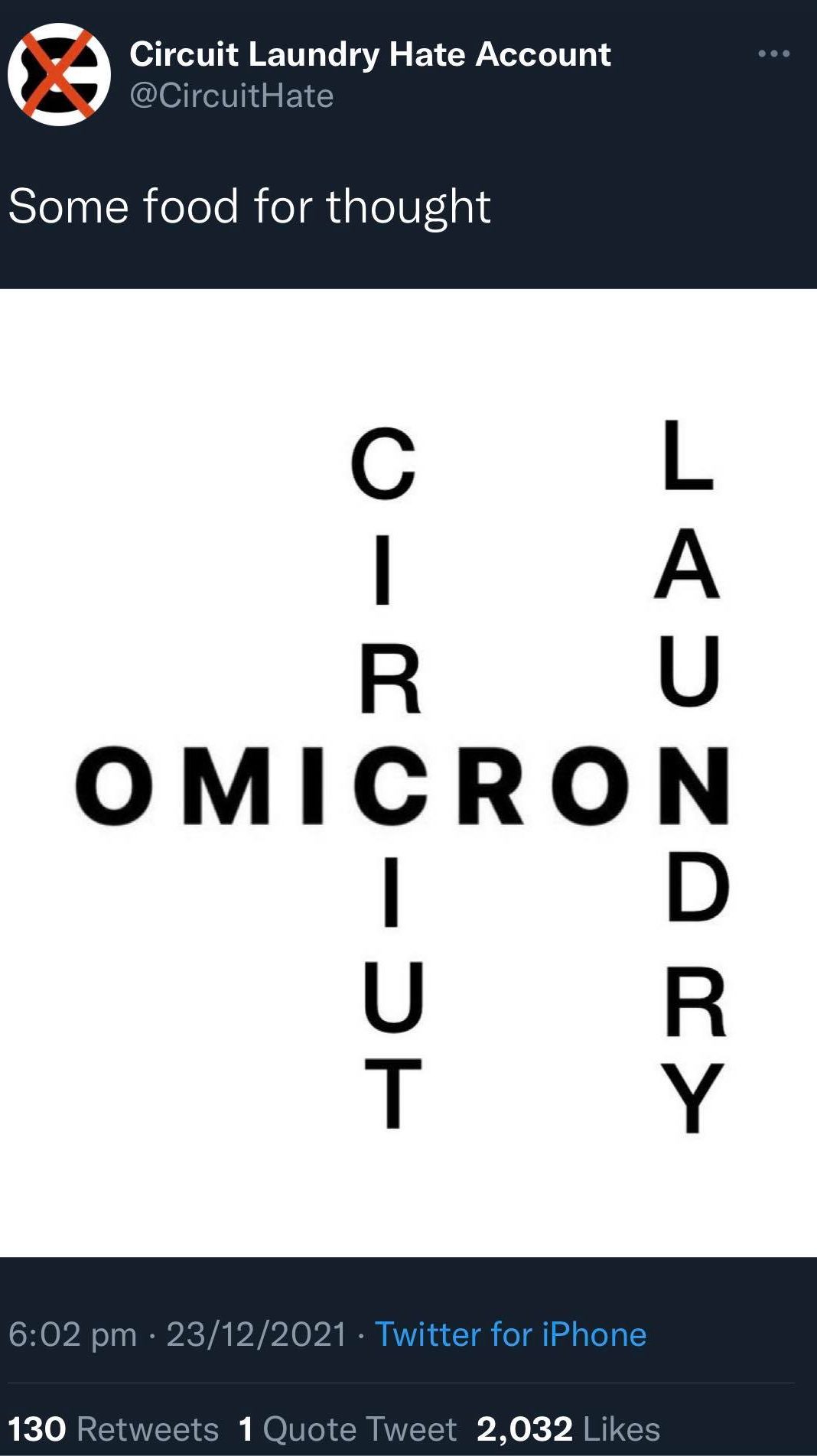 In December of last year, @CircuitHate posted the infamous Omicron post which linked the words Circuit and Laundry through the C and N in Omicron, captioned: "Some food for thought."
On the post, Charlie 2 told SCAN, "I got a message from Charlie [1] saying it's spelt wrong but, at that point, it already had 200 likes so I thought I'd just leave it."
When asked which one was their personal favourite anti-Circuit meme, Charlie 2 showed SCAN this one. The meme is a fake Twitter DM from someone messaging Circuit Laundry, "I can't sign into my account, please could I get some help?" The fake reply from Circuit Laundry reads: "How about I sh*t in your washing instead? Yeah I bet you'd like that wouldn't you little sh*t boy. I'm going to sh*t in your washing and all your friends at uni will think you sh*tted in your own washing and will call you sh*t boy for your whole life. How would you like that sh*t boy? I bet you'd like that very much."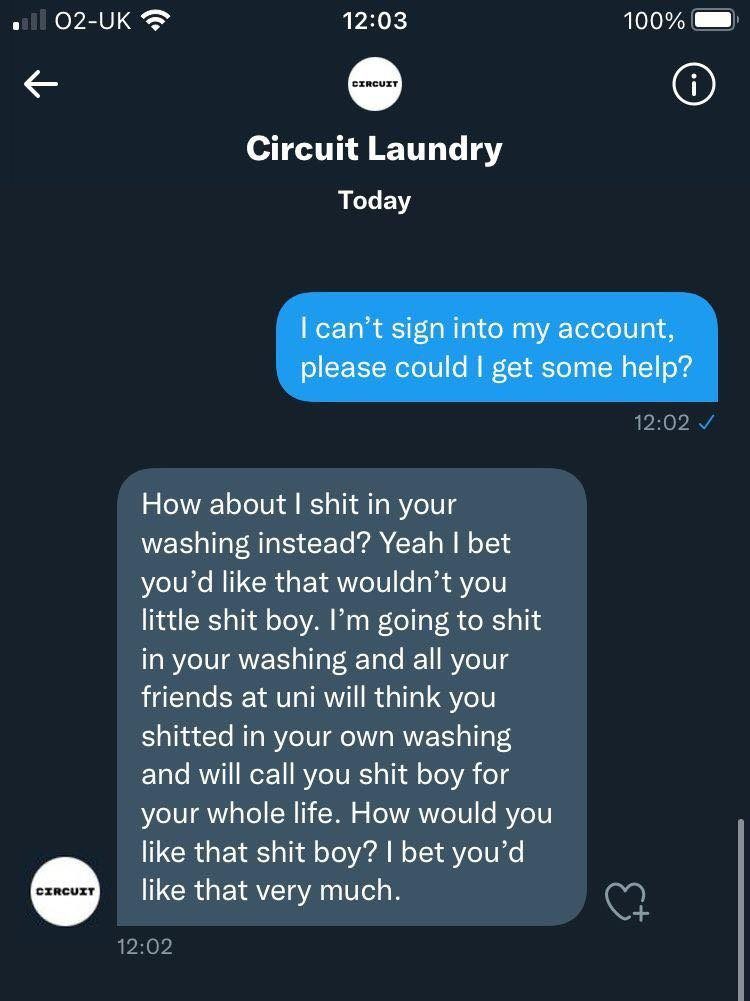 Although, they said, it is an early post and didn't get much traction, the time and effort to make it ensure that it holds "a place in [their] heart."
"Sometimes posts get stolen," Charlie 1 admitted to SCAN, "and I have to DM them for credit. Some of the time we get it but most of the time we don't. It's disheartening to spend time on making memes and them just to get reposted without credit."
Lucky for new fans of the account, the Instagram page is now reposting content from Twitter, including some old and original tweets such as the founders' favourite Fake DM post.
@CircuitHate has also gained the attention of The Cambridge Tab and a University of Manchester meme page, who we can thank for the creation of the @CircuitHate Instagram account.
Follow the Charlie's on Twitter, Instagram, and now TikTok.
Circuit Laundry have been contacted for a statement.