Lancaster beaten by clinical York side
517 total views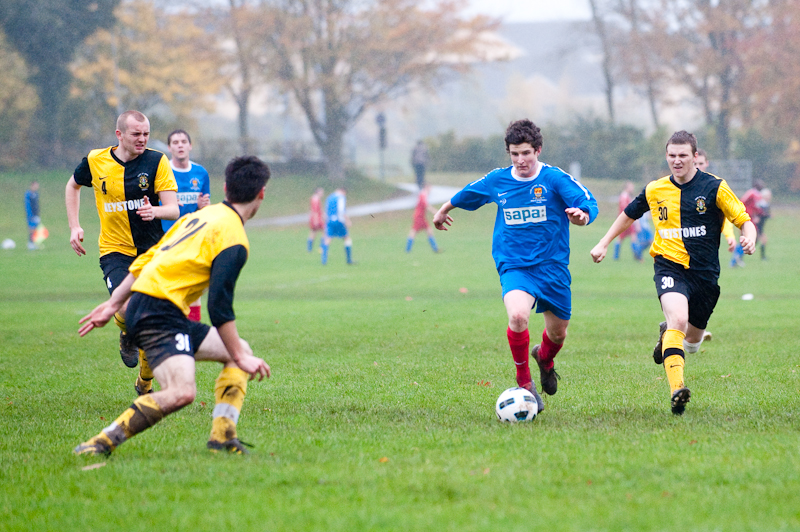 [info]
Men's Football
Lancaster 3
York St John 4
[/info]
Lancaster university men's first football team took on their counterparts from York St John in a keenly contested league fixture. Both sides were searching for their first point of the Northern Conference season.
The game started at a frantic pace, with both sides struggling to hold on to possession on a pitch resembling a ploughed field. Amidst a poor quality spell of football, York went close when a free kick from around the half-way line crashed back off Lancaster crossbar with Ashley Hannay helpless. York St John also hit the post when their left winger skipped through a statuesque Lancaster defence only to see his curling effort test the woodwork.
After this scare, Lancaster composed themselves and began to exploit the width offered by their pacey wingers. On 15th minute this positive attitude was to pay off; Ric Marshall collected a delightful throughball before calmly slotting home to give Lancaster the lead.
Lancaster looked the stronger side for a period, the long-throw of captain Alex Brandwood caused havoc in the York defence; with a combination of last gasp defending and dominant goalkeeping preventing the home side from going further ahead.
The importance of taking chances was brutally exposed on 35th minute. Christopher Brown should have scored for Lancaster after being put through by his strike partner Rob Newton; however, York St John's goalkeeper saved well and from the resulting clearance, the away side drew level. An instinctive reaction save from Hannay fell invitingly for the York St John's striker to poke home.
Both sides clearly fancied their chances of re-taking the lead before half-time. The last ten minutes saw the most open period of the match, with Lancaster first to strike. The subdued Newton provided a moment of brilliance, receiving the ball with his back to goal before rolling his marker and smashing the ball home off the far post.
Despite holding a narrow advantage, Lancaster looked vulnerable to the pace of York St John's front two. However, the second equalizer, which came just 60 seconds after Newton's strike resulted from poor set-piece defending; York St John's central midfielder was allowed the freedom of the box to tap home a near post corner and level the tie going into half time.
The second half began with York St John on the offensive, pinning Lancaster back into their own area.  It seemed a matter of time before Lancaster would concede, with York squandering numerous opportunities when well placed; missing three one-on-ones and a free header from a corner.
Lancaster were able to survive the York onslaught and were outraged on 65th minute when furious appeals for a penalty were turned down. York's goalkeeper appeared to upend Newton, however the referee indicated that his first touch had carried the ball too far for the penalty to be awarded.
This incident signalled a slowing of the pace of the game, the energy sapping surface finally taking its toll on both sides.  This fatigue played a role in gifting York St John a 3-2 lead; clumsy defending upended York's striker in the area and the penalty was emphatically converted.
Despite a greater commitment to attack from Lancaster, York St John continued to threaten on the break.  And when Lancaster overcommitted men forward for an 88th minute corner, they were punished in ruthless fashion; a flowing four man move saw York make the score 4-2. A late consolation from Newton gave Lancaster hope, but they were unable to create any further opportunities and succumbed to a 4-3 loss.
Despite a spirited performance from Lancaster, they were unable to cope with York St John in the second half. This defeat also leaves Brandwood's side in the relegation zone; however, at this early stage of the season Lancaster will have many more opportunities to pick up points.