Is the key to success who they know or what they know?
787 total views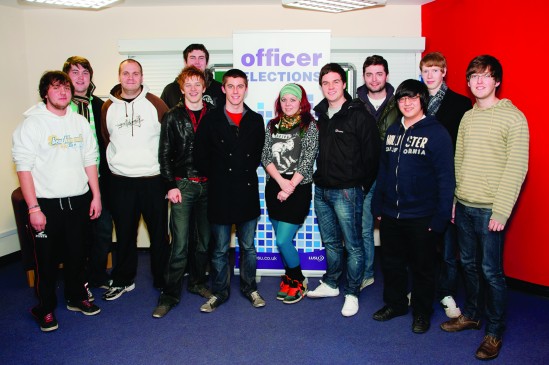 With the election of Lancaster University Students' Union's new Full Time Officers (FTO) barely a week away, here at SCAN we posed ourselves, and the 100 students we surveyed, a question: with candidates who have previously been on JCR Execs more likely to win, does this lead to a LUSU and JCR clique? Or, does it give Lancaster students more experienced officers than other students' unions with a different system?
Survey findings would suggest it encourages the creation of a clique. 76% of respondents believe FTO positions are won on who rather than what you know and 73% regard JCRs as cliquey. The feeling is that the network of friends and acquaintances acquired whilst on a JCR encourages these students to run for FTO positions whilst excluding other students.
"It often seems like the JCR and LUSU form a bit of a clique. They all seem to be friends," said Cartmel student Vicky Crosbie. "It might make a regular student feel uncomfortable trying to run, as they're not part of that network." Second year Zoe George agreed: "I don't know if only JCR officers run for LUSU positions but they do seem to be the only ones that get them. More people win through popularity contests than anything else."
LUSU President Robbie Pickles refuted this, commenting that "on the JCR, you make friends but you also make enemies."
College turnout figures in FTO elections suggest students are more likely to vote for people who have been on their JCR. In the 2010 elections, Bowland and Pendle had no FTO candidates and the lowest turnout whilst Cartmel and Lonsdale had not only the highest turnouts but two ex-Presidents running, Robbie Pickles and Matt Windsor respectively. In 2009 Andy Johnston, former County JCR President, was elected Vice President (Finance, Events, Democracy and Societies). His opponent, Sandeep Banwait, a County student who had never been on the JCR, won just 17.5% of the vote in their home college.
There is a belief that LUSU could benefit from a more diverse range of officers. As Politics student Ben Smith commented: "It's not like non-JCR students are incompetent." The student body is filled with society executives, sports teams and members of Nightline, SIFE, Involve and other organisations. Yet these students often don't run for LUSU positions despite having relevant university-based experience.
However, the link between JCRs and LUSU is not necessarily a disadvantage for Lancaster student politics as experience gained on the JCR often gives people the skills necessary to become a successful FTO. 69% of students believe that JCR officers are better prepared to run for FTO positions.
"JCR members, by nature of their position, have a lot of insight in to the Students' Union and arguably then have more time to spend on a campaign, whereas others may have to spend most of their time looking for information rather than focussing on 'getting their name out'," said Vice President (FEDS), Matt Windsor.
Furness President Adam Pearson agreed that JCR experience could be a stepping-stone to an FTO position. "The experience gained by having a JCR position is like the experience of any job," he said. "If the experience is relevant to the next job you are going for then it will certainly help. Being on a JCR then running for a FTO position is a logical step in experience terms."
With contention surrounding the idea of the JCR clique, current Presidents are keen to put measures in place to dispel it. "People think that JCRs are cliques for many reasons," said County President, Jemma Gaskell. "The t-shirts don't help. The idea is to make us noticeable so people know who to come to when they have a problem, but I do think some JCRs take this too far, wearing [them] too much and alienating their college."
Gaskell and her Exec have taken steps to counteract this view.
"The JCR try to split up at the quiz and on socials to show that we aren't only capable of speaking to each other," she said. "Furthermore, I have told my JCR only to wear t-shirts when necessary. They help a lot at big events and sometimes they are vital when there is a high risk rating to a social, but is it really necessary to wear [it] in the bar for the quiz on a Sunday? I think not."
Lonsdale President Rachel Essex is trying to ensure that Lonsdale students feel involved in the college's decision-making processes. "I have increased office hours and introduced a president's office hour where people can come and talk to me on a one to one basis," she said. "I have also for the first time made sure that there are non-JCR members on Extrav committee […] I want people in Lonsdale to feel like they do have a say in everything that goes on in their college, and that not everything is decided by a supposed clique of 15 students."