Striking or not, the lecturers are looking out for our future
712 total views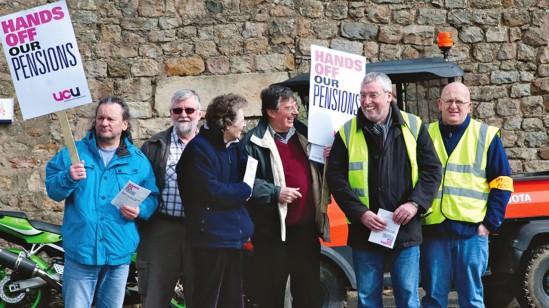 On Tuesday and Thursday of Week 20, the UCU (University and Colleges Union) went on strike. Immediately upon hearing the news, thoughts of all the extra time off sprung to mind, an unanticipated bonus as deadlines quickly approach. All except one of my lecturers on the Tuesday went on strike, although both of my lecturers on the Thursday decided to keep classes running, as not being union members, going on strike would have different implications for them.
The strikes were an action against the treatment of university staff by the government and management. As cuts to higher education deepen, the management of the University are finding ways to save a little extra by cutting pensions, severely disadvantaging staff. The decision to strike was not one made lightly, after long discussions and threats of pay docks and other sanctions. It is  hard to criticise members of the staff union for making this decision: for standing up for themselves and their pensions.
That said, a little voice niggles away. The strikes fall very close to the beginning of the exam period, a critical time for many students. If everything grinds to a standstill at this time, it could have further implications on students' learning. We have to ask ourselves why lecturers would put this at risk in such a critical period. Surely the students should come first at this time of the year, as preparation for exams begins?
Slowly, it became clear. An email from a lecturers put it best: it was not necessarily just for the current staff, but also for those in the future. Staff who we could, one day, be amongst the ranks of. These pension changes will affect newer members of the profession to a greater extent than those who are already around. The strike was for the benefit of those already working in the Higher Education sector, but it was also for the benefit of students who may one day decide that they want to go into Higher Education as a member of staff themselves.
As noted, not all of my lecturers decided to go on strike, and I was not one of the students frequenting the picket lines. I decided that my education was what I needed to focus on. I am not ashamed of the fact that I chose to go to lectures: I am paying £3250 per year for a degree, I want the best value for money that I can get.
The same can apparently be said of some of my tutors who, for whatever reasons, did not strike. They decided that, at the moment, the most important thing was continuing our education, preparing us for exams, and in one case actually giving us one.
All students should be grateful that, should we decide to work at a university as lecturers later in life, the UCU stood up to defend a pension scheme that is favourable to us.
Lecturers have made sacrifices, having their pay docked and being warned that, should they die on a strike day, their family will receive no financial compensation for their deaths. This rather morbid warning seemed to almost be a threat, that should you strike, you are dead to the University, albeit for a day.
We should not blame lecturers for choosing to continue teaching, nor should we blame those who decided to go on strike. Both of them made the decisions that they believed to be right: supporting us in our education today; helping us to get the degree for which we are paying so much; or supporting some of us in times to come. When some of us become lecturers or other members of staff at universities we will gain the benefits of these pension schemes for which lecturers and other staff members have fought so hard.
I am entirely behind the staff here at Lancaster, and sincerely hope that these strikes will help them hold onto their pension scheme and send a message to the University management that they cannot simply change things to benefit themselves at the cost of the jobs and livelihoods of many. I know that all of these decisions have been made while looking to our future and, as someone who has always considered a career in Higher Education, for that I am thankful.