Bowland fight back for Founders glory
682 total views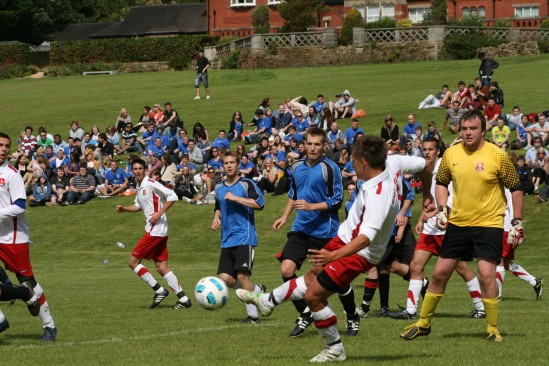 Founders' series, the annual event between the two founding colleges of Lancaster University; Lonsdale and Bowland, was the closest in years. The event has been running since 2004 with Lonsdale winning the first series and Bowland winning every series since. Going into the event it was almost impossible to separate the two colleges, perhaps Lonsdale were even slight favourites, as they were to host each evening, due to Bowland's bar currently undergoing refurbishment.
Friday
Shortly before 5pm on the first day, Friday, news filtered through that Lonsdale had won the principal's archery, and had drawn first blood in the series. However Lonsdale's advantage was short-lived.  The next two events were the Men's and Women's (drinking) boat races. Bowland's women won in convincing fashion, whereas their men won in controversial fashion, with long deliberation over whether it should be replayed due to large quantities of beer being spilled. However with Lonsdale losing by a pint and half it seemed a fair result.
Lonsdale threw the form book out of the window in the Dominoes, as they went from perennial losers to 4-1 victors in one of the most keenly anticipated events of all of founders, with at points 70 or more people crowded around one table.
After last year's Quiz, which ended with Bowland winning on a tie-break question, it was written into the rules that a tie would see split points. This was a precaution and extremely unlikely to happen. However the two teams were neck and neck throughout including the opening picture round that saw Bowland correctly identify 150/150 Pokémon to Lonsdale's 148. The quiz was ultimately tied, seeing each college receive a point and each contestant a medal.
Women's darts saw Lonsdale's women take a 3-0 lead, before slumping to a 4-3 defeat, seeing a massive six-point-swing in the overall scores, from what looked like an inevitable win. Men's Bs pool was the final event played on the Friday night; Bowland took a 3-0 lead in what was in-effect a race to six. However on an evening where taking a 3-0 lead seemed to be the worst thing you could do, Lonsdale fought back bravely and Lonsdale's male player of the series and Pool captain, James Halliday won the decider seeing Lonsdale win 6-5 and seeing the scores tied at 6-6 overall going into the weekend, with 30 points the score needed to take victory.
Saturday
Saturday started exactly as Bowland would have hoped in the women's football. Although the score-line read 0-0 for a long period, ultimately the superior football of Bowland shone through as they secured a 3-0 win and three points to the overall total. However the next event saw the Men's C team football. Lonsdale sneaked a 2-1 win; however they could have scored so many more if it was not for the fantastic goalkeeping of Josh Latham. There were two efforts he could not stop, a rifled finish from Lee Osborne after a neat back-heel from Nick O'Malley, and the late winner from super-sub Paul Russell.
The Men's B's football saw a somewhat surprise result if you were to go purely off the league. As Bowland cantered to league glory during the regular season, but slumped to a 6-0 loss in Founders, as Nick Ackroyd and Chris Floodgate bossed the midfield, whilst Ben Gannon and Tom Pitts (Hat-Trick caused mayhem in attack. This saw Lonsdale leading by two points overall going into the Men's A team football, worth four points. Once again it went against form as Lonsdale (League winners), lost on penalties.  The match finished 1-1 and went straight to penalties. Bowland were ruthlessly efficient with their penalty taking, whereas Lonsdale were not. Leon Vaughan hit the top of the bar with his, whilst James Bowry saved a weak penalty from Josh Duggan, to secure the win for Bowland, seeing them take a 13-11 lead to the netball.
Lonsdale aided by a strong University contingent played fantastically in the netball, winning both the As and Bs comfortably. The A team won 40-15, with Amy Harvey scoring an unbelievable amount of goals, leaving the crowd chanting her name. However the key to the win was University 1sts Captain Rachael Taylor playing as Goal Defence and marking Bowland's best attacking player Charlotte Ellingham out of the game. The Bs followed a similar pattern, with University player Zoe Wren in fine form at Goal Attack, the stand-out player. Lonsdale led 18-13 heading to Lonsdale bar for the final event of the day, Men's Darts.
In the Men's Darts neither team seemed to be at full strength, and the standard of darts seemed to be impeded by the intense atmosphere and large crowd. George Hardy and Andy Shaw provided the game of the night, with Hardy of Bowland triumphing in style with numerous tons and slick finishing against the University singles championship runner-up Shaw. Bowland led 4-3 going into the final two games of the evening, with Bowland sports rep Sam Micklethwaite's "freshers to watch out for" Zac Godfrey-Plews and Rafe Pfitzman left to play Matt Gilford and University Captain Nick O'Malley for Lonsdale.
Lonsdale opted to play Gilford versus Godfrey-Plews in the eighth game of the night, hoping for O'Malley to bring it home in the decider. Gilford went 1-0 down but fought back strongly in an intense atmosphere to win 2-1. The decider saw Pfitzman somewhat over-awed by the occasion, as O'Malley kept a relatively calm head. O'Malley struggled to hit the double in the first leg, but after taking a 1-0 lead, cruised to victory as he checked out 201 in six darts, 140 with the first three, then 3, 18, double 20. Lonsdale led by eight at 21-13 overnight.
Sunday
The first events of Sunday morning saw, Squash, Lonsdale once again boasting a strong University contingent, with James Marenghi the only winner for Bowland in a 4-1 Lonsdale win. Lonsdale cruised to a 3-0 victory in the Volleyball with University Women's captain Laura Davies and Rick Clarkson the stars of the show for Lonsdale. Dodgeball saw Bowland triumph 3-1 courtesy of the fine form of Dean Crabb and Erin Royle, with numerous hits and catches. The two points Bowland picked up for Dodgeball cancelled out the two earlier wins for Lonsdale, but the score read 23-15, Lonsdale seven away from glory for the first time in seven years.
Men's Basketball saw probably the biggest mismatch of the series, as Bowland cruised to a 71-11 victory, with Kingsley Cassie providing numerous moments for the highlight reel. Lonsdale won 2-1 in the Women's hockey, before that point was cancelled out by a 5-2 Bowland win in the Men's hockey. Lonsdale led 24-18 as the sports centre events drew to a close.
The next event was Rounders, usually a banker for Lonsdale in both Founders and Carter shield. However Lonsdale failed to attend the Carter shield Rounders and missed out on invaluable match practice. Bowland were a much better drilled outfit than Lonsdale. Lonsdale struggled in the field in the first innings and never really recovered. Alex Page was the stand-out batsman for Bowland. Bowland held on for a 12-10 win, the match ending with a fantastic one-handed catch by Captain Mike Hayes of Bowland. This saw Bowland reduce the deficit to four points at 24-20 going into the Men's rugby, worth four points.
This was surely to make or break Bowland's comeback challenge. Old boys Andy Jackson and Rick Clarkson, and current boys James Halliday and Danny Myers were immense throughout. Danny Myers ultimately made the difference with his fantastic kicking as Lonsdale held on for a 29-24 win to take a 28-20 win overall.
Women's tag rugby, worth three points, saw a hopeful Lonsdale up against an experienced Bowland side. Once again the Carter shield experience for Bowland was invaluable. Erin Royle was undoubtedly the player of the match as she picked up three tries in a 4-2 win to make sure women's rugby did not clinch Founders victory for Lonsdale.
Lonsdale led 28-23 as the fans and players made their way to Lonsdale bar for the final four events of the weekend; Women's pool (3 points), Men's As Pool (3), Chess (1) and President's chess (1). Lonsdale struggled in the Women's pool, as they slumped to a 7-2 defeat in front of relatively few spectators, 50 compared to the 200 that were watching the Men's Pool. Bowland had edged back to a 28-26 deficit.
In the Men's pool at 3-3 next year's University Captain Danny Worthington of Lonsdale had a fantastic opportunity to secure a 4-3 lead with four games to go. However as he missed a fairly simple black, under unbelievable pressure, James Stone capitalised and sent Bowland 4-3 up. At 5-4 down, Lonsdale had Jake Aspinall of Lonsdale Bs and University Captain Lee Osborne to play. Aspinall was nominated, and was imperious under pressure, doubling his black leaving his opponent Billy Tosh dumbfounded.
This provided Captain Lee Osborne the opportunity he must have dreamt of, one frame to secure the Founders win for Lonsdale. He was up against Chess Grand master James Hanley of Bowland. It was an extremely tight encounter, it developed as if a game of chess, which ordinarily would be a dream for Osborne, but at 5-5 versus a chess Grand master, it was not ideal. Osborne snookered his opponent on numerous occasions as he bided his time for the perfect opportunity. Finally he struck, sinking his final two reds.
But it was the black that provided the problem, with only three foot to the pocket; it must have seemed the longest three foot ever for Osborne. He spent longer than usual over the shot, and the black rattled the jaws before resting over the pocket. Hanley calmly rolled in the black to put Bowland within touching distance. It is impossible to describe the atmosphere at this moment, you had to be there. However the photographs tell a story.
Bowland were leading 29-28, at 2-2 in the chess and with the president's chess still to be played, it was to be a dream half an hour for Hanley. Lonsdale did not know who to play for the decider; Bowland however, had a grand master. Hanley took just seven moves to dispatch of his opponent, who had been awoken from his flat just for this one game. To be surrounded by 150 celebrating Bowlanders must have been a surreal experience that words could not describe.
Bowland picked up the President's chess, to secure a 31-28 overall win. For almost everyone involved it was the best series they had ever been involved in; the best and friendliest atmosphere, the most deciders and the first to ever be decided with the chess. The two colleges involved will already be looking forward to next year's series.