LUTG Presents: Frozen
651 total views
If you are the sort of person who froths at the mouth and starts throwing things upon hearing the word paedophile, then it's probably for the best that you don't attend the next spectacle at the Dukes Theatre. If, however, you are fascinated and willing enough to sit face to face with the obliviously twisted and meticulously self-justified logic of such an individual, then it is of grave importance that you do.
Bryony Lavery's 'Frozen', a chilling keyhole into the processes of grief, denial and forgiveness, is the first of four plays to be staged by Lancaster University Theatre Group this term. Judging by its subject matter (child murder, rigorous psychoanalysis and bereavement), 'Frozen' could well be regarded as the most controversial and offensive of the four before it's even had its get-in, but is this a reason to stay in and watch TV instead?
Emphatically 'no' says director Natasha Farnworth, who asserts that while Frozen is controversial, it "…raises issues that we don't necessarily want to tackle, and forces us to question our perception of good and evil." She added, "the psychology behind it is fascinating and the issues raised are important to me." The issues are also important to society, which is all to quick to smash windows and dismiss offenders of this nature as 'sick lunatics', without pausing for consideration into why they think and do the things they do.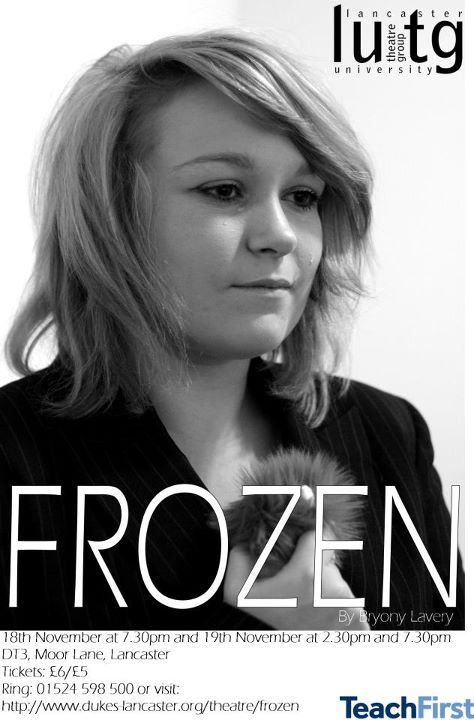 Frozen has the potential to be yet another addition to LUTG's pier-length list of professional standard triumphs, with a cast made up of some of the society's strongest performers. Who can forget Hannah Mook's astonishing versatility in 'Road', when she seamlessly shifted between the roles of a sweet old lady and a preening street hussy with no trace of the other in either? Who was not left shaken by Holly Francis' vicious interpretation of Carol in 'Oleanna', a 90 minute catharsis which Holly carried with just one other performer? And how can Raj Bhandal be anything other than acclaimed for his subtle and mature portrayal of Dale Harding in the multiple award winning 'One Flew Over the Cuckoo's Nest'? 'Frozen' will also be welcoming Fabian Weiss back onto the stage after a year away in Canada.
It also boasts an experienced production team, including Natasha Farnworth; who starred in 'The Picture of Dorian Gray' and stage managed 'Abigail's Party', Lauren Davidson and Rachael Hunt, who last year worked together on 'Daughters of Heaven' and 'The Rivals', two very different but very brilliant plays.
Lancaster University Theatre Group Presents: 'Frozen' will be taking place at Dukes Theatre (DT3) on Friday the 18th of November at 7.30 PM, and Saturday the 19th of December at 7.30 PM, as well as a matinee performance at 2.30 PM. Tickets can be booked by telephone on  01524 598 500, or online, at www.dukes-lancaster.org/theatre/frozen.
'Frozen' cast
Rajpal Bhandal as Ralph Wantage.
Hannah Mook as Nancy Shirley.
Holly Francis as Dr. Agnetha Gudmundsdottir.
Fabian Weiss as the voice of Dr. David Nabkus. 
Crew
Director: Natasha Farnworth.
Producer: Zoe McNamara.
Stage Managers: Lauren Davidson & Rachael Hunt.