LUTG Presents: A Little Night Music
649 total views
Stephen Sondheim's Tony Award winning 1973 hit 'A Little Night Music', which spawned the much covered and copied 'Send in the Clowns', stands out not only as the sole LUTG musical this term, but the first one the society has produced in a number of years. Plays are daunting enough to a director when production begins, but throwing orchestration and musical direction into the mix makes the road even rockier. Who, then, is masochistic enough to lumber themselves and a small team with the unenviable burden of a full blown broadway classic; a Sondheim classic no less, whose stamp is defined by lyrically multi-layered, intricately timed music which is, in terms of complexity, up there with Gilbert and Sullivan's quickest patters.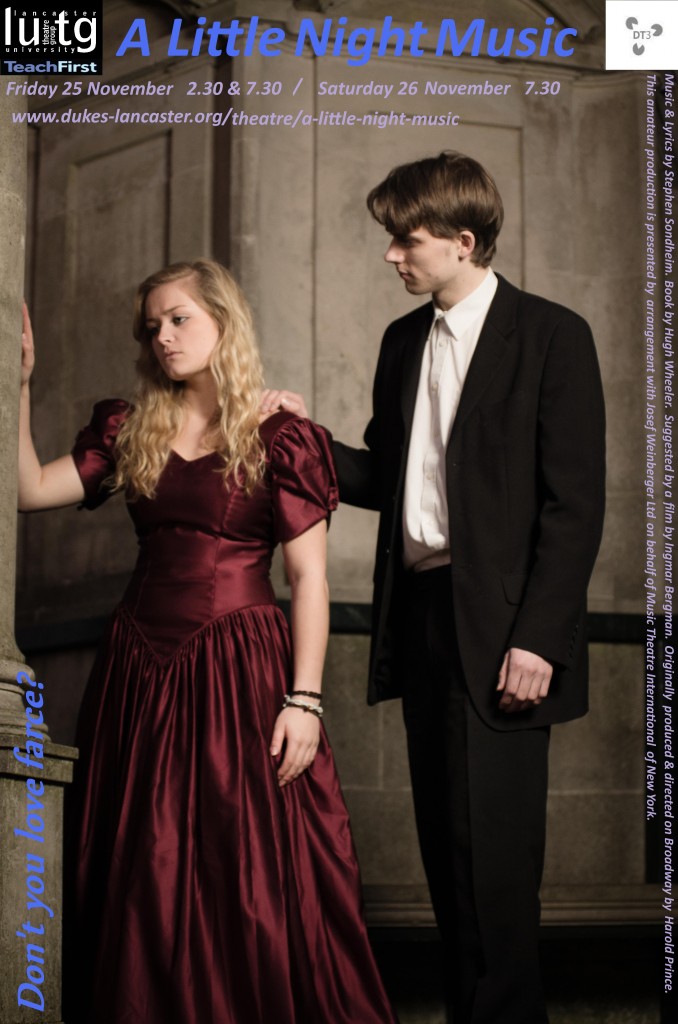 It's M.A. student Michael Reffold (with assistance from Vicky Jones), who has acted in no fewer than eight shows with the society, and also assistant directed 'Our Country's Good' two years ago. "Staging a musical has been a big challenge", he says, but adds that his team has made the rehearsal process "an absolute joy". Reffold's vast body of experience is matched only by his contemporaries on the production team – overseeing the musical direction and conducting the chamber group, which consists of four talented members, is the grade eight musician Katherine Meyrick. Meanwhile, the stage management will be a joint effort from Joe Priest, who has worked on' Guards! Guards!', 'The Picture of Dorian Gray' and 'Rosencrantz & Guildenstern are Dead'; and Victoria Spurway, who previously assistant stage managed 'Road'.
While 'A Little Night Music' is worth seeing for its quick witted songs and its bumbling and charming characters, it is also sure to be an enlightening experience to regular followers of theatre group – of 21 performers, only four have performed with the society before, while the lead roles are filled by LUTG newcomers such as Tim Mackworth-Praed and Lois Swinnerton. Not only does this production promise heartache, heartbreak and blusteringly barmy ball aches, it also offers future production teams, co-performers and reviewers (like myself) the opportunity to assess and enjoy the produce of an overwhelmingly large amount of new faces.
Lancaster University Theatre Group presents: 'A Little Night Music' will open at the Duke's Theatre (DT3) with a 2.30 matinee performance on Friday, the 25th of November, followed by a 7.30 evening performance on the same day, and a 7.30 performance on Saturday, the 26th of November. Tickets can be booked by telephone on  01524 598 500, or online, at http://www.dukes-lancaster.org/theatre/a-little-night-music
'A Little Night Music' – cast

Fredrik – Tim Mackworth-Praed
Desiree – Lois Swinnerton
Anne – Emma Fredskild Green
Henrik – James Varney
Charlotte – Charlotte Blatt
Carl Magnus – Adam Atlasi
Petra – Kristie Murphy
Madame Armfeldt – Andy Ainscough
Fredrika – Ellie Kirby
Frid – Eduardo Velloso
Mrs Nordstrom – Amber Chester
Mrs Segstrom – Kiera Wilkins
Mrs Anderssen – Niamh Coleman
Mr Lindquist – Matt Simpson
Mr Erlanson – Duncan Lindsay
Malla – Ismene King
Osa – Eleanor Tarrant
Bertrand – Sean Goodwin
Techie Chorus – Pip Docwra, Alex Parker & Aden Beckitt
Production Team
Director – Michael Reffold
Head Producer / Co-Director – Vicky Jones
Co-Producer – Iona Milburn
Stage Managers – Victoria Spurway & Joe Priest
Orchestra
Musical Director / Violin – Katherine Meyrick
Piano – Mark Hazzard
Flute – Pip Docwra
Clarinet – Jack Fleming
Violin – Matthew Wood