Two hundred attend memorial for Lancaster student
594 total views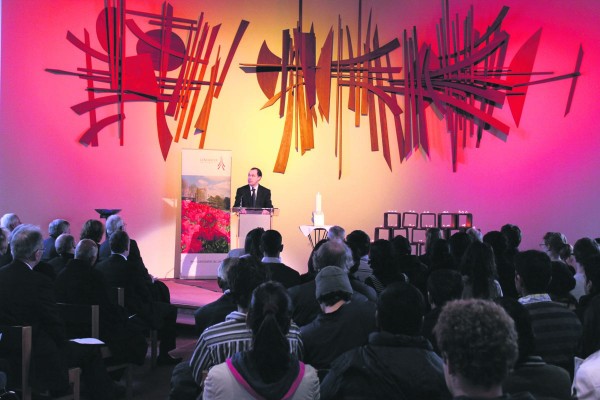 200 people attended a memorial to the life of Anuj Bidve on Saturday 21st January (Week One). Held at the Lancaster University Chaplaincy Centre, the service came nearly one month to the day since Anuj was murdered in Salford on Boxing Day.
Staff and students came together to celebrate the life of the Lancaster student who was spending Christmas in Manchester with friends when he was shot in the head at close range in the early hours of Boxing Day.
The service featured a slideshow of photos of Anuj's time in England that provoked an emotional response from his friends. Anuj's friends read out a tribute to him, before Professor Malcolm Joyce (Head of the Engineering Department) and Claire Povah (Principal of Graduate College) presented their own reflections on the 23-year-old's life.
Halfway through the service, Father Hugh Pollock (Catholic Chaplain and Principal of Grizedale College) introduced a silent reflection period and welcomed guests to light a candle in memory of Anuj. Several people laid flowers alongside the candles at the front of the Anglican and Free Church Chapel.
After the lighting of candles, there were further reflections from different instituions, including the Lancaster and Morecambe Hindu Society's Mrs Harsha Shukla, Lancaster University's Vice Chancellor Professor Mark E. Smith and the Bishop of Lancaster, Reverend Geoff Pearson.
Dr Shiv Pande, Secretary to the Indo British Association, met Anuj's parents during their visit to England at the beginning of January and read a poignant e-mail from Anuj's father, Subhash Bidve, in which he described the family's loss.
Speaking to SCAN after the service, the University's Vice Chancellor said "it was a highly appropriate ceremony that had a wide range of representatives from the University and the community that reflected both the feelings and his life well." Lancaster University Students' Union President, George Gardiner, commented that "it was a fitting tribute to a student that represented everything that is good about Lancaster University."
Pro-Vice-Chancellor for Colleges and the Student Experience, Professor Amanda Chetwynd, expressed that "the service today was a beautiful tribute to Anuj. The pictures of Anuj with his friends so full of life were particularly moving." She added "his death was such a shocking waste of a young life full of promise."
As people left the Chaplaincy Centre, a collection took place for the Memorial Fund for Anuj Bidve. There was also the opportunity for guests to sign a memorial book which will be flown to India and presented to Anuj's family in a fortnight by Lancaster University's Deputy Vice Chancellor, Professor Robert McKinlay.
It was also confirmed during the service that an Anuj Bidve scholarship is to be established for an Indian student to receive funding to attend Lancaster. Details of the scolarship will be discussed when Professor McKinlay meets Anuj's parents in Pune, India, next month.