Falsely accused 'Terrorist Spy' visits campus
868 total views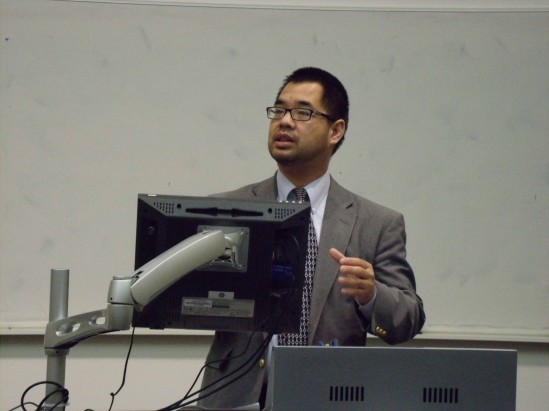 BY Laura Kay
February 1st 2012 marked the return of ex-US Army Muslim Chaplain James Yee (余百康) to Lancaster University for a talk entitled '9/11, Guantanamo and Terror'.
The event comprised a personal account of Yee's service at the notorious Guantanamo Bay detention camp in 2002-2003, shortly following the terrorist attacks of 9/11. Also discussed was Yee's unjust imprisonment and the false accusations that were made against him, leading to 76 days of solitary confinement during which Yee was threatened with the death penalty. An extensive question and answer session was additionally provided, allowing students and staff-members alike to gain further insight from the now world-renowned ex-chaplain.
Throughout the evening, Yee spoke of his experiences at Camp Delta of Guantanamo Bay, where he was amongst the few individuals to possess "authorised unescorted access" to prisoners within the Camp Delta cell blocks. Upon hearing distressing personal accounts of the inhumane and discriminatory interrogations the prisoners were forced to endure, Yee sought to play his allocated role in advising and educating the military on "religious practices" and to improve awareness of Islam and the Muslim culture within the camp. Although initially lead to believe he was being rewarded for his work with "rest and relaxation" time, Yee was later secretly arrested in Florida and unjustly accused of a number of charges including spying, espionage, mishandling classified documents, mutiny and fraternising with the enemy.
Beginning with ways in which "religion was used to persecute" within Camp Delta itself, Yee continued with a discussion of the way in which "Islamophobia" and religious discrimination persist within the USA today, even amongst prominent politicians and media personalities. The failure of President Barack Obama to close the infamous Guantanamo Bay, as promised two years prior, was also brought to light.
The event was made possible by LikeMedia.tv and Lancaster University Islamic Society, in association with the Amnesty International Society and Christian Fellowship. Several of the university's humanities departments were also involved.
Yee, who was later fully exonerated of his charges, expressed that it was "an honour and a pleasure" to speak at the university, and that he hoped to shed light on "some of the things that have happened", hopefully educating others and "encouraging the Islamic community especially to get involved  – to become actively engaged in the entirety of society" in order to resolve what he called the "social disease" of religious discrimination.
Ayaz Khalid, executive member of the Islamic Society and heavily involved with the organisation of the event, commented that he was pleased to help "raise awareness" and was delighted that the event had "brought so many people together."
Speaking exclusively to SCAN, Khalid was also glad to express that he had not personally experienced religious discrimination around campus, but also indicated that further work beyond the grounds of the university was needed to discourage such prejudice. He emphasised that the Islamic Society wished to "promote common good" and that the society as a whole was interested in collaboration and interfaith events.
David Gott, studying for an LLM/MA in International Law and International Relations at Lancaster, commented that the event was "passionate and relevant, a rare chance to hear a speaker who was both directly involved in America's controversial detention of individuals at Guantanamo Bay and who himself was caught up in the climate of fear after 9/11." Another student, who wished to remain anonymous, remarked that it was "a fantastic and eye-opening event."
Following the event, a number of refreshments were provided and those attending were invited to purchase signed copies of James Yee's book, 'For God and Country: Faith and Patriotism Under Fire.'
Yee's talk at Lancaster was the first of a series of lectures targeted at UK universities throughout early 2012, which are expected to appear later this year on LikeMedia.tv.