Management students raise thousands for children's hospice
719 total views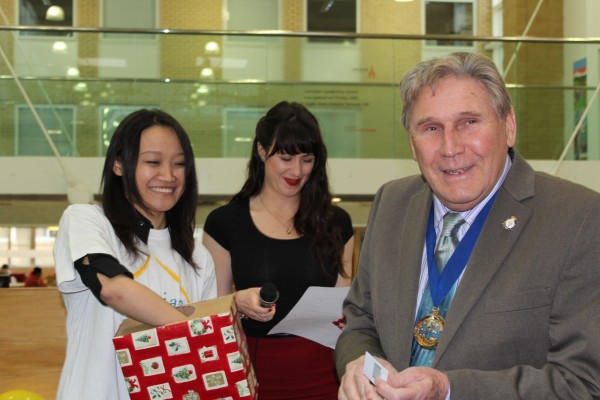 A group of Project Management postgraduate students have raised over £4000 for Derian House, a local hospice catering for terminally ill children.
The group, led by MSc student "Lily" Li Lin, hosted the 'Fun and Funds for Derian House' event in Week 18 at Lancaster University's Management School, during which raffle prizes surpassing £2000 in total value were won.
During the event, attended by a range of staff from both Lancaster University and Derian House, Chinese food was available for guests and items were auctioned off in an organised 'Mini Auction'. Enterprise Champion Jon Powell, from the University's Research and Enterprise Services, commented that it was "pleasure" to offer advice to the students for the event.
Powell continued: "student entrepreneurs are always welcome to seek help from the [Research and Enterprise] Services."
Established with the hope of providing a 'home from home' for children who may not reach adulthood rather than simply an alternative to a hospital, Derian House currently supports over 200 families who have a child with a terminal or life-threatening illness. A further 200 families requiring bereavement support are also aided by Derian House.
"Although Derian House receive financial report from the government, it is not enough," explained Li Lin. "They need £2.6 million this year to support more than 250 families […] in the North West."
Lin went on to express that the idea of "young people supporting young people" was a major driver for the group. "We need to shoulder the responsibility and try our best to raise as much as money we can," she said. She also expressed deep gratitude for the raffle prizes donated by numerous local businesses, stating: "Many shops in the campus and town are our sponsors. Their kindness leaves a great impression on our whole team."
Amongst prizes handed out from the much-anticipated raffle was a pass for the University Sports Centre, in addition to contributions from Lancaster House Hotel, Greggs, Lonsdale College, Fylde Bar and Pizzetta Republic.
An attending student from Beijing expressed that "it was a wonderful event for a wonderful charity," while another Chinese postgraduate added that "the raffle prizes were amazing."
"I think if we keep this worthy cause every year as a tradition, it will benefit a lot – not only Derian House but for the whole community," summarised Lin.