Review: 'He Who Gets Slapped' by LUTG
508 total views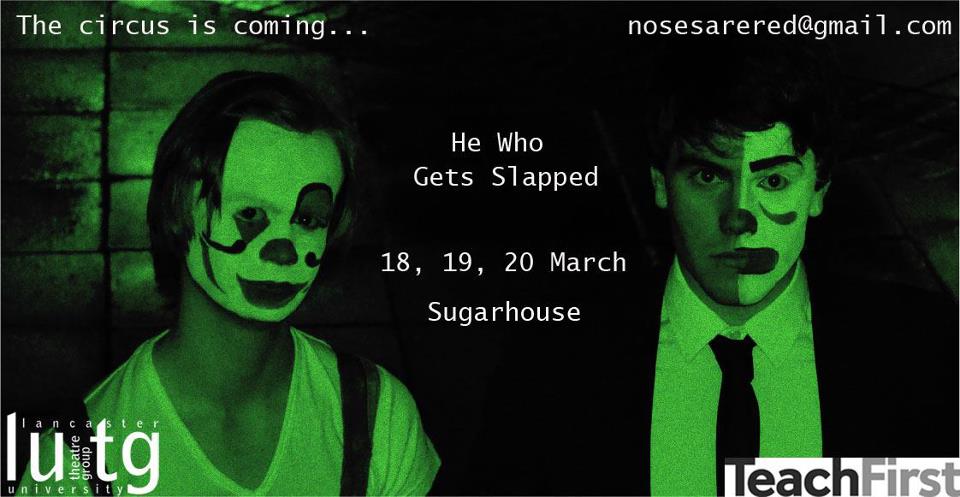 At the turn of the 20th century, Russian playwright Leonid Andreyev churned out 'He Who Gets Slapped', the story of a 'society' man who joins the circus to forget his past. The piece has been largely absent from any kind of repository, and performances are rare. Its most notable incarnation, starring a young Lon Chaney Jr., was a 1924 silent movie. Having spent two hours listening to the dialogue of 'He Who Gets Slapped', it's easy to see why.
Lancaster University Theatre Group's third and final play of the term took place at the Sugarhouse; a venue that can fill one with dread. Stage managed by the ever-thorough George Bach, the drama was surrounded by posters, bunting, finely knotted sheets and well-painted sideshows to create a delightful and expectation-raising atmosphere. Such clear dedication to the director's beautifully-realised vision of a rotting, seedy and wine-soaked circus green room was, sadly, not enough to make up for a script that reads like the disjointed scribblings of someone drifting in and out of an anaesthetic-induced coma and offers a similar audience experience.
The addition of expected circus business from characters who are given very little to do in the actual script, such as tomfoolery involving clowns with card houses and tumblers botching cartwheels, along with a bright, believable circus aesthetic, showed great effort on the parts of director Emma Geraghty and deviser Keely Hawkins, but all too often these simple joys were massively overrided by a confusing and tedious plot; a mysterious gentleman (Alex Marlow) joins the circus and names himself 'He', he deals with another mysterious gentleman (Will Salter) who we assume has done something terrible to him in the past and caused him to fake his death and join the circus (the true circumstances are never revealed). Meanwhile, we are hurriedly told that the eponymous 'He', a strongman called Benzano (Alex Varey) and an aged baron (Aden Beckitt) have each fallen in love with Consuelo (Lisa Coleman), a star performer. Then what feels like a daze occasionally punctuated by pointless, repetitive conversations between Counsuelo's rich father (Dan Darragh) and the circus manager (Andy Ainscough), and all of a sudden Counsuelo is marrying the Baron.
It was rather sad to see a strong cast clearly having trouble wrestling with an overlong, dense script in a convoluted plot and ending up wooden and misplaced as a result. Ollie Cumins and Jack Heaton as Olly and Polly, a pair of clowns, were silly and enjoyable, as were Emmy McIntyre's and Crystal Dishman's tumbling antics, but they could do little more than provide a moment's relief from the preceding slew of tedious exchanges. In the final scene, Counsuelo is poisoned by 'He' in front of the entire cast, with the script calling for them to pay no attention to 'He' whatsoever and to suddenly start crying, prompting the Baron to shoot himself. In response to this, the ringmaster stepped forward. "Urgh," came his exasperated response, which probably struck a chord with those in attendance, indifferent to yet another random BIG DRAMATIC / EMOTIONAL SCENE surfacing.
In spite of this, the madness of 'He' at least allowed the character to stand out, giving us a theatrical revelation in the form of Alex Marlow. 'He' is written so unrealistically devoid of any consistency that the actor had a hard task in switching from state to state, and Marlow handled it marvellously – one to watch, without a doubt.
And on that note, we say au revoir to LUTG for this term, but my, there sure is more to come. After Easter, the society will holding auditions for its Summer term productions. Willy Russell's 'Stags and Hens' will be running amok in the Sugarhouse, and you'll find Morgan Lloyd Malcolm's 'Belongings' at the Dukes DT3. And most excitingly of all, an original play by LUTG regular Andrew Ainscough, 'Station', will be arriving at the Nuffield Theatre. Third term isn't all exams, and the society welcomes auditionees of all shapes and sizes – look out for the posters and come along; it's a hoot.
As an aside, I would like to thank Jomar de Vrind and Jensen Tudtud for their excellent work in taking my place and covering student theatre this term, whilst I have been pre-occupied with covering the FTO elections and attacking the LUSU cow. Next term, I will be back in full force.