Fylde come out fighting for Roses Netball victory
515 total views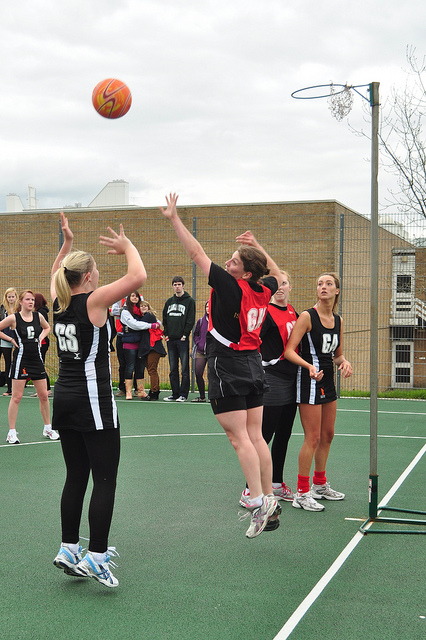 Final score: Lancaster 45, York 18. 
Lancaster's Fylde A's Netball team battled it out against York's Alcuin College for a point at this year's Roses Tournament in the 'College League A Winners' match.
Despite York's best efforts, the red rose emerged victorious with a commendable 45 goals to York's 18.
The first quarter got off to a good start for both teams, with plenty of swift passes up and down the court. Lancaster's goal attack, Rebecca Rusby, who also played goal shooter later on in the game, played particularly well throughout the match, along with Jana Herbert, who proved to be a strong goal defence.
Lancaster took the lead after the first quarter, despite a few fouls in the D, scoring 9 goals against York's 4.
The match was also met with an enthusiastic crowd throughout the game, with Lancaster supporters gradually getting more excitable and attempting to put York shooters off at the goalpost.
Both teams stepped up the pace in the second quarter, with ambitious goals from the edge of the goal circle on both sides. However, Lancaster got the upper hand early on in the quarter, dominating York with 12 goals to their 5, making the overall score at this point 21-9 to Lancaster.
Both York's Netball team, and their supporters, came fighting back in the third quarter, with York giving Lancaster's shooters some of the same treatment they had been receiving. York demonstrated their determined spirit, scoring five goals in quick succession, but Lancaster's side remained just as strong scoring 13 goals against York's six, keeping Lancaster in the lead with a score of 34-15.
Lancaster was not prepared to let victory out of their grasp in the fourth quarter, accelerating the pace for the final 15 minutes of the match. It seemed that York's defence was not strong enough when matched against Lancaster's attack, with Lancaster scoring 11 points and York just 3.
Both teams played well, but Fylde were relentless, winning the point for Roses.
Lucy Aspden, Captain of Fylde A's, thought that 'it was a deserved win for Fylde after training for two hard weeks, all the girls deserved a win after a brilliant league win and I couldn't be more happy for them, they deserved it so much.'
Aspden also acknowledged the 'brilliant turn-out', thanking all the supporters who came to watch the match.
Megan Knight, Captain of Alcuin college, also thought that their 'girls played really well against a great team. We did so well to get here and to beat the other colleges at our uni' she went on, 'and I feel like everyone did themselves justice today. It was great play from everyone and obviously great play from Lancaster.'