Jack White at the Empress Ballroom, Blackpool – 6th November 2012
686 total views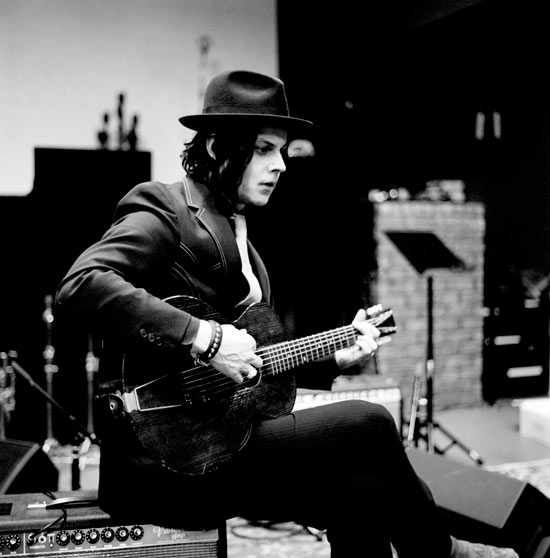 Blackpool; the home of ballroom dancing, bright lights and the wildest hen nights around. It's a place that never seems to lose its energy and individuality, just like the eccentric music of Mr Jack White, who was warmly welcomed back to the Empress Ballroom stage to put more than just a bounce in the floor.
The Empress Ballroom is an extremely special venue for Jack and The White Stripes after being chosen as the perfect place to film their DVD "Under Blackpool Lights" back in 2004, so it's safe to say there would be lots of nostalgia and fond memories in many fans hearts. This time round though, Jack was stepping onto the stage as a solo artist, with a helping hand from six ghostly looking girls lined up behind, expanding on the familiar sound of the Meg White's icky thumps. It was definitely going to be interesting to see if he lived up to previous performances after a long wait for new material.
Jack's explosive new album "Blunderbuss", focusing on heartbreak and collapsing relationships after his recent divorce, has received phenomenal reviews from all angles of music critique and there was a part of you that knew that even before that first note was played, the performance was going to be electrifying. The clock struck 9 and the light of the elegant chandeliers dimmed and it wasn't long before the springs in the floor were shaking as the crowd went mental for all the delicious flavours of Jack's music. From classic White Stripes numbers such as "Hotel Yorba" and "The Same Boy You've Always Known" to the gems of his solo album and some creative covers, Jack really proved his ability to work with pretty much any genre and at the same time make it his own. What was particularly surprising about the set was that the majority of songs were actually White Stripes numbers, with solo hits such as "Missing Pieces" and "Love Interruption" slipped in between, which meant that this carefully constructed set list was able to please everyone, no matter whether they'd been a lifelong fan or had recently discovered White's talents.
As well as a colourful set list though, the intensity and emotion of Jack's performance meant that fans were constantly on edge as the insecure and experimental sound of his turbulent love life was mixed with an alternative 60s sound and classic White Stripes garage rock in a performance that left us gobsmacked and only wanting more.
White's encore included the long awaited "Blunderbuss" favourite "Freedom at 21", which along with "Hypocritical Kiss" spread around that thrilling bitterness that was the real spark behind his new work. A surprise Hank Williams cover again kept everyone on their toes before finishing with the unforgettable sound of "Seven Nation Army" which despite the switching off of the promenade illuminations, undoubtedly re lit the town. With a lack of audience participation aside, this was a brilliant performance from start to finish and with such an intense presence like Jack's, words are perhaps really not needed; he injects a fever that is truly indescribable.