York Regain Carter-James Trophy
704 total views
But we should still be proud of our achievements.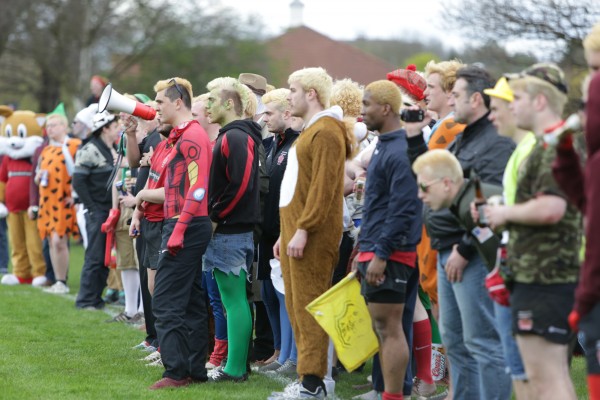 The 49th year of the Roses tournament ended in a bitterly disappointing loss for the Red Rose as they relinquished the Carter-James Trophy for the 25th time. York were always going to be at an advantage playing on their home turf, and at times they were ruthless as Lancaster battled hard but eventually slumped to a 75 point loss.
What was perhaps more disappointing, though, was the manner in which York won and received the Carter-James trophy. There was no fanfare, no rousing and rapturous applause, and no inspiring final addresses to the Yorkshire hoards. Instead, York could barely muster any support for their achievements, as they managed to just about fill one quarter of the 1200 seats in the main hall for the closing ceremony. York ended the 49th Roses tournament with nothing more than a timid, humble whimper of acceptance. It was, at times, embarrassing to see reluctant York students accepting trophies for sports and disciplines that they had no affinity for because there was nobody else there to accept them.
The rugby union game on the Friday evening of Roses was electrifying. There were hoards of White Rose supporters mixed with intermittent swathes of raw, red Lancastrian passion. Lancaster battled hard but were eventually beaten, and the Lancaster rugby team left the pitch, a little deflated and downhearted. But they had no reason to be. They had brought together hundreds of Red Rose supporters together for one cause: to celebrate the determination and pride of Lancaster. Our rugby boys should be proud of what they achieved on the first evening of Roses, because they set the tone for the rest of the weekend. A tone of celebration, of strong voice, and of pride. York, on the other hand, seemed to abandon their athletes for the rest of the weekend.
The first event of Saturday morning saw Lancaster dance troupe LUDanS obliterate the York dance troupe. The York girls performed admirably but one thing was clearly missing from the White Rose, and it was not their ability to perform well rehearsed routines. It was their support. And this was not an uncommon scenario. The ballroom dancing saw Lancaster perform well, taking three out of four points available; again with gatherings of Lancaster spectators heavily outnumbering those of York.  Perhaps York could have been forgiven for a subdued start to the weekend after such an electric Friday night at the Huntington Stadium. But this was not the case, for at every such sports fixture that I attended, so too did a sea of Red to drown out the small pockets of Yorkshire support. It could have been arrogance, perhaps complacency, or maybe even a lack of interest; but one thing was certain: that the White Rose seemed to have failed to inspire their students to get behind their sports teams.
The hockey was another such example of how brilliant the Lancaster support was. Indeed, one might have been forgiven for thinking that the hockey game was played on Lancastrian turf; such was the number of Lancaster supporters in attendance. Despite Lancaster losing, again nobody could fault the commitment of our players and spectators.
The lack of interest in the sports fixtures from a White Rose perspective was also evident in their media coverage. At one point, all three Yorkshire Roses mini-sites displayed different point scores for Lancaster; and it was embarrassing to see that at one point York had awarded Lancaster over an extra twenty points. It seemed the subdued attitude towards the games in Roses had a knock-on effect that affected a wider circle of attendees.
The White Rose would have been relieved to secure the Carter-James trophy; it would have taken a mammoth effort for Lancaster to retain the honours. But despite their victory, York have seldom few other bragging rights. For it was the Lancaster supporters who gathered in hundreds; some even with broken voices and tears of passion, to cheer on the Red Rose. It was not York who were the overwhelming force in the end, it was Lancaster. We may have lost our trophy, but the passion and fearsome loyalty we showed will prove pivotal next year for the 50th anniversary. There is no doubt that if Lancaster pour as much spirit and passion into next year's event, that the Trophy will most certainly be ours again; resting in Lancaster, where it belongs.