Six of the Best: Festivals 2013
640 total views
Cropedy Convention
Conor Scrivener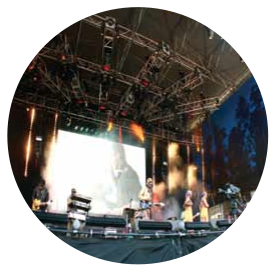 Again this August twenty-thousand like-minded souls will descend on the small village of Cropredy in Oxfordshire for Fairport  Convention's annual get together. Britain's friendliest music festival last year fell on what was the only weekend with sunshine last summer  and they will be hoping for much of the same this year.
Although a folk music festival by definition, Fairport Convention themselves pick all of the bands and the only criteria is  that they like you. This has been evident over the past few years with  acts such as Status Quo and The Buzzcocks gracing the stage but this  year pushes the boundaries even further.
Shock Rock pioneer Alice Cooper brings his only UK  date of 2013 to Cropredy, a move Dave Pegg (bassist of Fairport) said they have been trying to achieve for years and finally this year  touring schedules allowed it. With a full horror show promised it is one not to be missed.
Fellow headliners 10CC bring their rock'n'roll  to Cropredy on Friday night, sharing the stage with the excellent Levellers.  Eighties pop icon Nik Kershaw brings a solo acoustic set to the stage  before Fairport Convention's finale to the weekend. With a great weekend of activities, food, real ale  and cider and fabulous music, Cropredy is one of the most under-rated  festivals in the world.
WOMAD
Steff Brawn
WOMAD, standing for World of Music, Arts and Dance, is the kind of festival that has a bit of something for everyone. Started up by Peter Gabriel in 1980, the festival showcases music from all around the world at Charlton Park in Wiltshire. Dub, Reggae, Indian Classical, Gypsy Punk, Salsa, Electronica and folk music are just a selection from the huge range of musical cultures that are on display at the festival so it's almost impossible not to find something that will take your fancy.
Also, it's a great way to discover types of music and artists that you may not be too familiar with. WOMAD has played host to the likes of Booker T, Gorgol Bordello and Bellowhead in recent years and this year's line-up looks set to be just as huge and exciting. UK groups such as the Riot Jazz Brass Band and Bwani Junction will bring an innovative energy to the festival with their ability to fuse musical flavours you would never imagine go together. Music from across Europe will also be present with champions of dub music in France Dub Inc and the interesting fusion sound of electro-swing coming from Austrian stars the Parov Stelar Band.Last but certainly not least, WOMAD goes much further across the globe and introduces the sounds of India, Pakistan, Ghana and many others with a particular of The Bombay Royale who combine surf-rock with Bollywood; an extremely intriguing sound.
The atmosphere of WOMAD is equally something not to be missed. With foods from all around the world along with your favourite festival features such as face painting, you will find it a very colourful and enriching weekend. You could almost call WOMAD the festival for people who don't do festivals.  It comes with all the experiences that every festival has, but it's on a much smaller scale and offers something really different in terms of its music and attitude. So go on, get yourselves down to Wiltshire this year and join in the fun!
Bestival
Lucy Smalley
Winner of 'Best Major Festival' at the UK Festival Awards last year, Bestival has gone from strength to strength and is now well deserving of its somewhat presumptuous name.  Based in a beautiful leafy country park in the Isle of Wight, Bestival was created in 2004 and has grown considerably both in size and scope with attendance increasing from 10,000 to 55,000. With areas including 'Tomorrowland', 'The Ambient Forest', 'Stardust Field' and 'Magic Meadow', Bestival is definitely a little bit quirky. Every space has been meticulously decorated and considered, with numerous visual highlights such as the Wishing Tree, the Swamp Shack and a Bollywood cocktail bus.
In preparation for its 10th birthday the world's biggest fancy dress party needed to step up a notch. With last year's acts including Florence and the Machine, Two Door Cinema Club, the XX, Sigur Rós, and headlining with a certain Mr. Wonder, Bestival 2013 has a bit of a reputation to live up to. Plans for this year seem to be coming along nicely, as organiser and Radio 1 DJ Rob da Bank managed to secure the wonderful Elton John to headline Sunday's proceedings.  The theme for this year is HMS Bestival, and if last years efforts are anything to go by expect plenty of drunken sailors, mermaids and maybe a few sea monsters.  This wonderfully weird extravaganza is not to be missed by alternative festival lovers, and is definitely worth trekking to the Isle of Wight for.
Manchester International Festival
Joe Henthorn
If you were going off football chants alone, you'd get the impression that Manchester was 'wonderful', mainly on account of its being full of 'tits', 'fanny' and 'United'. Not a wholly incorrect impression, but what the Stretford End should be singing, since United have won the title now and we can move on to other things, is that 'it's a full of culture, one of the best music and arts scenes this side of London, this incredible international arts festival that it hosts every other year, and also United, tits etc.!'
That incredible festival goes by the name of Manchester International Festival, and it returns this year between the 4th and the 21st of July. In previous years the festival has turned heads for the ridiculously big musical names it has somehow managed to pull in; Kraftwerk played at the city's iconic Velodrome back in 2009, and in 2011 premiered her Biophilia project. This year, however, the musical highlights are more varied – Mogwai, the xx and Massive Attack are the main attractions – and don't threaten to steal the limelight from everything else that's going on.
Performing arts in particular lovers will have plenty to gawp over. Kenneth Branagh returns to his Shakespearean roots in a new production of Macbeth, and Maxine Peake will perform a version of Shelley's epic about the Peterloo Massacre, The Masque of Anarchy, just metres from where that massacre took place. And for cash-strapped arts-lovers, free art exhibition do it 20 13, curated by Hans-Ulrich Obrist, promises to 'turns the notion of viewing into an active and performative encounter between artist and visitor', and runs for the entire festival.
It has the advantage of being a proper two-week arts festival, as opposed to the expensive weekenders on this list, making it ideal for bored Lancastrians looking to stuff their empty Summer Terms with culture. Ticket prices vary between events, but students get £5 off.
Latitude
Jack Smith
Latitude has managed to sneak under most people's radar over the last few years while becoming one of Britain's most critically acclaimed festivals. While it may be run by Festival Republic, that behemoth of the festival circuit that is also responsible for inflicting Reading & Leeds on us, it manages to foster that boutique, high-brow atmosphere that readers of The Guardian love.
The line-up is something to behold. Kraftwerk (KRAFTWERK!) bring their 3D show to Suffolk; fans will receive 3D glasses through which to view the performance, which will most probably be one of several aids that the crowd use to enhance their experience. Foals also make the step up to a headline slot, which you could pretty much tell was their next intended career move by listening to their latest effort, Holy Fire. A little harder to explain is the presence of Bloc Party as the opening headliner – listening to their last album, the imaginatively titled Four (it's their fourth album, geddit?), you couldn't help but feel their best days are behind them. However, they do of course have some anthems and crowd pleasers.
The highlights are lower down the bill. Hot Chip and Modest Mouse could (and perhaps should) be higher up the bill and are well worth a view. Similarly, Everything Everything, alt-J, Yeah Yeah Yeahs and Beach House help create an eclectic lineup that will please a wide variety of tastes.
Also, don't forget the comedy – an area Latitude consistently does well. Sean Lock! Dylan Moran! Mark Watson! Marcus Brigstocke! Festival Republic could happily pass Latitude off as a comedy festival and you would probably still feel like you got your money's worth.
Latitude may have that tag of being too middle-aged and too middle-class, but this year it has a stellar lineup that is definitely worth your time and consideration.
Kendal Calling
Joe Henthorn
Oh, Lancaster. So isolated, so cold, so grey. It may well have escaped your attention, but all of the festivals on the list are a little… out of the way. What is it with the people who organise these things, setting up all the best festivals in farty little bits of southern, middle-class countryside? It's as if they think London is where all the money is…
Fortunately, us Northerners, and us Lancastrians especially, are now well covered by the consistently excellent Kendal Calling festival. Set deep in the heart of the beautiful Lake District, it boasts an incredible line-up for a festival of its size; headliners including the Charlatans, Primal Scream and – in a surreal yet incredible coup for the festival – Public Enemy.
There are some real treats further down the line-up too, with Dutch Uncles, Wave Machines and Theme Park all making appearances. Then there's the usual assortment of food, beer and arty-farty-ness that you would expect from a festival like this – organic poets, vegan chickens, and 19.8% alcohol cider made with locally sourced apples and cow piss are all to be expected.
Getting there takes half an hour and will cost you a mere £5.30 with a railcard, and tickets are well priced at around £120. And there probably won't be many people from London there, as if you needed another excuse to go…