The One To Watch!
768 total views
For months now I've been lusting after the floral details and the timeless elegance of Olivia Burton watches without even registering the name of the brand behind them. Looking now at the photos I'm sure you recognise them too, having also witnessed them pop up sporadically on Instagram and in magazines the past few months.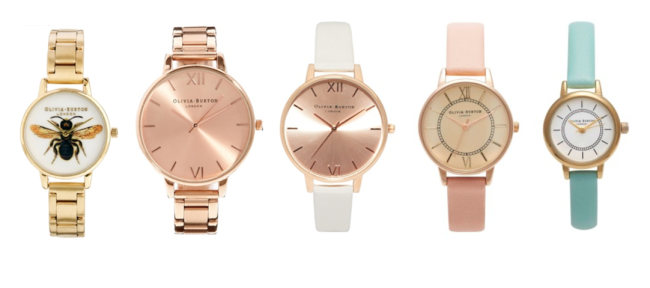 Made from real leather, a stainless steel gold plated case and lovingly embossed with the Olivia Burton logo, there's something special about each watch. With many of the watch faces adorned with floral and woodland imagery, Olivia Burton watches are a combination of both the English countryside and catwalk trends. Bursting with British style they come only in the most whimsical and delicate colours, from pastel pinks to light blues, and with skinny straps that emphasis the size and beauty of the rose gold faces.
Watches are often an investment piece bought especially at Christmas, for a Birthday or even Valentine's Day. This has only lead to the demise of the Micheal Kors watch, posted on Instagram so many times that it is no longer a classic, but a status symbol. That's where Olivia Burton watches are different; with so many beautiful, unique designs they are special and individual. Whether a person chooses a floral, woodland design or chooses one with a classic, simple face speaks volumes about them and their own style. Unlike many watches, Olivia Burton's won't break the bank either.
Prices range from £55 to £150, much more affordable for a student budget than others out there. Not only this, the floral and woodland watch face designs are also a subtle nod towards this autumn's folk trend. What more could you ask for? Olivia Burton is the brand to watch!